Students to thank alumni donors during annual Hail Yeah! event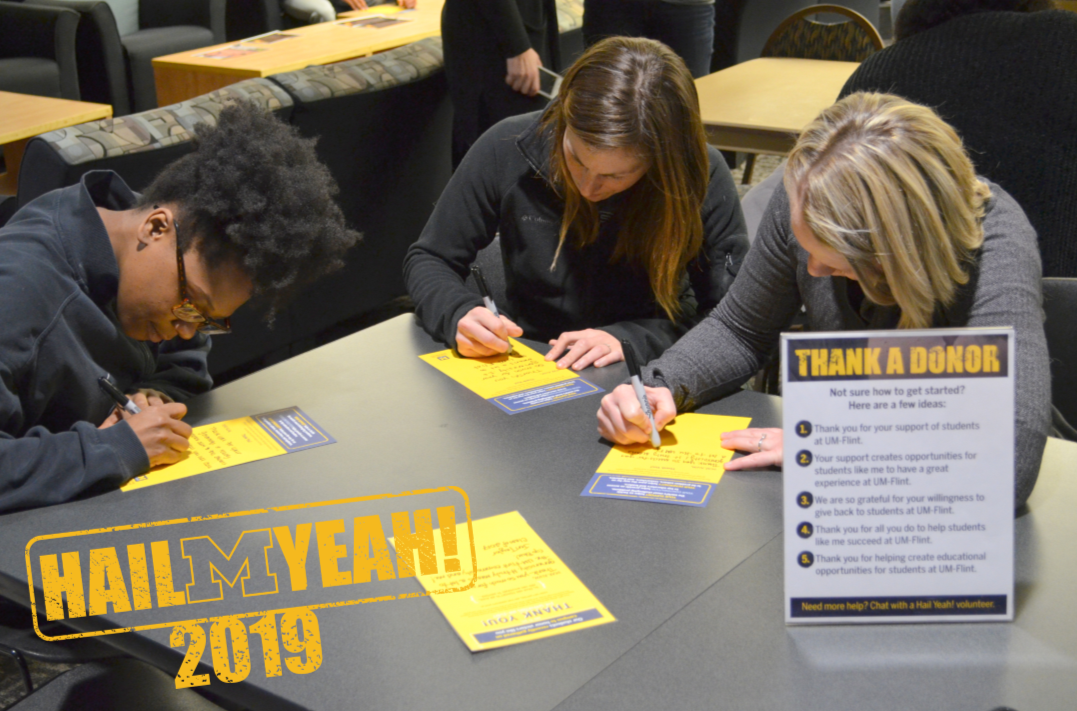 "Hail Yeah!" Every Gift Matters!
On March 14, UM-Flint will once again participate in Hail Yeah!, a university-wide day of thanks where students from all University of Michigan campuses come together to celebrate and thank alumni donors for their support.
Now in its fourth year on campus, Hail Yeah! is a chance for students to learn about what alumni and donors mean to the university and what role their ongoing support does for them as students.
Gifts from donors fund scholarships, research, study abroad, book awards, civic engagement activities, special programs, and our departments and centers. Hail Yeah! also shows that every gift, no matter the size, helps students and faculty achieve their goals.
"A gift to UM-Flint is an investment in the future. When you give to UM-Flint, you are providing opportunities to students who may not otherwise be able to pursue their dreams," said Mary Jo Sekelsky, interim Vice Chancellor for University Advancement. "Your donations motivate our students, inspire our faculty, and enrich our entire community. We are profoundly grateful for the tremendous level of support given by our alumni and friends."
It's also a chance for free pizza!
Students participate by signing postcards with personalized messages of thanks to alumni donors who've contributed to scholarships and other funds benefiting their fellow students and faculty. The first 300 students to participate will receive free pizza, pop, and water, as well as a free Hail Yeah! t-shirt.
The event takes place in Clint's Café in the University Center (UCEN) from noon until 2:00 p.m.
Do we appreciate our UM-Flint donors? Do we want to say thanks and make our parents proud?Hail Yeah!, we do.
Contact University Communications & Marketing with comments, questions, or story ideas.