New archivist leverages university's "amazing treasures"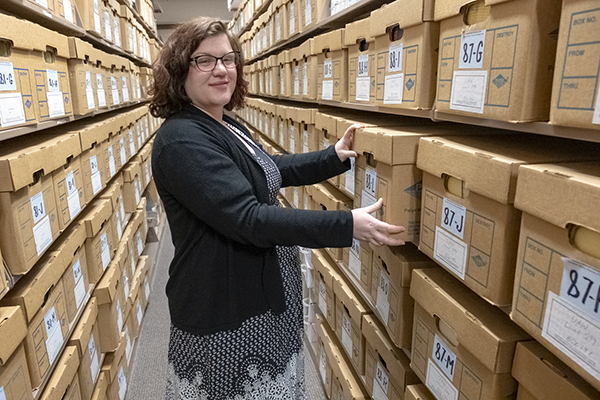 When Colleen Marquis joined UM-Flint as the new archivist last semester, she quickly found some "truly amazing treasures" at the Genesee Historical Collections Center. The center, part of the Frances Willson Thompson Library, contains history related to the university, city of Flint, and Genesee County.
"One of the most interesting things I have found are the artifacts from the Sit Down Strike," she said, referring to the 1936-37 strike against General Motors in Flint. "Normally you don't expect to find a lot of three-dimensional items in an archive, but this box had items like a red beret cap, medals and medallions, and patches the striking workers wore to show solidarity."
Marquis said the archives, located on the second floor of the library, contain countless other treasures that benefit students, faculty, historians, and other researchers. For example, there is a large collection of local music, including 1960s gospel and hip hop and rap from the 1980s and 1990s.
Marquis has focused on expanding the archives' reach. She has added several details about its collections online, and incorporated a search bar to its homepage.
"Now people can search using whatever term they want and the results will point them to the collections that will be of most use to their research," Marquis said.
Marquis has also focused on expanding awareness about the resources within the archives beyond the campus community, which can only raise the university's profile.
"Many people in the community are not aware that the collection exists or that it is open to the public for use," Marquis said. "I have also contacted the Digital Public Library of America to include our digitized collections in their catalog. This means our collections will be included in a worldwide repository which will lead researchers right back to our collection."
On campus, Marquis has been working with various departments to add their history collections to the archives.
"I love being part of the UM-Flint community. I really value the interactions I've had with the curious students who stick their heads in the reading room for the first time, and with the well-weathered researchers that cross my path," Marquis said. "I really like working with students and helping them discover new information."
"The Flint community is rapidly changing and the University of Michigan-Flint is the epicenter of that change. It is exciting to collect the history of a community that has already been through so much and keeps fighting."
Contact University Communications & Marketing with comments, questions, or story ideas.