Campus News Digest | March 11-24, 2019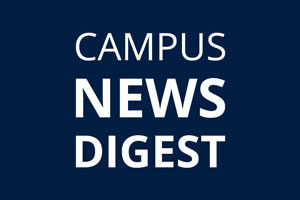 The Campus News Digest (CND) features announcements, news, and event updates relevant to the UM-Flint campus. The CND is distributed every two weeks in the UM-Flint NOW newsletter coordinated by University Communications & Marketing (UCOM).
UM-Flint named "Voter Friendly Campus" by NASPA
UM-Flint was recently named a "Voter Friendly Campus" by NASPA-Student Affairs Administrators in Higher Education and Fair Election Center's Campus Vote Project. The program requires campuses to engage their student body and promote voter registration and voting as part of their institutional mission. The goal of the Voter Friendly Campus designation program is to bolster efforts that help students overcome barriers to participating in the political process and develop a culture of democratic engagement on campus.
Hail Yeah! event thanks alumni donors, offers free pizza and t-shirts
On Mar. 14, UM-Flint will once again participate in Hail Yeah!, a university-wide day of thanks where students from all University of Michigan campuses come together to celebrate and thank alumni donors for their support. Come to Clint's Café in UCEN from noon until 2 p.m. for free pizza and t-shirts.
Chancellor Search Open Forum for students
Student Government is asking all students interested in providing input for the next Chancellor to attend the upcoming Chancellor Search Open Forum on Thursday, Mar. 13 from 2-3 p.m. in the KIVA (UCEN). Refreshments will be provided.
Summer Undergraduate Research Experience deadline 3/15
UM-Flint is again offering paid summer undergraduate research experience (SURE) opportunities in 2019. Funded with the generous support of the Charles S. Mott Foundation, SURE is designed for undergraduate students who are interested in full-time (8 weeks) or half-time (16 weeks) paid summer research opportunities mentored by faculty advisors. Deadline for student and faculty applications is Friday, 3/15. Faculty and students can direct questions to the undergraduate research program manager in the Office of Research, Andre Louis at alouis@umflint.edu.
DPS to offer R.A.D. for Men course
UM-Flint's Department of Public Safety will offer a free, R.A.D. for Men course designed to raise awareness of the impact of aggressive behavior, recognize how aggressive behavior impacts participants' lives, encourage participants to take steps to avoid aggressive behavior, and to look at how individuals can be a part of reducing aggression and violence. Training will take place from 6:30-9:30 p.m. on Mar. 13, 20, 27, and Apr. 3. To register, contact Gaye Stover at glstover@umflint.edu or call 810-762-3330.
CGS hosts events for Women's History Month
The Center for Gender and Sexuality will hold three events in March to honor Women's History Month. Join the CGS Peer Educators and members of Feminist Forward in French Hall 111 to learn about the history of women's voting (Mar. 13), reproductive justice (Mar. 19), and benchmarking the current status of women (Mar. 26).
Speaker to present on Michigan indigenous language and culture
Join the English Department's Introduction to Linguistics class for a special presentation by Dr. Adam Haviland, professor of Native American Studies from the Saginaw Chippewa Tribal College, on Tue., March 12 from 11 a.m.-12:15 p.m. in French Hall 251. Haviland will present on Michigan's indigenous Anishinaabemowin language and culture at this free event sponsored by University Outreach through the Flint Truth in Action Partnership Project.
Hagerman Center hosts Lunch with an Entrepreneur
The Hagerman Center for Entrepreneurship & Innovation will host its next Lunch with an Entrepreneur, part of its Interdisciplinary Entrepreneurial Speaker Series, on Tues., Mar. 12 from 12:30-1:45 p.m. in Riverfront 2325. Come for lunch and listen to a short presentation from author, coach, speaker, and UM-Flint alumna Tina Nies.
Health insurance info. event for students
The UM-Flint Student Health Committee is sponsoring an event with free assistance to students with questions or need for health insurance. Health insurance navigators will be at First Street Residence Hall from 4-7 p.m. on Mar. 13 and Riverfront Residence Hall from 5-8 p.m. on March 28.
Recreational Services welcomes new Customer Service Specialist
Student Affairs recently welcomed Kassi Kay Bremer to Recreational Services as a Customer Service Specialist. The duties and responsibilities of this front-line, customer service position include information dissemination, direct sales, and financial and membership record keeping.
Contact University Communications & Marketing with comments, questions, or story ideas.