Campus News Digest | February 25-March 10, 2019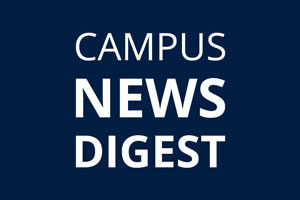 The Campus News Digest (CND) features announcements, news, and event updates relevant to the UM-Flint campus. The CND is distributed every two weeks in the UM-Flint NOW newsletter coordinated by University Communications & Marketing (UCOM).
UM-Flint collaborates to bring cellist Yo-Yo Ma to city
UM-Flint is collaborating with the University Musical Society of the University of Michigan on the visit of world-famous cellist Yo Yo Ma to Flint on Thurs., Feb. 28. This free event will take place beginning at 4 p.m. at the historic Berston Field House located at 3300 Saginaw St. in Flint.

Flint Voices: Culture, Community and Resilience is the title of his Day of Action in Flint. The purpose of the Day of Action is to bring together people around the theme of the power of culture to transform lives by creating a more connected world and a healthy and vibrant local community. It will feature activities and performances by local musicians, dancers, actors, and artists, as well as a brief performance by Ma. Members of the UM-Flint community will be representing our university in this remarkable community showcase.
UM-Flint Chancellor Search final campus town hall rescheduled for Feb. 26
The UM-Flint chancellor search committee's rescheduled final campus wide town hall will take place Tuesday, Feb. 26 from 9 to 10:30 a.m. in the UCEN Kiva Auditorium. You are encouraged to take advantage of this opportunity to let your voice be heard by giving direct input to search committee members regarding the desired qualities, experience, and areas of focus for UM-Flint's new chancellor.
In addition to these town halls, the committee plans to meet with specific groups in the UM-Flint community to solicit additional feedback. If you are unable to attend one of these meetings, you are also encouraged to send ideas and comments, including nominations, to committee members at: ask-FlintChancellorSearch@umich.edu.
Liberal Learning and Entrepreneurialism forum to feature Provost Alcock
The next forum in the Liberal Learning and Entrepreneurialism 2.0 series presented by the College of Arts and Sciences, 100k Ideas, and the EDA University Center for Community and Economic Development will take place on Friday, Feb. 25 from 5-6:30 p.m. on the third floor of UCEN.
The event, The Power of People and Place: The Role of Universities in Placemaking, features Susan E. Alcock, interim Provost and Vice Chancellor for Academic Affairs at UM-Flint, and Tom Wyatt, Director of Neighborhood and Community Services at Kettering University. RSVP to this free event
UM-Flint Ice Rink season coming to a close
The final open skate of the season at the UM-Flint Ice Rink will be Sunday, March 3. Open skates are held from 6-9 p.m. on Wednesdays, 5-8 p.m. on Fridays, and noon-4 p.m. on Saturdays and Sundays. Come out and enjoy the final skates of the season!
Chamber Singers and Wind Symphony to hold Mid-Semester Concert on Feb. 27
UM-Flint's Chamber Singers and Wind Symphony will hold their Mid-Semester Concert this Wednesday, Feb. 27 at 7:30 p.m. in the St. Matthew Catholic Church on Beach Street. Tickets are available for $5 at the door one-half hour before the event. Seating is open with no reserved seats. For more information please call the Department of Music at (810) 762-3377.
EOI welcomes "new" Assistant Manager of the Promise Scholar Program
After a competitive, statewide search process, Bianca Torbert was named the Assistant Program Manager for the Promise Scholars Program in Educational Opportunity Initiatives (EOI). Prior to being named to this newly-created position, the UM-Flint alumna was most recently Administrative Assistant to the EOI Director, which followed a number of progressively responsible assignments in the office over the past 18 years.
Contact University Communications & Marketing with comments, questions, or story ideas.