Career Center event connects students with internships at top firms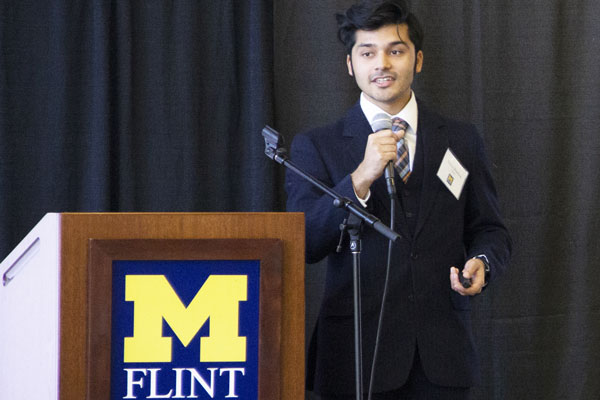 First impressions are everything.
We have all heard this saying before, yet how many of us take a moment to recognize the gravity of it? For college students, it may often be the case that the outcome of an interview, job offer, or promotion is decided based on the quality of their first impression. Last month, twenty-four students seized the opportunity to make their first impression on corporate partners at the University of Michigan-Flint's first-ever Intern Me in 3 competition.
"The idea behind Intern Me in 3," said Interim Provost and Vice Chancellor for Academic Affairs Susan E. Alcock in her opening remarks, "was to build an additional vehicle that would not only serve the needs of our corporate partners, but also create new and exciting opportunities for our students across all schools and colleges here at UM-Flint."
Students representing the College of Arts & Sciences, the College of Health Sciences, the School of Education & Human Services, and the School of Management bravely took to the stage for their chance to secure an internship with one of nine corporate partners including presenting partner, Webasto Roof Systems, in addition to: Diplomat Pharmacy, Ease Seating Systems, Plante Moran, Quicken Loans, Roush Performance, United Shore, Verizon, and Consumers Energy.
The Career Center and Education Abroad Office collaborated to host Intern Me in 3, which was for many students a first step toward their future career. Designed to showcase their individual skills, talents, and passions, student participants were tasked with creating an innovative, three-minute TEDx-style presentation demonstrating why they would be a good fit for an internship or future position at one of the attending organizations. Following the event, participating students were granted an unrivaled opportunity to network directly with recruiters and employers. As a result, over 75 percent of all students participating in Intern Me in 3 entered discussions or interviews for an internship.
"The success of our programs like Intern Me in 3 and the Corporate Case Competition is due not only to the incredible work of our students, but the strength of our corporate partnerships as well," said Special Advisor to the Provost Claus Weimann.
For recent college grads and current students alike, internships are becoming increasingly important. Studies conducted by the National Association of Colleges and Employers (NACE) have shown that students graduating with internship experiences, in general, are more likely than students without those experiences to find employment upon graduation. This is largely due to the fact that internships provide valuable training that allows students to apply the skills, knowledge, and theoretical practice they learned in academia.
For University of Michigan-Flint students, programs like Intern Me in 3 have a significant impact on their personal and professional development. Students like Clare Sullivan, an undergraduate psychology student with an aspiration for a future career in art therapy, noted, "I truly believe Intern Me in 3 has helped me gain a better understanding of how to go about not only networking, but interviews and public speaking as well."
When asked about his experience with Intern Me in 3, Phillip Kester—a  mechanical engineering major whose passion for engineering peaked while participating in the Atacama Solar Challenge in Chile—expressed, "I felt truly honored to participate alongside such talented and motivated individuals. It sparked in me a desire to strive to do my best and I would strongly encourage other students to participate in Intern Me in 3. It's a great opportunity to hone your interviewing skills and learn what kind of jobs are in the market and most importantly, it will give you the chance to meet and make new connections with talented individuals and great companies."
With overwhelming support and evidence of the effectiveness of these programs moving forward, the university will be able to support more internships for years to come due to the recently announced C.S. Mott internship grant. Officially launched at Intern Me in 3, this scholarship is projected to support nearly two-hundred-fifty domestic and global internships for UM-Flint students.
"Making paid internships more competitive by eliminating financial hurdles—such as the cost to commute—is critical to achieving the Career Center's goal of increasing the accessibility of internships for all students," said Career Center Manager Sara Barton.
Contact University Communications & Marketing with comments, questions, or story ideas.