Giving Blueday returns to UM-Flint on November 27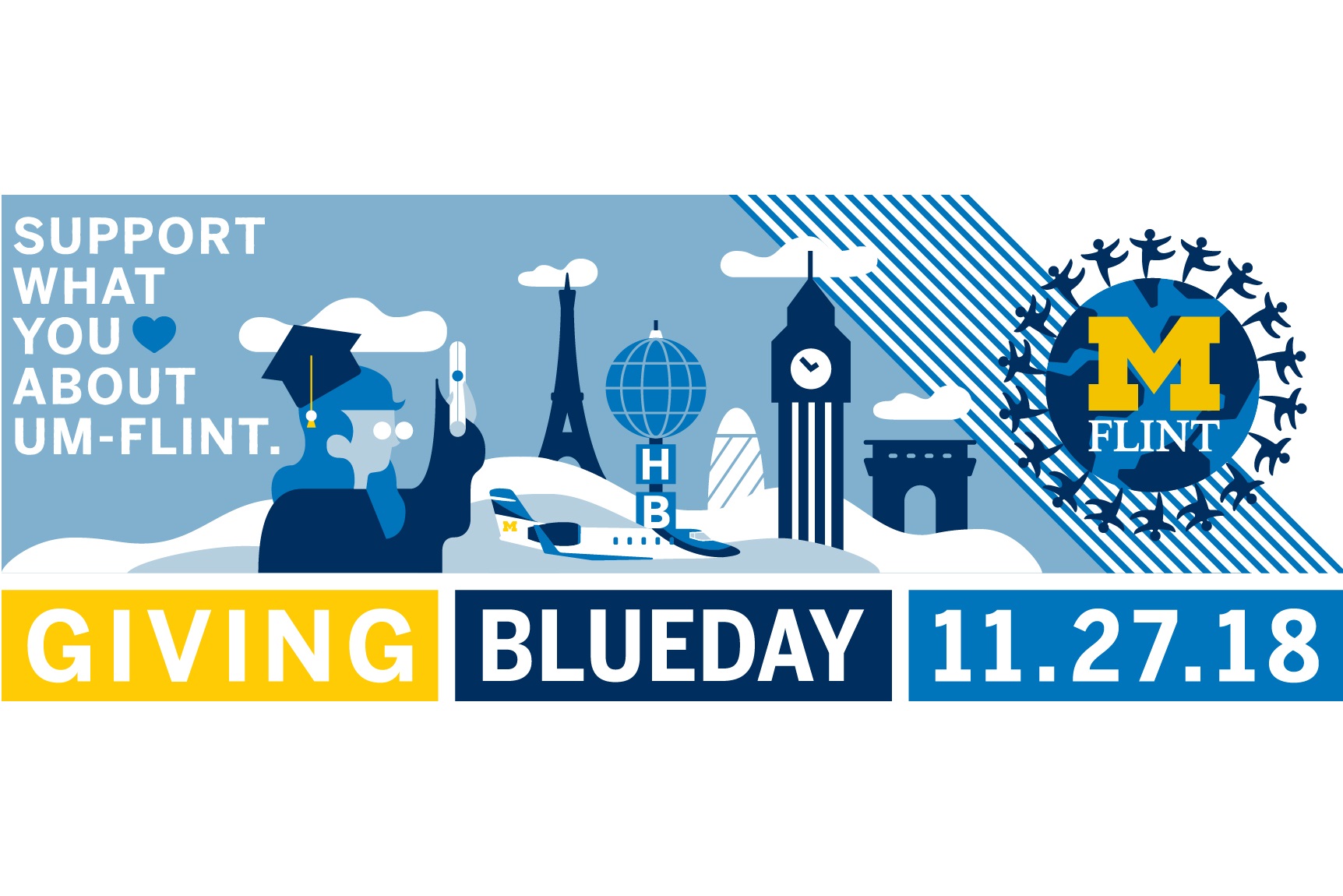 As you sit down to recover from overindulging on turkey and shopping for deals on Black Friday, the University of Michigan-Flint wants to let you know there's a way to embrace a different kind of holiday spirit — the spirit of giving.
On Tuesday, November 27, UM-Flint will bring philanthropy online during Giving Tuesday, a global day of giving that falls each year on the Tuesday after Thanksgiving.
Giving Blueday, as it's become known on campus, is a time to celebrate and support what you love about the University of Michigan-Flint. This marks the fifth year the university will celebrate alongside the University of Michigan campuses in Ann Arbor and Dearborn.
"This is traditionally the time of year that people start to think about philanthropic, end-of-year gifts, and Giving Tuesday has made its mark in our culture," said Mary Jo Sekelsky, interim Vice Chancellor for University Advancement. "Giving Blueday is significant in that it gives our alumni, faculty, staff, students, and friends the chance to support and impact the schools, programs, units, and scholarships which they feel are most important."
"I'm so impressed with the support and enthusiasm our colleagues and friends display for UM-Flint each and every year, and I'm sure this one will be no different."
That enthusiasm is best exhibited on the university's social media accounts. Engagement (a metric that takes into account a variety of actions such as "likes," shares, or comments) on these accounts skyrockets on Giving Blueday, with Twitter seeing a 995% increase, Facebook a 1300% increase, and Instagram a whopping 9,100% increase in 2017.
"The majority of the gifts to UM-Flint on Giving Blueday are within the $5 to $150 range, but it's not the size of the gift that matters," Sekelsky said. "It's all of us coming together to support our students. Many people making small gifts can add up to make a big impact."
"And Giving Blueday is fueled by social media," added the vice chancellor. "So even if you can't make a gift at this time, you can help by sharing and engaging with us on Facebook, Twitter, and Instagram. Your enthusiasm can inspire others."
When making a donation, those who give can designate what school, department, or other entity should receive the funds. Within this designation, the donor can select an area or areas of highest need.
Contact University Communications & Marketing with comments, questions, or story ideas.