Following the First-Year Experience | Part 1: Preparing for Success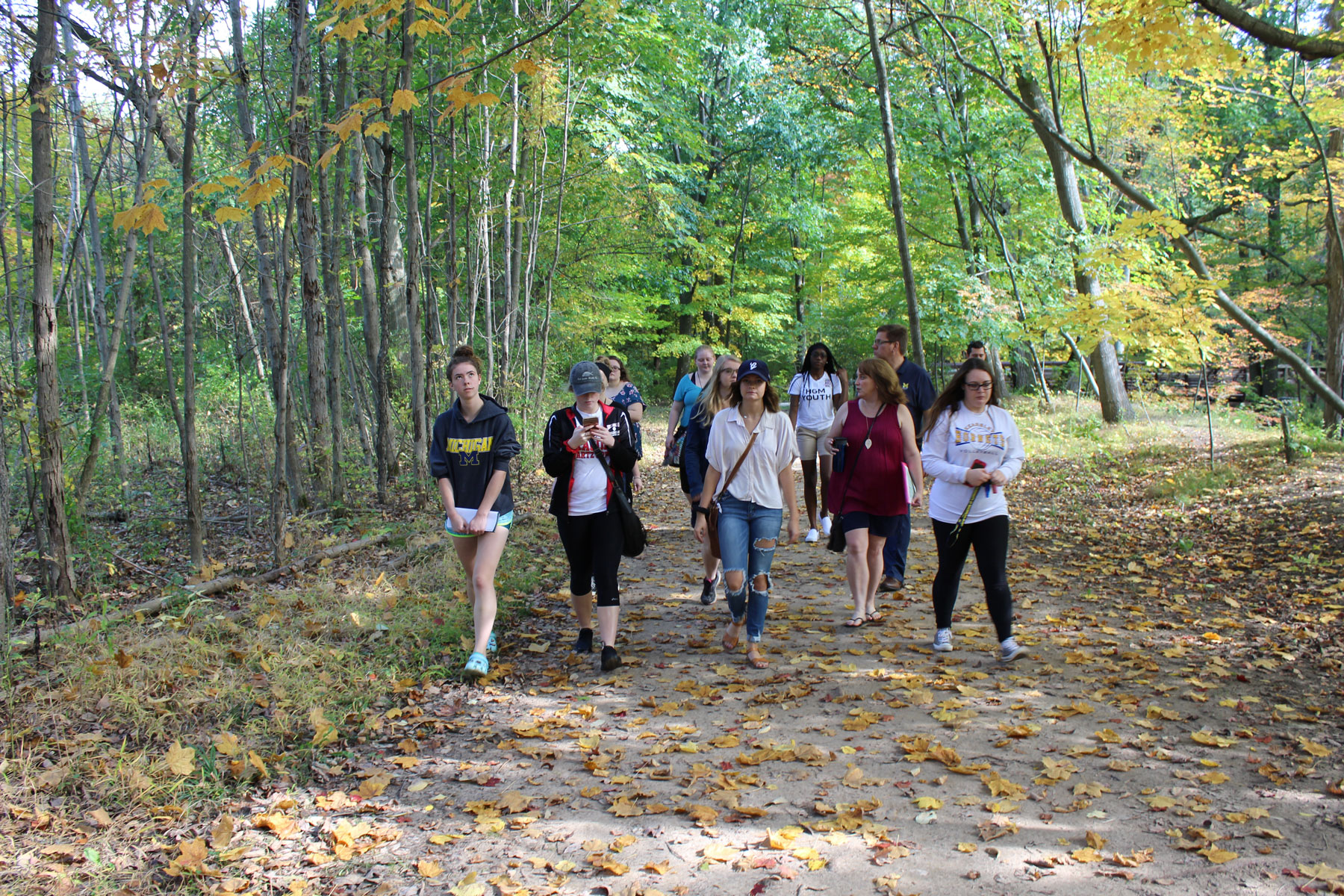 Nancy Grigg gathered around her students and acknowledged something up front.
"I am not an expert on science. And I have never been here," she said at the start of a recent class session at For-Mar Nature Preserve & Arboretum.
"But we are going to learn together. That is the beauty of learning in college."
Grigg, a lecturer within the social work department, teaches this First-Year Experience class. It is designed to acclimate students to university life and to expose them to new ways of learning and doing. The course, So You Want to Change the World, helps students foster critical thinking skills, which they then use to study larger societal issues, such as environmental sustainability, public health, and social justice.
Made up mostly of students in their first semester, the class also includes tours of key services around the university such as the library, writing center, recreation center, and student success center.
Students are free to draw, write, or perform as ways to express their reflections on the class. And students learn what it means to become part of the academic community at UM-Flint.
"We learn from each other," Grigg said. "That is where the magic happens in the classroom. Also, there is more than one way of demonstrating knowledge. In terms of changing the world, there is no textbook."
On this day, they were at the area nature preserve to visualize what they had read so far in this year's UM-Flint Common Read book, The Sixth Extinction: An Unnatural History by Elizabeth Kolbert. Wildlife biology student Lauren LaFave, who works at For-Mar, led the class through its animal exhibits and discussed issues tied to the Common Read book, such as habitat loss due to human development.
Walking through the trails on a fall day, Grigg utilized the moment to talk about the seasons of life, including becoming part of UM-Flint.
"As we are transitioning into a new season, each one of you are figuratively and metaphorically transitioning into a different part of your life. What is your map? Remember your map, where you are going on your journey, as you transition into college. What tools do you need for your journey?"
Bailey Lancaster said the trip to the nature park illustrated why she considers the class so meaningful.
"This is the best class I've ever had, to be honest. It's a lot more interactive. It is taking us to places in which we can actually see what we are talking about as a class," Lancaster said.
Lancaster said the course has opened up her eyes on the different ways to learn, and how students themselves are teachers. This is her first semester in college and the course has eased some stress about university life.
"I'm an involved learner. I didn't know that until now. It is helping me a lot."
The class has been designed, Grigg said, to give students the fundamentals of how the university works during the opening weeks of the semester. This helps students understand the resources available, which in turn helps them learn the basics of learning and sharing knowledge at the university level.
"Having those building blocks early in the semester, they will have those skills to be able to apply throughout their college career," she said.
Grigg said a key component to learning is being flexible. During an early class, students were worried about college-level writing so Grigg changed the emphasis that day to focus on that.
"She cares. A lot of people were saying they were struggling with papers in class. She helped us through something we were struggling with," Lancaster said.
During a recent session, students spent class at the Flint Farmers' Market to discuss issues related to food access and attended a campus lecture associated with the Sloan Museum's RACE: Are We So Different exhibit. Before starting the class, Grigg handed out a list of other scholarly events on campus.
"You are now part of this academic community," she said.
Reginald Ross, a first-year student who lives off campus, said the emphasis on introducing students to the university's resources has left an impression on him.
"It helps you figure out where things are and all the different types of help you can get in college," Ross said. "It makes you feel more part of college and you don't have to figure out everything on your own."
Part of the class is expanding the ways in which students can explain concepts or express ideas. For example, the class utilizes a "literature circle" model to discuss and probe deeper into the themes of the Common Read book.
One literature circle role assigned to students is that of "travel tracer."
"When you are reading a book in which characters move around often and the scene changes frequently, it is important for everyone in the group to know where things are happening and how the setting may have changed," the assignment directions stated. "So that's your job: to track carefully where the action takes place during today's reading. Describe each setting in detail, either in words or with an action map or diagram you can show to your group."
Kaitlyn Powell, a first-year student at UM-Flint, said she has found this approach refreshing.
"I enjoy that. I like delving into the book in different ways versus just writing a random summary. I was able to draw a map of the world. It was bad but still nice to do something like that," and learn visually, she said.
Contact University Communications & Marketing with comments, questions, or story ideas.