"The Sixth Extinction" is UM-Flint's 2018-19 Common Read book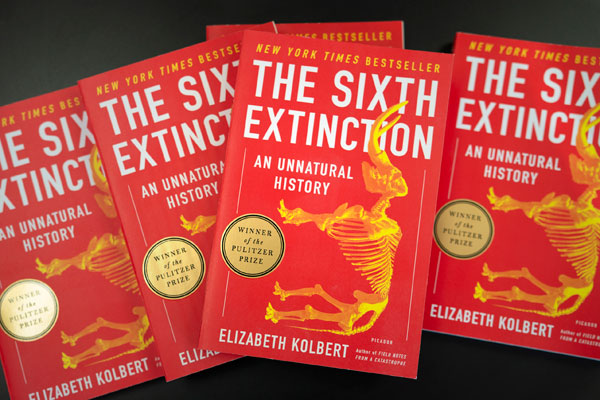 The University of Michigan-Flint Common Read selection for the 2018-19 academic year is the Pulitzer Prize-winning book The Sixth Extinction: An Unnatural History by Elizabeth Kolbert.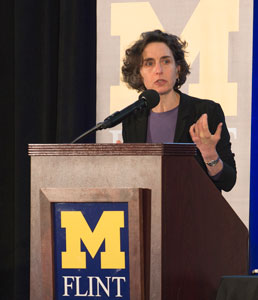 Kolbert, a staff-writer for The New Yorker, was one of the speakers for UM-Flint's 2017 Critical Issues Forum.
UM-Flint Assistant Professor of History Chris Molnar, co-chair of the Common Read committee, said the book "describes the destructive impact that the modern world has had on the environment and therefore also on the plant and animal world that human civilization relies on for its existence. The Common Read committee, which selected The Sixth Extinction, was drawn to the book because of its timeliness, its accessible writing style, and the potential the book has to engage faculty and students in a range of fields, including the natural sciences, social sciences, and more. As a historian, I sometimes find science writing, even when meant for the general reader, to be dry or confusing. But when I opened this book, I was immediately drawn in and couldn't put the book down. It is my hope that many students will have the same experience."
Faculty members interested in using the book in a Fall 2018 class can pick up a free copy in the Graduate Programs Office, at 239 Frances Willson Thompson Library.
"The Office of the Provost will provide books free of cost to all Fall 2018 classes in which faculty members decide to use the book," according to a recent announcement from the Common Read organizers.
Molnar said Common Read has multiple benefits for the university academic community.
"Grappling with challenging problems and ideas is a critical part of becoming an educated person. Students will do this, hopefully, in all of their classes, but The Common Read offers students the chance to engage with faculty, staff, and students from throughout the university community, beyond the confines of their department or school. The Common Read can help students join the academic community at UM-Flint, and at the same time, the program helps to build a sense of academic community among faculty and staff."
Contact University Communications & Marketing with comments, questions, or story ideas.