UM-Flint creates new opportunities for international alumni to stay connected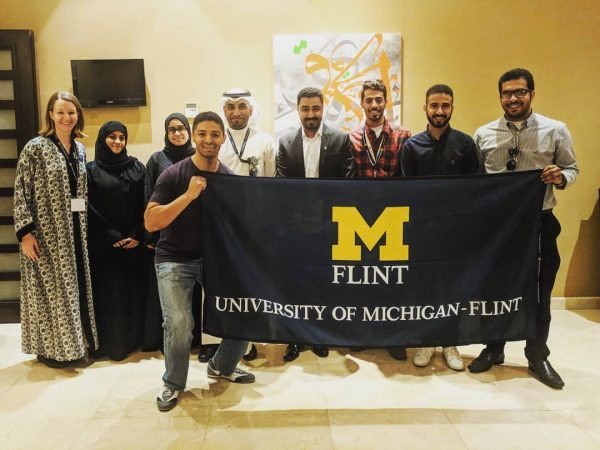 In 2006, the University of Michigan-Flint sought to improve on its efforts for recruitment and admission of international students. At the time, there were only 48 international students attending the university. Over the years, the university has experienced a rapid growth in the number of international students enrolled in various programs on campus. Today, UM-Flint can proudly say it is home to over 300 international students.
The increase in enrollment also meant a growing population of international student alumni. As of February 2017, the university reported having over a thousand international alumni. Continued interactions with international students, post-graduation, is now more essential than ever before.  To ensure international students remain engaged with the university, the International Center has launched an international alumni engagement program.
International alumni engagement activities are being led by Kathrine Colpaert, International Center Global Outreach Coordinator. Colpaert spends a portion of her time connecting and engaging with international alumni, tapping into their work and professional connections, and learning from their experiences. She hopes to be "a point of contact for anyone who would like to connect or collaborate with the International Center."
Colpaert's last international recruitment exercise saw her traveling to Saudi Arabia, Nigeria, and Senegal. Besides student recruitment activities, her visit presented Colpaert with the opportunity to host inaugural international alumni events both in Saudi Arabia and Nigeria.
At the international alumni event in Nigeria there were three alumni members present. There was a larger turnout in Saudi Arabia with around a dozen in attendance. At both events, attendees were excited about the plan to foster engagement among international alumni, and happy to share their experiences at UM-Flint. When asked why they signed up to attend the events, the response was unanimous: to reconnect, support, and be identified with the growth happening at University of Michigan-Flint. With all agreeing that getting an education outside of their home country was no easy thing to do, the decision to attend University of Michigan-Flint proved very rewarding. The small student/faculty ratio, helpful university staff, welcoming community, and engaging student activities on campus were credited for making their time at the university so special.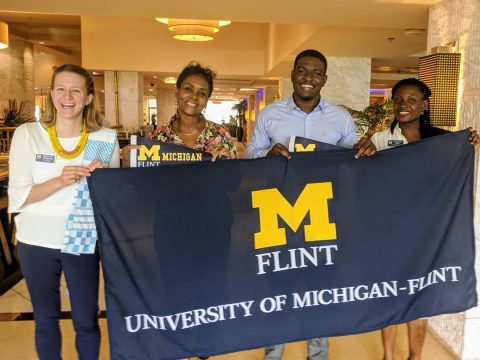 Olu Adejuwon, a Nigerian alumnus who graduated from the MBA program in 2015 said, "I miss Flint and the community I had on campus." Fahad Fattah from Saudi Arabia, a 2017 graduate who majored in health care administration and minored in entrepreneurship, shares the sentiment. Fattah fondly remembers "enjoying the activities on campus and at the Recreation Center."
Now back in their home countries, recent international alumni members have to face new challenges. Dealing with reverse culture shock, finding a good job fit, and building career networks are identified as some of the new hurdles they have to surmount. Older alumni members, on the other hand, desire to see more efforts in terms of relationship building and communication from the university. Some have also indicated interest in volunteering at and/or hosting  international alumni engagement events in their country. They are also open to collaborating with other alumni members and being mentors to new graduates upon return to their home countries. International alumni members who are back in their home countries would also like to remain connected with international alumni members residing in the U.S. and engage with the larger University of Michigan alumni community.
With the inaugural international alumni engagement events being a success, Colpaert says the plan is to organize more of these events, including one in the fall and possibly one in the winter. The International Center hopes to leverage the commitment of alumni to boost international student recruitment by sharing their experiences and information about the university. This relationship will be sustained through email newsletters to international alumni. The newsletters will be an avenue to share alumni testimonials, upcoming international recruitment efforts, and information about international alumni engagement activities.
Sustained engagement with international alumni is also expected to inform future career fairs at the University of Michigan-Flint. By tapping into the work and professional connections of international alumni, it is envisioned that participation of companies who can hire international students and graduates would also increase.
Contact University Communications & Marketing with comments, questions, or story ideas.