UM-Flint announces new programs for Fall 2018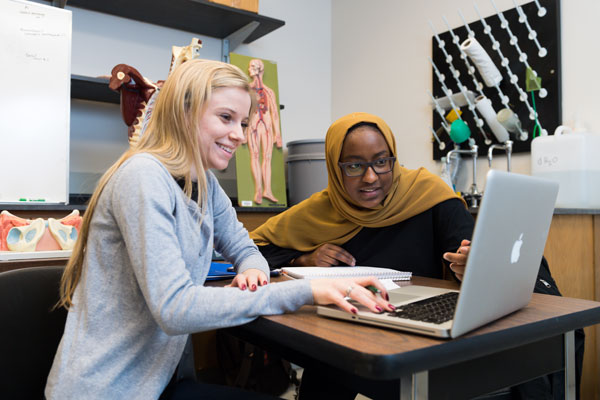 By the spring of 2022, the University of Michigan-Flint will have its first wave of graduates from four new degree programs coming online this fall semester.
Pursuant to its aim of responsiveness to the ever-changing needs of the region and excellence in education and training for emerging fields and sectors, UM-Flint is offering a pioneering, new academic program and three new online degree programs that will benefit students no matter where they live.
Bachelor of Science in Green Chemistry
To pioneer new methods of sustainability in chemical processes throughout the marketplace and society, the UM-Flint Chemistry and Biochemistry department has developed a new Bachelor of Science degree in Green Chemistry beginning in Fall 2018. It's the only degree type of its kind in the region and one of only a handful across the US.
"For the last few years UM-Flint has invested significantly in our STEM offerings with a focus on offering programming at the leading edge," said Susan E. Alcock, interim provost and vice chancellor for academic affairs at the University of Michigan-Flint. "An emphasis on green practices is becoming the industry standard, and this new program will give our students a leg up in competing for all such emerging opportunities."
Students in the Green Chemistry program will share some of the same core curriculum as UM-Flint's Chemistry program, but will also take classes that cut across disciplines to provide a dynamic skillset that is highly sought-after by employers.
National green chemistry and sustainability experts agree.
"I can clearly see the need for green chemistry education," said Karolina Mellor, PhD, of the Yale Center for Green Chemistry & Green Engineering. "I believe that a Bachelor of Science in Green Chemistry at the University of Michigan-Flint will attract students who seek the technical skills of the chemist but with the knowledge to reduce hazard to human health and the environment."
New online offerings
This fall also brings two popular UM-Flint programs fully online, helping to make earning a Michigan degree more convenient than ever.
UM-Flint's new online Bachelor of Science in Psychology allows students the convenience of an exclusively online experience from application to graduation.
The online psychology program is the only one of its kind offered at any of the U-M campuses. It offers the same faculty mentorship, professional advising, and resources as the traditional format, but also includes a suite of online support services to give students the ability to learn at their own pace and schedule.
Similarly, UM-Flint now offers a Bachelor of Business Administration (BBA) in Accounting fully online. This AACSB-International accredited program assures students a high quality and excellent educational experience. Online UM-Flint BBA students have the same opportunity to apply for scholarships and participate in the university's business internship program, education abroad, business pitch competition, and student organizations.
Another promising UM-Flint online offering for the fall is the School of Nursing's Master of Science Nurse Educator program. Healthcare delivery has changed dramatically over the past decade demanding additional training from nursing educators. This program is designed for nurses who either want to teach nursing in a higher education setting or provide additional skill development and training for healthcare professionals in hospitals and other healthcare-related organizations.
"Our deans and faculty have worked hard to advance our academic portfolio," said Alcock. "We are proud to add these exciting and convenient program options to our curricular offerings and encourage the students from across the region and state to take full advantage of the opportunity to earn a quality Michigan education here at the University of Michigan-Flint."
Contact University Communications & Marketing with comments, questions, or story ideas.