UM-Flint hosts inaugural Michigan Early Childhood Policy Summit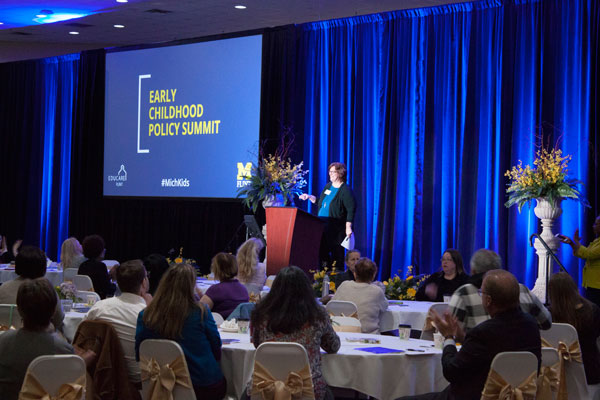 The University of Michigan-Flint hosted the inaugural 2018 Michigan Early Childhood Policy Summit April 9.
The summit brought together over 200 attendees, including elected officials, education experts, and other leaders in various fields, to explore possibilities for short- and long-term goals for early childhood care and education in the state of Michigan. An aim of the summit was to help facilitate the creation of a statewide Early Childhood Policy Plan.
"There is an urgency among the greater early childhood community that we need to provide more access to early childhood services to more families than are currently being served," said Dr. Robert Barnett, dean of UM-Flint's School of Education and Human Services (SEHS). "If Michigan is to establish itself as a leader in early childhood education—which we are poised to do—then we must unify our voices around the issues that matter most and that will have the greatest impact on our kids and families across the state."
The event drew leaders from business, health fields, education, politics, other fields, and community members from throughout Michigan.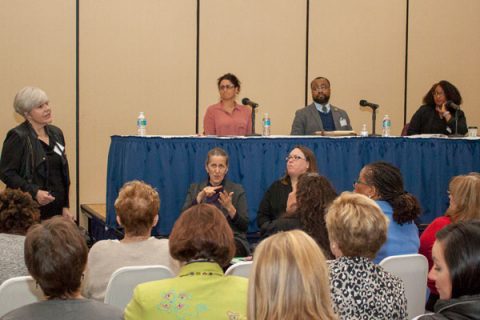 The summit tackled a series of issues, such as public-private partnerships, how investing in early childhood education makes good business sense, and how responsive caregiving supports the social and emotional development of students.
Amy Hesse is the Central Administrator of Cummings Great Expectations Early Learning Center in Flint, of which the University of Michigan-Flint is a partner. She helped organize the summit.
"Immediate feedback from attendees tells the organizers that this event was well-received, and they requested that it become an annual event," Hesse said. "Additionally, many participants wish to contribute to future events that support and inform the public, legislators, and funders on the importance of investing in quality early childhood for the long-term benefits of reducing social and financial deficits and strengthening the economy."
The featured speakers at the summit included Judy Reidt-Parker of The Ounce of Prevention Fund; Matt Gillard, president and CEO of Michigan's Children, a statewide advocacy organization; and Carolyn Joy Dayton of Wayne State University's School of Social Work and the Merrill Palmer Skillman Institute.
Denise Smith, the executive director of Educare Flint, was on a panel highlighting the role early childhood education plays in community stabilization and revitalization. She said, "My most positive takeaway from the summit was having the opportunity to welcome parent Billie DeVille to the stage for closing remarks. She is one of many Flint parents whose whole family is stronger as result of access to quality early childhood education."
Barnett is hopeful that the summit and similar initiatives will allow parents like DeVille and educators like Smith to extend the reach and impact of their efforts to advance early childhood education and related issues.
"If we are to move the needle on expanding early childhood education then the conversations, while starting at the local level, have got to grow larger and broader," said Barnett. "I think the summit helped model the positive impact of coming together beyond our own local communities and moving toward a unified agenda."
Hesse said she saw evidence of this unification taking place at the summit. "Partnerships were formed before our eyes, with short-term goals being set and meetings arranged to address the early childhood issues that were the most meaningful to each specific attendee group."
Dean Barnett also acknowledged that the summit served to showcase the efforts of UM-Flint and the School of Education and Human Services in moving early education forward. "This event gives us exposure as a real leader in early childhood education."
Contact University Communications & Marketing with comments, questions, or story ideas.