UM-Flint Theatre alumnus returns to champion arts, entrepreneurship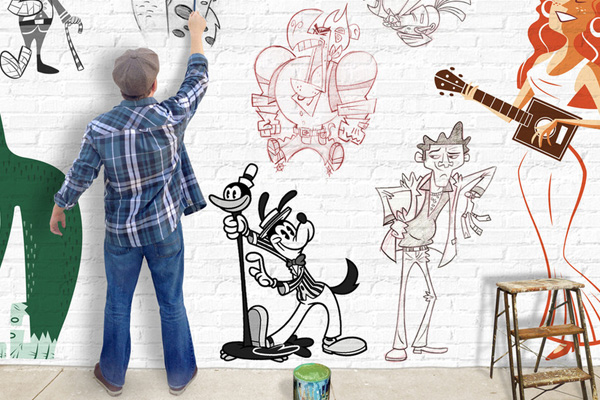 Ernie Gilbert graduated from UM-Flint in 1992 with a bachelor of arts in theatre and significant experience in several other College of Arts and Sciences (CAS) departments. He continued his education studying character animation at the California Institute of the Arts. In the decades since, Gilbert has worked as a director, character designer and animator, and artist at well-known studios including Nickelodeon, Cartoon Network, Warner Bros., Sony, and Disney. He's also worked as a voice actor in popular films and has directed videos for the music industry. His career has been built on a passion for the arts and an educational foundation that began at the University of Michigan-Flint.
"[UM-Flint helped] in so many ways. For starters it gave me a college degree," said Gilbert. "I had many opportunities in the theatre, art, and music departments. I learned a great deal about my chosen concentrations during my time there, and developed a much-needed confidence which has proven to be a valuable asset in the 'real world.'"
Gilbert, currently a designer and art director in the animation industry, recently returned to Flint as the keynote speaker for the annual Arts and Entrepreneurship Symposium held at the Flint Ferris Wheel. The event, presented by UM-Flint Art & Art History students with support from University Outreach, exists to help new and established artists consider opportunities that exist for them as creative entrepreneurs.
"It is so meaningful to have Mr. Gilbert, other UM-Flint alumni, and local business owners participate in this event," said Susan Gano-Phillips, Dean of CAS. "We want our students to recognize that the skills they've built during their time with us—communication, problem solving, critical thinking, working with diverse groups—are valuable assets in both their professional careers and personal lives. We want all of our graduates, no matter what they study, to be equally well prepared to follow their passions while finding success."
A Student of UM-Flint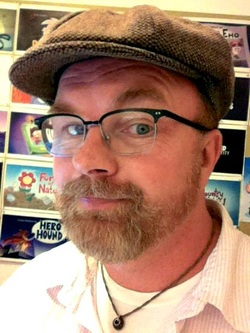 Gilbert came to UM-Flint because he was offered a full-ride talent scholarship. When he arrived at the university, he found small, supportive departments that presented many opportunities to explore his interests and expand his horizons. "My experience was a primarily with the Theatre and Music departments," reflected Gilbert. "In both cases, the relatively small size of the departments made critical performance opportunities much more accessible than they would have been at a larger campus, like Ann Arbor. That said, the pool of talent in both departments (and in Flint in general) has always astounded me. The Art & Art History Department was in its infancy when I was there, but was already off to strong start, thanks to [faculty members] Chris Waters and Marcia Watkins."
Gilbert considers the talents of the UM-Flint faculty to have exceeded his expectations, as did his fellow students. "There were several teachers there who made profound impacts on their students, including me: Carolyn Gillespie and Tom Bloom in the Theatre Department, Carolyn Mawby in the Music Department, and Chris Waters in the Art Department," he said.
"Carolyn Gillespie was an extremely nurturing and encouraging presence. She had everyone's utmost respect and we all wanted to do our best work for her. She remains a life-long friend and a very important figure in my life," continued Gilbert. "Tom Bloom was our tech director and set designer. I had not yet begun to study design, but Tom's brilliance was hard to miss, on the page and on the stage. You had to mount a strong production, just to keep up with visual environments he built."
"Carolyn Mawby was the director of the vocal music program and is one of the greatest influences and role models in my life. I've never known anyone to work harder than she did and that included all of her students who were decades younger. When I was accepted into the UM-Flint Chamber Singers it was one of the most intimidating and proudest moments of my life."
"Chris Waters (current chair of the UM-Flint Art and Art History Department) came on the scene toward the end of my time at UM-Flint, but has had a direct, tangible, and lasting influence on the path that my life and career have taken,"Gilbert noted. "It was Chris who cued into my passion for animation and brought in a catalog for the California Institute of Arts to show me. I took one look at the tuition and closed the book. She continued to prod me and encouraged me to apply. When I did, she brought in her own camera and lighting equipment to take slides of my work. We sent applications to three or four schools, and I never would have applied to any of them without Chris's encouragement and persistence. I never would have been accepted if not for what I learned in her classes."
Gilbert also credits his experiences and opportunities outside of the classroom as having a profound impact on his time at UM-Flint. "I toured with the Chamber Singers, which was a profoundly rewarding experience. The Theatre Department took a 10-day trip to New York, which was also very memorable," reminisced Gilbert. "I also took a year off during my tenure at UM-Flint to do a national tour with the Prince Street Players (out of Detroit). Our Theatre Department regularly competed in the ACTF competition, which led to several trips as well. Growing up with limited resources, it was very rare for me to travel outside Flint."
Success as an Artist
By trusting the confidence he developed as a UM-Flint student, as well as his perseverance and instinct, Gilbert has found success on the west coast. He hopes that other UM-Flint students and graduates will find their own rewarding paths. His participation in the UM-Flint Arts and Entrepreneurship Symposium was a chance to share that message.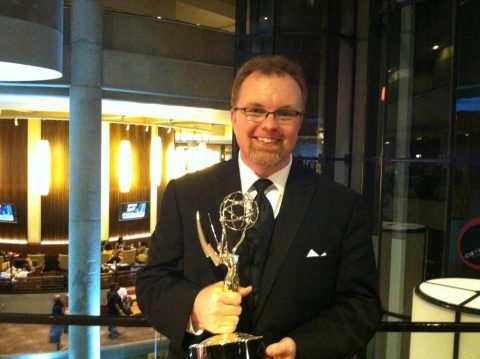 "I hope to encourage young people to discover their passions and to chase after them, wherever life takes them, with an informed and realistic understanding of what that means," said Gilbert. He also hopes that students who attend the symposium will gain "an idea of what a life in the arts may look like, so they can decide whether they think it is a worthwhile pursuit for them personally. It's great that the symposium highlights speakers from different areas. Hopefully there will be something that clicks with and inspires each aspiring artist and entrepreneur out there."
Gilbert also has advice for those who are considering an arts discipline as their field of academic study and future career. "If you are driven to pursue art, pursue it. If you feel like you need to make art, by all means, you should be the one to make it. If you are thinking of pursuing art for fame or money or notoriety or prestige, choose something else," Gilbert stated. "If you want to take art because you think it sounds easy, I encourage you to reconsider. If you think it sounds fun and you want to dabble or to pursue it as a hobby, that's fantastic, but a lifelong career in the arts is best left to those who don't have a choice in the matter. It takes so much passion and work and mileage to sustain, you need to really love it or be driven to do it."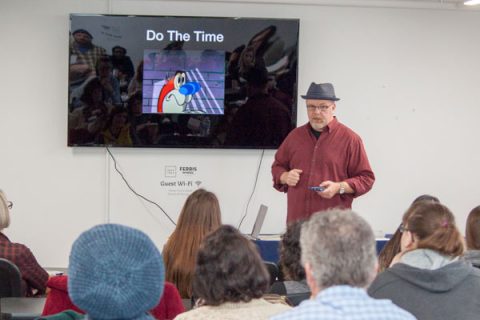 For students considering any field in the arts, UM-Flint is a good place to start. "I'm excited that there is a growing support for the arts in Flint. I believe Flint has always had an extraordinary and tenacious arts culture, against all odds," concluded Gilbert. "The more students are exposed to the possibility of a life in the arts, the better. Everyone needs the arts in their lives and some need art to be what their lives are about. The danger is that they won't be exposed to the possibility of a career in art at the right time in their lives to make an informed decision."
Contact University Communications & Marketing with comments, questions, or story ideas.