Multimedia artist Baron Batch to speak at UM-Flint's Critical Issues Forum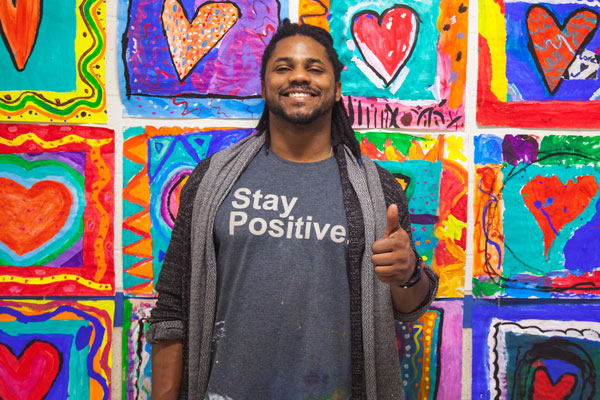 Baron Batch, an artist, entrepreneur, and community facilitator, is coming to the University of Michigan-Flint on April 11 as part of this year's Frances Willson Thompson Critical Issues Forum.
Batch is also a former running back for the Pittsburgh Steelers. In 2016, he opened an incubator in Pittsburgh to support artists and other creative people in their entrepreneurial and artistic endeavors.
The 2017-18 theme for UM-Flint's annual speaker series is "Dare to…", referring to the daring each of the four speakers have displayed in their efforts to make positive things happen. Batch is the fourth and final speaker for this year.
Traci Currie, a faculty member within UM-Flint's Department of Communication Studies, will introduce Batch at the Critical Issues Forum lunchtime presentation, and moderate the free, public Sullenger Dialogues session.
Currie said Batch's mindset about inspiration and creativity will be valuable messages to hear.
"He also speaks of being consistent in the work he does. If you continue to create consistently, it will make its mark in the way it needs to," Currie said. "His work is an authentic reflection of him and it is 'making its mark in the world.' That is both norm and disruptive because he is defining his own norm/al. Our students should be reminded that college provides that opportunity to self-explore, to inspire and be inspired, and to create above and beyond."
Both the luncheon talk and the open discussion immediately following it will take place in UM-Flint's Northbank Center.
Contact University Communications & Marketing with comments, questions, or story ideas.