UM-Flint public health intern creates effective flu prevention plan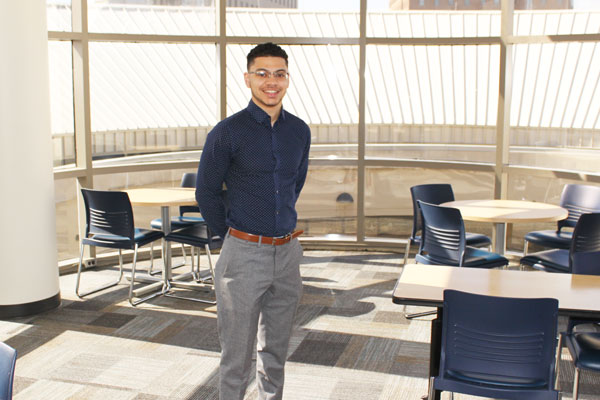 Eric Keahey ('17) spent nearly three months interning at McFarlan Home in Flint late last year. But the impact he left for the residents and staff has been lasting.
During his internship, Keahey was a health administration student at the University of Michigan-Flint. He graduated in December with his bachelor's degree.
Twice a week, he worked at the McFarlan Home, an independent and assisted living center for women 55 and older. During this time, he helped develop the facility's flu prevention program, and advance its fire safety protocols and plans.
Keahey excelled at observing, and then turning those observations into practical action, said Erica Thrash-Sall, executive director of the McFarlan Charitable Corporation, whose entities include the McFarlan Home.
"He added tremendous value to us," Thrash-Sall said. "These things were of the essence."
Last flu season, five assisted living residents at the McFarlan Home died in which flu was a factor, Thrash-Sall said. This season there have been no flu-related deaths, and zero cases of the flu.
Keahey played a big role in developing the flu prevention plan for residents and staff, she said.
Together with staff, he researched Centers for Disease Control and Prevention recommendations and formalized protocol at McFarlan Home. He built standalone hand sanitizer devices, and figured out the best places to situate them throughout the building.
"He was thoughtful about where they should be," Thrash-Sall said. "He was able to observe people's habits so these were strategically placed."
Keahey said his courses at UM-Flint prepared him for the internship, including all of the logistics into keeping a place healthy. Part of the flu prevention plan was developing the exact actions staff should take in case a resident was sick.
"For those administrators and employees to be so receptive to the ideas, it was pretty important for me," Keahey said.
He also played a key role in developing the facility's new fire safety plan, including helping set up and assess a fire drill, determining the best exits, and determining the best spots to place signs.
"He was hands on with researching and planning," Thrash-Sall said. "What he did was critical. He really had a good eye for space. In a senior community like ours, that is huge."
Keahey exemplified the valuable contributions UM-Flint students have made to McFarlan as interns, she said.
"They are just doers. They go above and beyond. They all do considerably more than what the project is on paper," Thrash-Sall said. "They are able to look around our community and make recommendations on ways to improve."
UM-Flint School of Health Professions and Studies (SHPS) Dean Donna Fry, who was recently appointed to the the McFarlan Charitable Corporation's board of directors, said Keahey's contributions are an example of the strategy of SHPS overall.
"The School of Health Professions and Studies continually seeks opportunities to work collaboratively with the health care community to solve real life problems to improve the health of our local citizens," Fry said. "This project is a wonderful example of a community partner, McFarlan Home, seeking assistance of the university through an intern from our Public Health program to address a pressing need at their facility."
Keahey now works at Diplomat Pharmacy, and attributes his UM-Flint internship as preparing him.
"UM-Flint definitely prepared me for the internship, and transitioning into finding a job," he said. "I have realized that my internship had a direct correlation to my experiences at work. Being a UM-Flint intern at McFarlan led me to realize the importance of open communication amongst co-workers."
Contact University Communications & Marketing with comments, questions, or story ideas.