UM-Flint Music Scholarship Honors Local Artist, Entrepreneur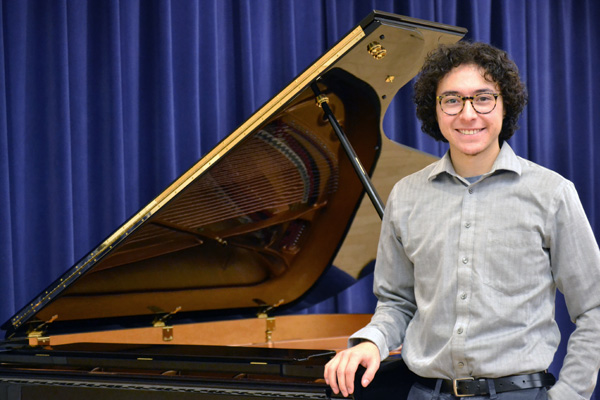 The UM-Flint Music Department is proud to have a new way to support students while also honoring the legacy of a local musician. The Donald Lorne Wyant Music Scholarship was established in memory of musician, entrepreneur, and Flint-native Don Wyant. The first recipient, Antonio Caballero, is a jazz pianist, trumpet player, and music education major in his junior year at UM-Flint.
"I am beyond thrilled to have this opportunity," said Caballero. "There is no feeling like someone else believing in your dream enough to help you achieve it. I am more than grateful, and am more than honored, to be the first recipient of a scholarship that will have a lasting impact on many music students to come."
"This scholarship has allowed me to pursue one of my passions within music: composition," Caballero continued. "Having the ability to study not only what I need to for my degree, but what I need to for my career, is so liberating and inspiring."
Honoring Don Wyant
In celebration of the new scholarship, the department dedicated a portion of its December jazz concert to Wyant's memory and his music. After announcing Caballero as the first scholarship recipient, a faculty trio played Wyant's original composition "Is it the Night" and the UM-Flint Music Jazz Ensemble performed his arrangement of "Over the Rainbow." The pieces were selected after the department was given access to Wyant's personal collection.
"It was a fascinating and rare opportunity to have the privilege to comb through all of Don Wyant's musical works which were created at the University of Michigan, just after the second World War," said Brian DiBlassio, associate professor of UM-Flint music, music theory, and jazz. DiBlassio was a part of the faculty trio at the concert and conducts the university's jazz groups.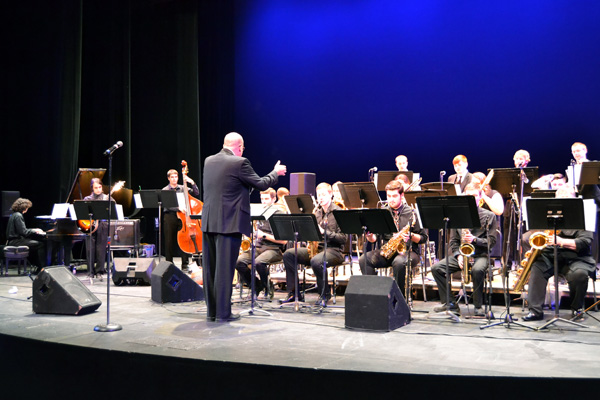 "It was a great honor to receive this endowment in Don Wyant's name," added DiBlassio. "It will provide a way to actively remember his legacy through continued student musical growth and learning at UM-Flint. This award is unique in that it will support students through their pursuit of jazz."
Wyant's love of music was present throughout his life. He studied piano and violin in his youth and graduated with a music degree from the University of Michigan in Ann Arbor, where he also studied architecture. He was an accomplished pianist, and played for many years with his good friend and Flint jazz legend Sherm Mitchell. Wyant was also well known for his many restaurants in the Flint area, as well as his passion for sailing and designing cars. Close friends have reflected that Wyant managed to weave his love of music through his many pursuits in life.
A UM-Flint Music Student
Like Wyant, Caballero is a passionate musician who has found a creative home in Flint. "The community of music students is amazing [at UM-Flint], everyone is super supportive of each other," he said. "The faculty are all very supportive as well, so having everyone rooting for you can be really motivating to keep pushing, no matter how stressful it gets. Having a small department helps too. It is easy to get to know the professors and your peers."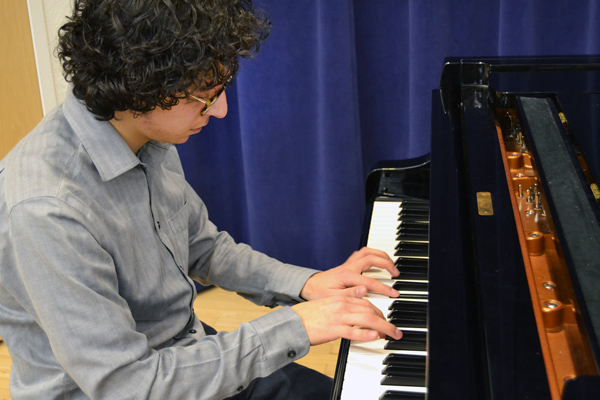 As a student in UM-Flint's College of Arts & Sciences, Caballero takes a wide variety of classes outside of his department. This allows him to encounter diverse viewpoints and create a unique learning experience based on his interests. It's an approach that will influence both his music and future career as an educator.
"My favorite classes have been the ones where my preconceived notions were challenged," reflected Caballero. "I have a class or two each semester that really pushes me to question what I think, and most recently that has probably been Physical Anthropology with Dr. Beverley Smith (associate professor of anthropology). Some of the information from that class really opened my eyes and intrigued me to know more about things I took for granted."
Caballero has also found inspiration and guidance from faculty within his department. "Of the many faculty who have influenced me, Dr. Christopher Heidenreich (associate professor of music) has made a huge impact," he said. "He has challenged my thinking time and time again about my life and musicianship in ways that I couldn't have imagined, and I am a better musician, student, and pre-service music educator for it."
Caballero's post-graduation plans will allow him to pursue both his love of education and composition. "I plan to go on to get a MMA in Music Composition, and hopefully combine these passions in a way that helps other people," he noted. "UM-Flint has prepared me by allowing me to have performance experiences and faculty interactions that I simply would not have been able to have at other schools."
Contact University Communications & Marketing with comments, questions, or story ideas.