UM-Flint Entrepreneurs Society provides valuable resources and opportunities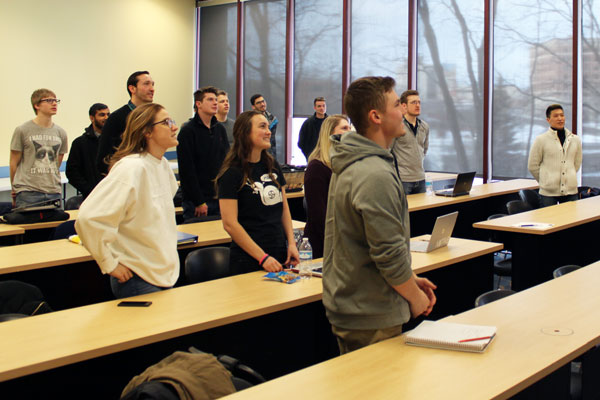 During a recent meeting of the Entrepreneurs Society, a student group at UM-Flint, members dove into a wide range of topics. They discussed their dream jobs, with advice given out on how to reach their goal. President Mike Engle shared details of an upcoming tour of the Ford River Rouge Complex. Members were encouraged to sign up for business cards supplied by the student group. And one member gave a presentation on his developing business plan.
Throughout the meeting, a common theme was apparent. The students were there to support and encourage one another.
"Our primary purpose is to support each other," said Engle, a senior majoring in international business and finance.
That includes developing networking opportunities, sharing internship and job openings, organizing personal training sessions, and recruiting alumni and community members to speak to the group. The group has helped its members build marketing plans for their burgeoning business ideas. It regularly works with the School of Management, Student Involvement and Leadership, and other units across the university.
The Entrepreneurs Society is celebrating its 10th anniversary this year, and will hold its 2nd annual Entrepreneurs Celebration, in partnership with the School of Management March 15. The event is a way to connect alumni, community members and students from all academic backgrounds.
"The whole purpose of the dinner is to invite people all around campus to connect, and to connect with those beyond campus," Engle said.
The UM-Flint student group annually attends Collegiate Entrepreneurs' Organization (CEO) events, and regularly receives national kudos for its efforts. The Entrepreneurs Society was most recently recognized by CEO for its cross campus innovation and networking efforts.
Through the Entrepreneurs Society, and efforts to recruit students across all academic disciplines, the members connect with peers with various skillsets, said Ashley Hardacre, the group's marketing director.
"We have people interested in biochemistry, engineering, art, and more," Hardacre said. "We are not just business orientated."
Anywhere between twenty to thirty students typically attend the regular once-a-week meetings, members said.
Michael Witt, the Entrepreneur-In-Residence at UM-Flint, started the Entrepreneurs Society in 2008, and remains its faculty advisor. Witt said the group is always evolving.
"The students decide what they want to work on at the individual basis, and on a group basis," Witt said. "It's designed to help the student accomplish their career goals. It's always creative and different."
The group's efforts have yielded results.
Hardacre said the student group helped her land a job, and members have provided her feedback on her t-shirt design business. Engle said the experience has honed his leadership skills, and further developed his business connections, including being a speaker at the Rotary Club of Flint.
"Our students are getting jobs, going on to graduate school, starting various activities, and growing their own businesses," said Witt. "I love to hear back from our students about what they are doing. It's humbling to see them doing so well."
Contact University Communications & Marketing with comments, questions, or story ideas.