UM-Flint Communication Studies alumna sends empowering message through yoga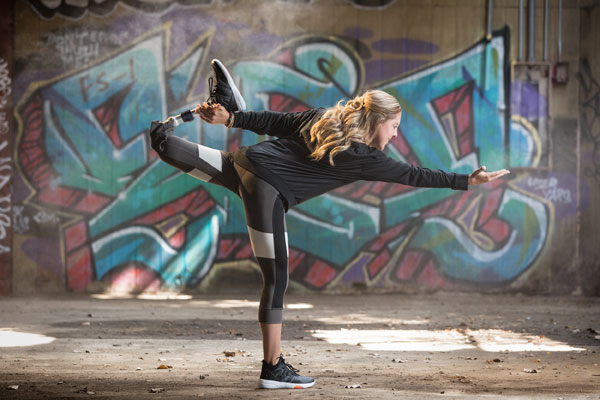 Every week, Kelsey Koch ('16) teaches up to 15 yoga classes at her studio in Grand Blanc. In each class, she is working with and communicating with a varied clientele. This includes a weekly class she teaches free to amputees.
In each situation, Koch said, she utilizes the public speaking skills she learned at UM-Flint in the Communication Studies program at the university.
"I was never really a good public speaker before UM-Flint," Koch said. "I never enjoyed giving presentations. But the program taught me to get over this. And now, in my classes, it is based on me speaking to a group, and teaching, without any qualms or fears."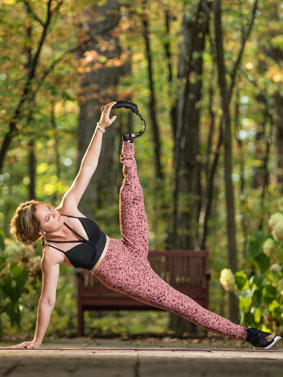 She graduated from UM-Flint in May 2016, and has flourished as the owner of Serenity Yoga. She was featured in Self Magazine earlier this year, and recently Reebok conducted a photo shoot with her and have used the images in social media marketing.
Koch was born without a tibia, and had a through-the-knee amputation on her left leg before she turned one. She started learning yoga during her career at UM-Flint after a trainer suggested it as a way to strengthen her entire body.
"It is a beautiful way to live your daily life," Koch said. "It is something anybody can do."
Koch finished her 200-hour yoga teacher training the same month she graduated from UM-Flint. Less than a year later, she decided to open her own studio. She teaches a range of yoga classes, and decided to add the free session for amputees as a source of support.
"I knew I wanted to help other people, and I wanted to be more of an example, and show what yoga can do for other people," she said.
Jack Hooker, a left leg amputee below the knee, takes the class and said it helps him with his balance and flexibility.
"By going to her class, it definitely adds to my rehabilitation," Hooker said. "Being an amputee herself, she understands. By her actions, we can see there is nothing we can't achieve. She is a good leader for that."
Koch adjusts each class based on the needs of the students in class during each particular session, Hooker said. While he pays for the class, Hooker said he appreciates that those that can't pay for the amputee-focused class can still take it.
"She makes sure that is not a factor," he said.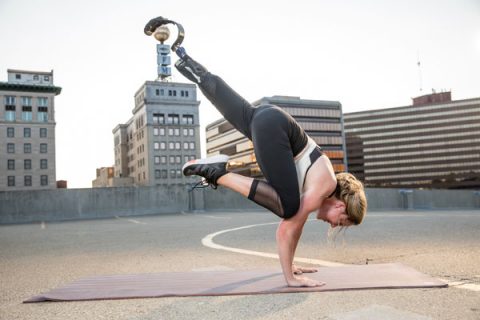 Heather Seipke, an associate professor with the Department of Communication Studies at UM-Flint, lauded Koch for her "drive and tenacity."
"She found her way to the Communication Studies program because she knew that the first step in helping others is your ability to create effective messages that reach and impact those in need," said Seipke. "I don't think Kelsey's message is yoga focused. I see her message as focused on confidence, perseverance, equality, and personal wellbeing. Yoga is the medium through which she can touch so many lives with this message."
Koch said the support from Seipke and so many faculty members helped her succeed at the university and after graduation.
"They truly care about you, what you do, and where you need to go," she said. "If you need help, they will help you. The program is excellent, with a lot of great leaders and professors that push you to be what you aspire to be, and to go as far as you want to go."
Contact University Communications & Marketing with comments, questions, or story ideas.