UM-Flint to International Students: You Are Welcome Here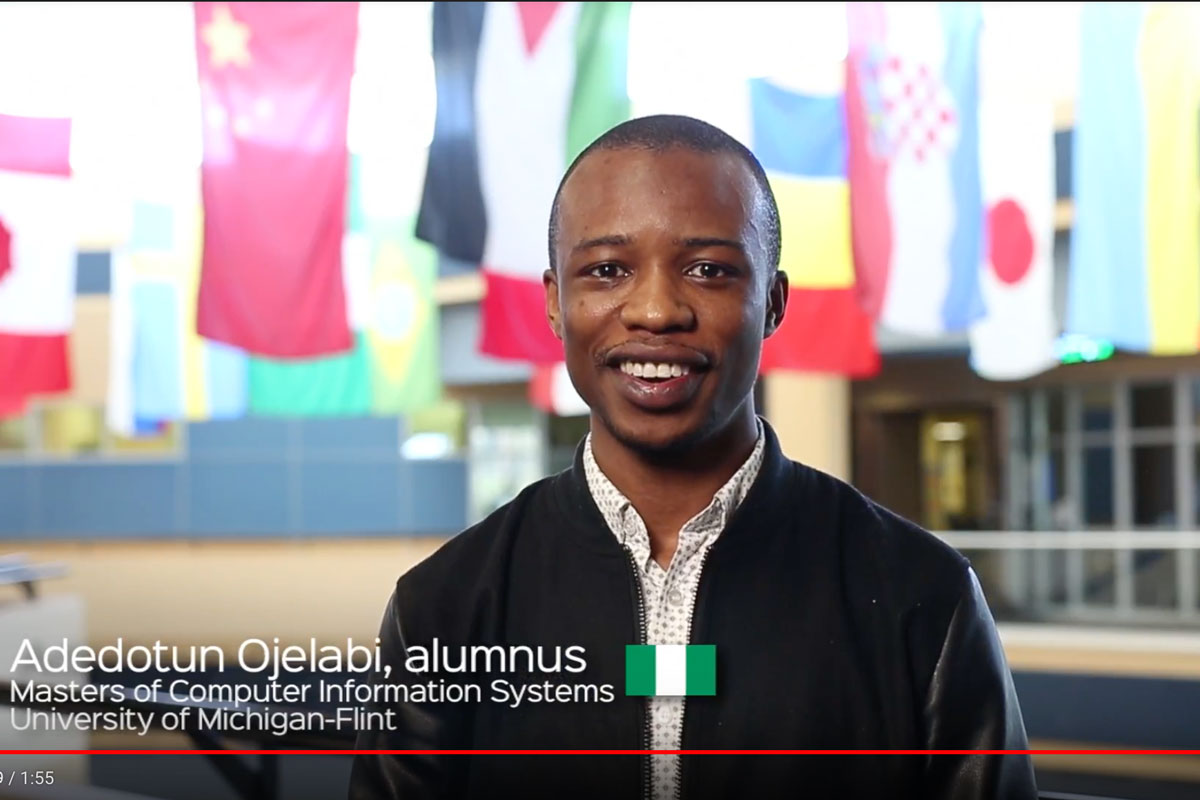 The University of Michigan-Flint International Center has launched a campaign welcoming international students.
The "You are Welcome Here" campaign includes a video featuring an array of international and domestic students, along with faculty, staff and Chancellor Susan. E. Borrego. The International Center has also developed a webpage which celebrates the diverse campus community, and provides details of support for students, including the center, International Ambassadors, cultural events, and more.
The video highlights the inclusive culture at UM-Flint, and how it benefits everyone.
"We want all international students to know that we are here for you," said Julie Coe, Interim Assistant Director of International Admissions at the university. "We support you, we value your ideas and cultures, and you are a critical part of our campus community. You truly are welcome here."
The International Center includes student ambassadors, who are both domestic and international students who help incoming students adapt to the country and to campus life.
Neelam Gire, featured in the video, was an international student ambassador as an undergraduate student. Gire, from India, now works at the center as an International Admissions and Recruitment Coordinator. She is currently a graduate student in the Masters in Public Administration program. She has lived in Flint for seven years, and said her experience at UM-Flint has made her feel at home.
"You get a lot of attention and support from students, faculty, and staff at UM-Flint," Gire said. "They are here to help you. I have friends from around the world, and have been introduced to awesome new cultural experiences because of it."
The university is also very active in recruiting students from around the globe, said Kristi Hottenstein, Vice Chancellor for Enrollment Management at UM-Flint. This includes recent recruitment trips to China and South Korea. Staff are currently visiting several countries in the Middle East, and traveling to India.
"UM-Flint values and welcomes international students and the diverse perspectives they bring to campus," Hottenstein said. "In a world where global competency is critical, we must work diligently and intentionally to ensure our campus fosters diverse learning experiences. Robust international recruitment is one way to do this. This fall, international staff have traveled abroad on four international trips in an effort to grow international enrollment at the University of Michigan-Flint."
There are currently more than 500 international students studying at the university, which has students, faculty and staff from more than 50 countries.
"Prospective international students should know that they will receive a multitude of support services from us," said Kathrine Colpaert, Global Outreach Coordinator with the International Center. "They will find a welcome and active campus community that is proud to host cultural events, and host activities that celebrate our global community as a strength, and use this diversity as an opportunity to learn from one another."
Contact University Communications & Marketing with comments, questions, or story ideas.