Student experts enhance UM-Flint Theatre productions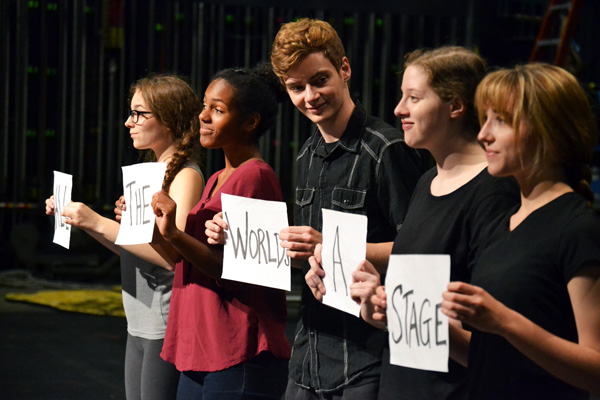 "All the world's a stage, and all the men and women merely players." This line is perhaps the most famous of As You Like It, a romantic comedy by William Shakespeare, but it doesn't reflect director and associate professor Janet Haley's approach to the UM-Flint Department of Theatre and Dance production of the play. In her theatre, students move beyond their roles as actors to provide guiding expertise in music, choreography, stage fighting, costuming, design, coaching, and direction.
"I value our students' point of view on material, and wanted to enable our students' development of leadership skills in areas of their interest and expertise. So I deliberately leaned into the nature of our student leaders in creating this production," said Haley.
Such hands-on experiences allow students to share what they've learned in their personal and professional lives, and pass along knowledge to "new-comers" while enriching the production. It's a practice that is especially important in a large ensemble that features several freshmen both on and off stage.
"We believe in providing our students with opportunities to be leaders, to share what they know, and add to our academic environment," noted Susan Gano-Phillips, Dean of the UM-Flint College of Arts and Sciences (CAS). "Theatre and Dance, as one of our 18 departments, provides so much more than the basic necessities of a discipline or career path. We are helping students prepare for a life filled with change and possibility."
Bringing Melodies to UM-Flint Theatre
Seth Hart is a senior theatre performance major. In the opening production of UM-Flint Theatre's 2017-18 season, he's sharing his acting talents on stage and providing live melodies on his guitar.
"I was charged with the unique opportunity, by Janet Haley and our music director and fellow cast member Jason Briggs, of composing melodies to the songs we wanted feature in our production," explained Hart. "Music is intrinsically linked to human emotion, so I believe that my musical performance is only enhancing the scene work that happens on stage. I like to believe that the music is another member of the cast that isn't seen nor always heard, but when they speak up it's only to add to the moment."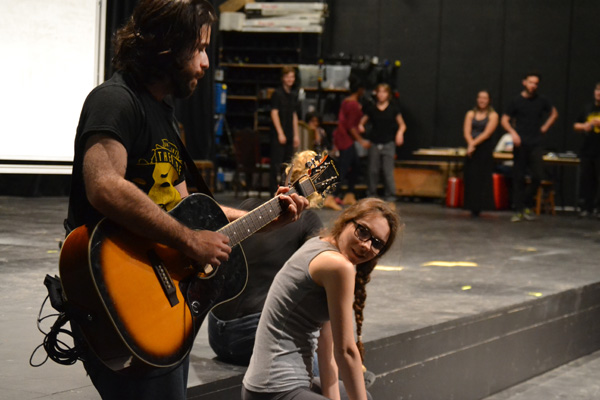 "Playing guitar for this production has also allowed some great character moments to happen between myself and my fellow castmates," he continued. "It was not uncommon for Janet to have me sit in and watch certain scenes or [work] with the actors to come up with something appropriate for the moment."
The UM-Flint production used an award-winning adapted script by Robert Kauzlaric. The revision originally called for music, but it wasn't included in its debut performance at the Michigan Shakespeare Festival. "Having the opportunity to contribute an element to this show that was previously missing is all sorts of exciting for me," said Hart.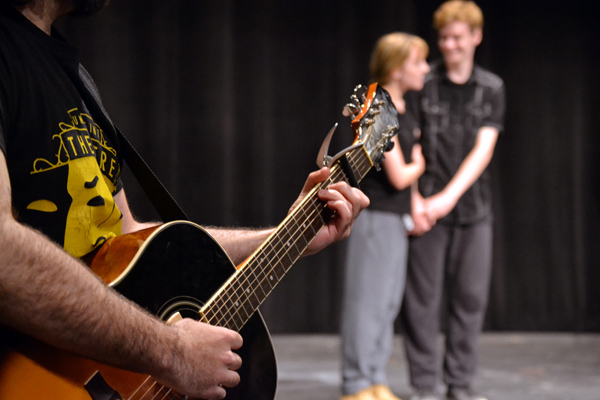 Hart's post-graduation goals aren't yet set in stone, and he's using his final semesters with UM-Flint Theatre to find and hone his performer's voice. "The department has been endlessly helpful in helping me find where that voice lives," he concluded. "Our faculty has such a diverse range of professional experience in so many different aspects of live performance that I know I can always go to them with any kind of question and I know I can get an answer backed up by hard-won wisdom and experience."
An Actor and a Leader
As a central figure in the cast, theatre performance sophomore Alyssa Banister had a lot of time to interact with other members of the production, including many who were new to the UM-Flint Theatre stage.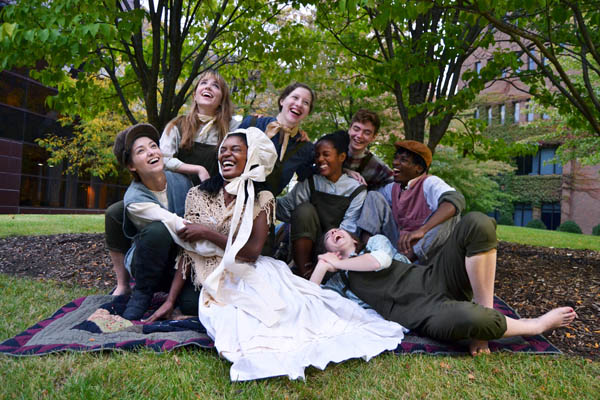 "I think I am bringing energy to this production," reflected Banister. "It's a high-energy show and without the energy, it makes for a 'blah' performance. My skills are, I like to think, helping the new students in the cast to learn professional theatre protocols that they may not have known before. I try to set an example for the new students, but no one is perfect and we all are constantly learning new things. The learning process for an actor is neverending."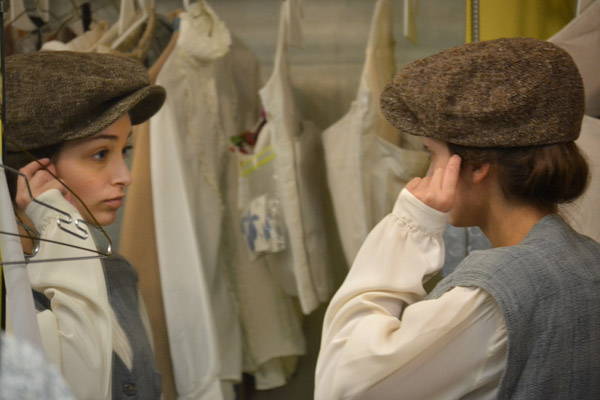 Banister said she especially valued the environment created by the cast and production team of this play, noting the willingness to try new things and support each other's ideas. "Our cast is one of the most hard working and talented casts that I have ever been a part of," she added. "I couldn't be more proud of everyone in this production."
A Professional On and Off Stage
Lucas Moquin, a senior theatre performance student, served as a principle actor and choreographer for the production.
"I believe I am bringing a sense of professionality to the production, especially to the younger students who are involved in this show," Moquin said. "[It's] very unique because we have not only a large cast, but it is made up of people from varying degrees of experience. It is fascinating to watch the more seasoned 'old timers' interact with the 'new comers' on and off stage."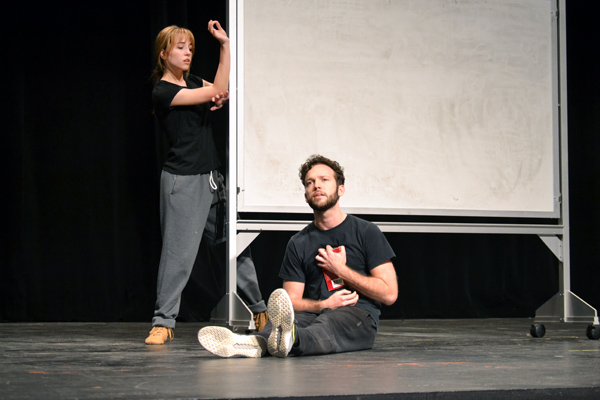 Moquin's "old-timer" status has been earned through his deep involvement on many department productions, and his professional experience outside of the UM-Flint Theatre. "I have spent three summers doing summer theatre in Alpena, Michigan at Thunder Bay Theatre," he noted. "And there we must work diligently and quickly to produce quality theatre. But with that efficiency and formality, I try to bring a sense of ease and a bit of playfulness."
In both companies, Moquin is used to being a leader and working with a wide variety of actors. "I have to constantly adjust my leadership style to fit the needs of the room," said Moquin. "It makes me very proud, though, to offer that part of my professional experience and knowledge for this show, and I am proud of the actors for learning the choreography as quickly as they have and for making my job easy."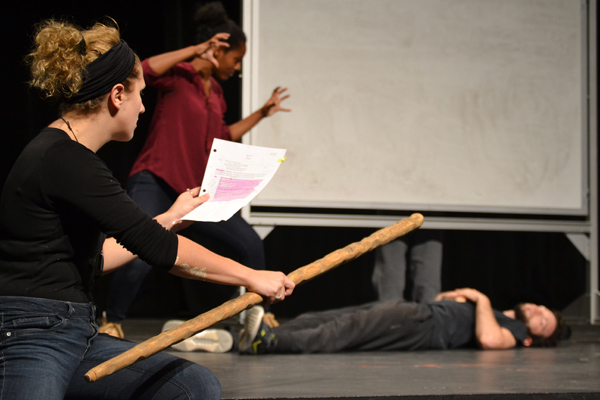 Moquin's choreography is present throughout UM-Flint Theatre's production of As You Like It. Through it, he and the cast were able to celebrate the fairytale feel and themes of the play. "It makes this production unlike any I've been in before," Moquin noted, "and it makes it quite a lot of fun."
After graduation, Moquin will be returning to the Thunder Bay Theatre for a full year, working as an actor and choreographer in residence. "I am always excited to take what I have learned in the Department of Theatre and Dance with me, and this time coming up is no exception," concluded Moquin. "The training we receive is not just for being actors, technicians, designers, etc., but we also learn how to be professionals and we learn how to carry ourselves as hard-working people."
Contact University Communications & Marketing with comments, questions, or story ideas.