UM-Flint Theatre student brings Colorado experience to campus stage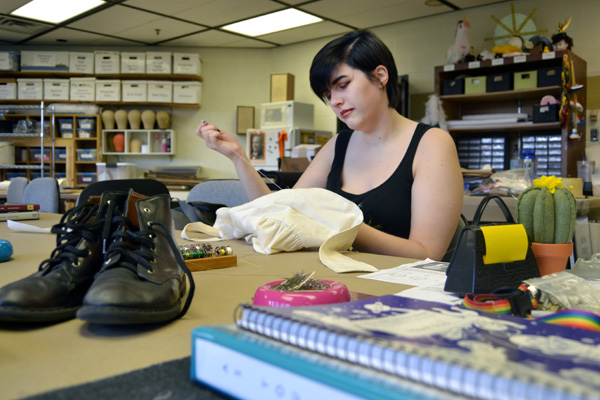 Quill Neuville, a senior design and technology student in the UM-Flint Theatre and Dance Department, spent their summer as an assistant in the costume shop of the Colorado Shakespeare Festival. What they learned there is having a major impact on work being done back on the UM-Flint campus, and has created a solid foundation for Neuville's future career plan. The trip was made possible by guidance from UM-Flint Costume Shop supervisor Adam Dill, support from the department, and additional support from the College of Arts and Sciences Opportunity Fund.
"Professional summer theatre and dance experience is a perfect complement to our degree programs," noted UM-Flint Theatre and Dance department chair and associate professor Shelby Newport. "The full-time, hands-on work that the students do during the summer months gives them a glimpse into the professional world and sets them up to be strong candidates for graduate programs or professional jobs in their areas after graduation."
The trip is also an example of the ways in which financial supporters of the College of Arts and Sciences (CAS) can directly impact student lives. "We have 18 departments and numerous programs housed in the College," noted CAS Dean Susan Gano-Phillips. "Donor support is an integral part of helping students to research, explore, and learn beyond the classroom. In Quill's case, we were thrilled to be able to provide funding that helped with travel and housing in Colorado."
"I can say with surety that my trip would not have been possible without that assistance," added Neuville. "I feel very grateful that I was afforded such an opportunity. It makes me want to work even harder to live up to the incredible gift I was given, in order to show that the faith put in me by my professors and the CAS was not misplaced."
Gaining Experience in Colorado
The chance to work in the professional shop came after Neuville joined Dill's Textiles and Stage Costuming class. In them, Dill noticed a "natural aptitude for the art…an eagerness to learn, a willingness to experience professional theatre, and a hunger to be successful." He saw the trip to Colorado as a natural step for one of his students to move beyond the classroom and gain meaningful, real-world experience.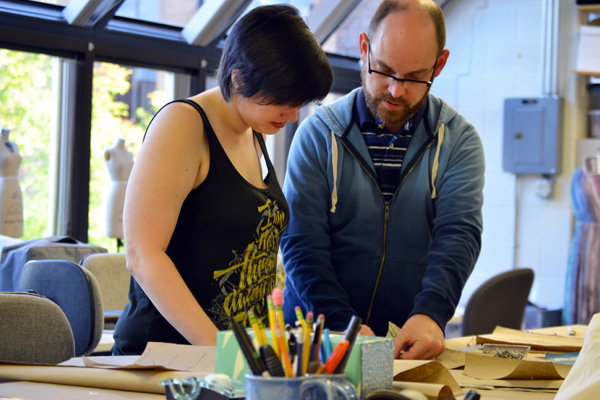 While in Colorado, Neuville and Dill were part of a team that completed costumes for five shows in just nine weeks. "Just to understand the fast pace of that season," said Dill, "the UM-Flint Theatre and Dance Department opens four shows in nine months. [During the Festival], we open a show every two weeks and keep opening them until all are up and running!"
Both Dill and Neuville commented on the creative stamina they gained during the demanding summer, and the growth in skills from working with a wide variety of new mediums. "I learned some new techniques for distressing clothing, including an interesting one that is reversible—which will come in handy when the integrity of the piece is important," said Neuville. "I was able to work with jewelry and armor, and learned to rivet and other ways to secure armor pieces. I also learned a recipe for washable stage blood and how to make blood packs, which will also come in handy."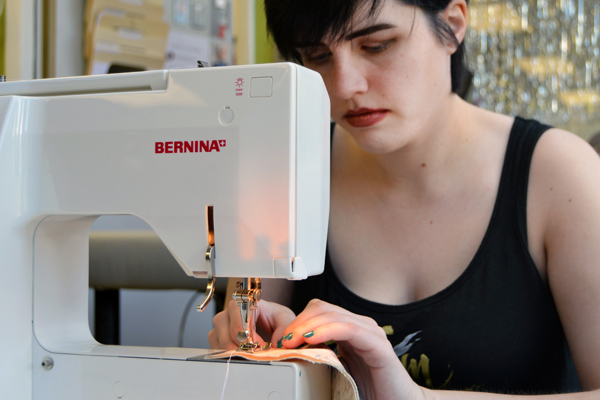 "Working in Colorado has given me a greater perspective and confidence in my own work," continued Neuville. "It was a lot of long hours and hard work, and it has given me the self-assurance that I can get a lot of work done in a short time and handle anything thrown at me, which is invaluable in my current work as well."
This is exactly the reaction Dill was hoping for when he recommended Neuville for the position. "Undergrad theatre can be a very challenging experience, and I knew working at a professional theatre would cause Quill to rise to the occasion," he said. "I think Quill was forced to recognize how talented they are and how much work a person can actually accomplish when they are focused and properly encouraged. I try to maintain a very healthy work environment, and I value the confidence I was able to instill in Quill."
A Part of UM-Flint Theatre
Before Neuville graduates and enters the professional world of theatre design and technology, they will be helping the UM-Flint Theatre and Dance department execute this year's costumes. The 2017-18 season opens with Shakespeare's As You Like it, and will also feature a musical, a dance concert, and a comedic production.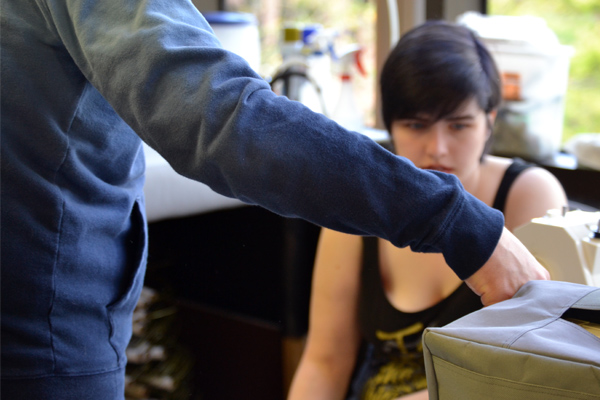 Neuville came to UM-Flint seeking "a comprehensive education in a university setting that was close to home." While here, they've found much more than expected.
"UM-Flint has some of the best faculty and students I have ever interacted with," Neuville reflected. "The theatre department specifically is so much like a family; my professors and fellow students all have a vested interest in seeing everyone succeed. I never expected to find a community of like-minded individuals like this, and I will always be grateful for every one of the people I am privileged to learn with and learn from."
Contact University Communications & Marketing with comments, questions, or story ideas.