A winning tradition: UM-Flint's history with Michigan football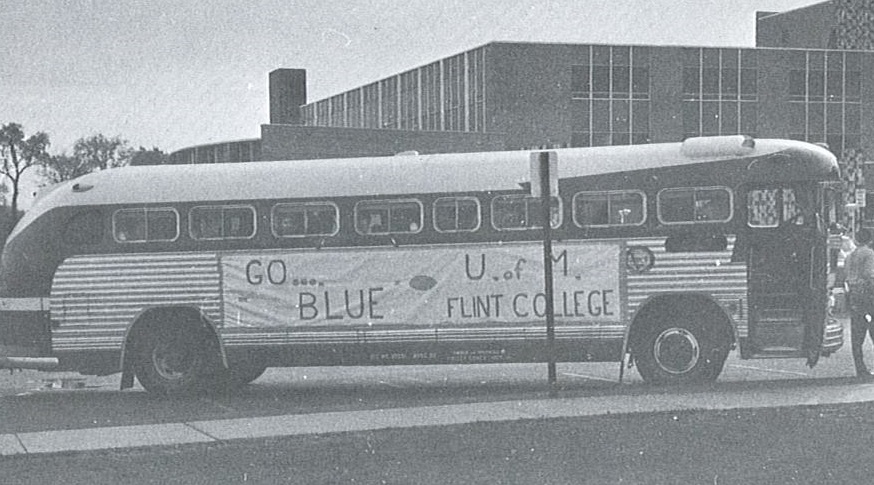 The University of Michigan-Flint certainly has its own distinctive identity and culture that differentiates it from the campuses in Ann Arbor and Dearborn.
But come Saturdays in the fall, there is one thing that always connects students and alumni, faculty and staff, local residents and fans across the globe: Michigan football.
Since Michigan began competing in intercollegiate football in 1879, students and alumni have flocked to games, first at Regents Field, then Ferry Field, and now Michigan Stadium. And, for more than 60 years, UM-Flint has made it a tradition of our own to head down to Ann Arbor to support the Wolverines.
Students from our earliest classes at UM-Flint were regular attendees, some even season ticket holders. Over the years, our campus' representation has only increased, with students and alumni hosting tailgates, playing in the marching band, working as volunteers, or just joining in the stadium chants or the jingling of keys.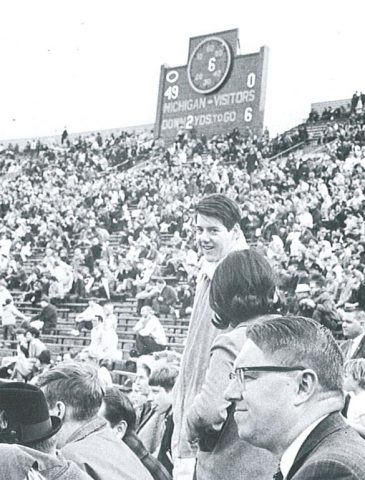 But at UM-Flint, our students and alumni have some traditions of our own. One of the longest-running of those is the annual homecoming bus trip, hosted by Alumni Relations. This trip, which has taken place for more than 20 years, has led to some unforgettable game days and lasting friendships.
Homecoming, and coming home
For Steve Laux ('89, '95) and his son, Jeb Laux ('00), this annual trip began as a chance for father and son to spend some time together. The duo began attending the homecoming game and bus trip around 2005, and instantly started a new tradition.
The two enjoyed the football games, spending time together, and tailgating with fellow alumni. Steve was known to always be prepared for the party with a cooler of ice cold Molson Canadian beer.
In 2014, however, Steve passed away and Jeb's tradition of attending homecoming games nearly came to an end.
"I always looked forward to having Steve and Jeb on the bus trip," said Brent Nickola, alumni relations manager at UM-Flint. "Jeb was always quick to greet me with a hand shake and ask what help I need as we  prepared for the trip down.
"I knew that Steve had passed away and it was bothering me to think that I would be hosting this trip without the two of them," he said.
Nickola, who attended UM-Flint with Jeb and his wife, Kim ('99), thought they might like to continue the tradition with their own kids. Nickola reached out to Kim with the suggestion, and she agreed it was a good idea.
"I will never forget that day when Jeb and his son, Gavin, got on the bus," Nickola said. "In some small way it just made everything right again. Little did I know just how much that trip was going to mean to Jeb, his son, and me."
As the bus set out from Flint for the trip down US-23, Nickola stood at the front of the bus to welcome the guests. When he finished, he reached for Steve's signature, a can of Molson Canadian, and invited everyone to toast one another in Steve's honor.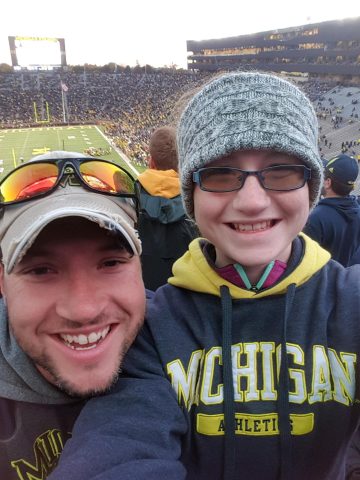 "I remember looking down the isle of the bus and seeing Jeb holding up his beer and toasting to the memory of his father as he had his arm around his son. I still get choked up when I think about it today," said Nickola.
When the bus arrived at the tailgate location, Jeb thanked Nickola for the toast and the two embraced. Laux then revealed to Nickola that he had brought some of his father's ashes and that he and his son intended to spread them near the stadium in Steve's memory.
"I was totally blown away when Jeb shared that with me," Nickola recalled. "At that moment, I knew the day would be a special one for all of us, especially for the Laux family.
"Jeb and his son may or may not have been able to get themselves in a position to put some of those ashes on the field that day. All I am saying is that I think Steve is still watching those games on Saturday from a very good seat in the Big House," said Nickola with a grin.
Breaking Ranks
For many, the experience of buying student tickets is the first taste of the football tradition as part of the official Michigan family.
Dating back to the formation of the Flint campus in 1956, UM-Flint students had the ability to purchase tickets alongside their counterparts in Ann Arbor and Dearborn. The system gave preference to students based on credit hours earned.
However, in 2007, a new policy was proposed that would essentially penalize students on the regional campuses, and give preference to students in Ann Arbor.
This didn't sit well with UM-Flint student Wade Merrill ('07, '10). Merrill was introduced to the game day experience when a high school friend, and Ann Arbor student, invited him to a game.
Merrill was hooked, and decided to use his student status to purchase season tickets along with a group of other UM-Flint students.
"After the experience of tailgating and attending a game in that amazing stadium for the first time, I knew the students in Flint would enjoy it, and that we could have one of those quintessential college experiences," Merrill said. "I went back to Flint and convinced about 15 of my fraternity brothers to take advantage of the opportunity and purchase season tickets with me."
Merrill and his friends began the weekly tradition of hosting a tailgate party on the U of M Golf Course prior to the games. The group began to grow when more and more classmates from Flint learned of the opportunity and joined in on the Saturday excursions to Ann Arbor.
This tradition, however, became threatened by the new ticket policy.
"When we discovered we would be seated behind the Ann Arbor freshmen, we decided to challenge the policy," said Merrill. "It was less about our crummy seat location and more a matter of principle.
"Our logic was that if students from all three campuses had the same access to things such as libraries, museums, and the like, then why was football any different?" said Merrill.
In an effort to challenge the policy, Merrill did what any 2000s-era college student would have done. He formed a group page on Facebook, a relatively new social media platform at the time.
"I formed a group thinking it would be a place for me and my friends to talk about this issue," he said. "But before I knew it, there were hundreds, and then thousands of students from across all three campuses joining.
"Soon the U of M Athletic Department got wind of it and we were invited to join a newly formed student advisory committee for athletics that had representation from the three campuses and provided student perspectives to the athletic department," said Merrill.
But it was soon apparent that the fight would be a tough one.
"When we started to address the issues surrounding the seating preferences, it was clear that the athletic department staff was not going to be easily persuaded," recalled Merrill. "But what ended up happening was that we got to know students from the other campuses and we began to work it out between ourselves.
Once the students on the committee agreed the new policy was not good and it needed to go, the athletic department agreed to change the policy back," said Merrill.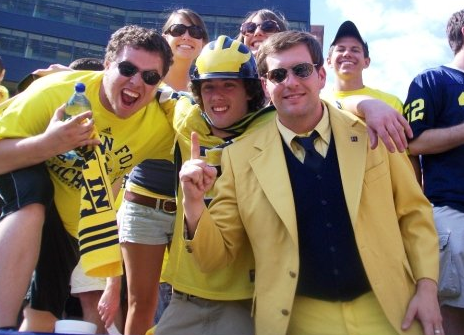 Looking back on it now, Merrill is glad they took on the fight but thinks taking a stand on the issue of football tickets is a bit trivial. He does, however, think the episode taught him and his classmates some valuable lessons.
"We learned that when students from across all three campuses work together and agree on something, the university is more likely to take action."
"We also learned how much our advisors from Flint were willing to help us. Then Vice Chancellor for Student Affairs Mary Jo Sekelsky drove us down for every single meeting of the committee and attended them with us. She was very dedicated to us," said Merrill.
"It was a bad thing that happened with the seating, but in the end it was a great experience for all us students," he concluded.
Continuing the tradition
The tradition of attending Michigan football games is alive and well with current Flint students. In fact, with the formation of a UM-Flint Club Sports Football team, today's students have more opportunities than previous generations to watch and play football.
Economics major Eric Roebuck is one of those students who is continuing the UM-Flint connection to Michigan football. He and many of his friends attend the games in Ann Arbor every weekend and enjoy the pregame camaraderie with their classmates.
In Eric's case, his ability to attend U-M football games even played a role in his decision to attend UM-Flint.
"I grew up in Chicago and attended high school in Indiana and was always a Michigan fan," said Roebuck. "When I graduated from high school and began thinking about college, being able to buy season tickets was one of the factors that I considered when choosing UM-Flint."
Roebuck and his friends have enjoyed the experience for the last four years and he intends to continue attending the games as an alumnus. His experience isn't unique, and provides some insight into why this tradition continues to be such a big part of the UM-Flint student and alumni experience.
"Watching the game is only part of the UM-Football experience. Even if you are not a diehard football fan, you should give it a try at some time in your college career. If you don't, you are missing out on a great opportunity to hang out with your friends, meet new people, and leave your stresses behind for a while," said Roebuck.
Contact University Communications & Marketing with comments, questions, or story ideas.