UM-Flint Communication Student Brings ADA Awareness to Campus, State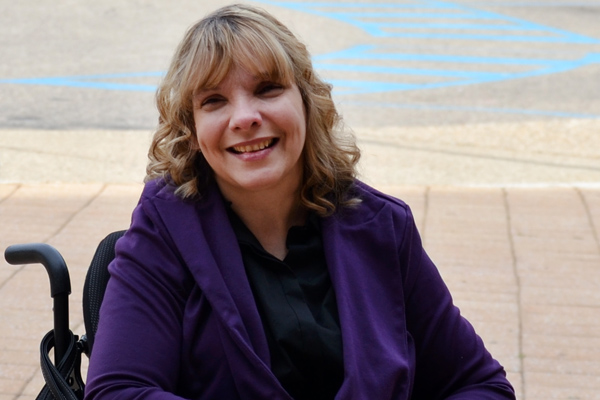 Charlene Lizotte is a student of UM-Flint Communication Studies, majoring in professional communication and minoring in entrepreneurship. She's also the owner and main consultant of a disability awareness training and consulting firm. Lizotte is bringing her two pursuits together by presenting a free community awareness event, the All About Awareness Expo, as her internship project for the department.
The UM-Flint College of Arts and Sciences (CAS), which houses Communication Studies as one of its 18 departments, is focused on entrepreneurship this year. Noted Susan Gano-Phillips, CAS Dean, "Charlene Lizotte exemplifies the qualities that make both entrepreneurs and liberal arts students successful: creative and critical thinking, attention to diversity, focus on communication, and the ability to problem-solve. It's wonderful to hear how she's able to apply what she learns in class to improve her real-world business."
"We think this kind of learning-by-doing is very valuable for students," added UM-Flint Communication Studies department chair Marcus Paroske. "Experiences like this give students practical knowledge and marketable skills."
UM-Flint Communication at Work
As a consultant, Lizotte helps businesses recognize areas within their physical structures that would be difficult to access for those with disabilities. She also works with employees on sensitivity, disability assistance, etiquette, and communication. As a wheelchair user, she offers her clients a chance to observe the ways in which even small changes can make their spaces more accessible.
"Work should be something you enjoy, something you are passionate about," said Lizotte. "Offering consulting and training services allows me to make a difference in people's lives. All About Awareness is not just my business name, it is a mindset."
Lizotte's business was born from her work with the Michigan Developmental Disabilities Council (MDDC). In 2008, the MDDC received a grant to offer sensitivity training in the community. In conducting the work, Lizotte noticed that "good things were happening." When the grant had expired, she received permission from the Council to continue on as an independent consultant and entrepreneur.
A few years after starting All About Awareness, Lizotte decided it was time to return to school. She chose UM-Flint after a recommendation from her niece, a UM-Flint alumna, and meeting with the Communication Studies professional advisor, Kim Laux. Lizotte immediately saw the valuable ways in which her coursework would complement her business, especially in areas of public speaking and digital communications.
"Kim Laux has been instrumental in helping me structure my Communication courses to my style of learning," reflected Lizotte. "Depending on the subject matter, I might do well in an online course rather than a campus classroom. Kim is always eager to explain all my choices."
Making a Difference at UM-Flint
In 2016, Lizotte joined Legal Services of Eastern Michigan's Patricia Baird in a review of Americans with Disabilities Act (ADA) compliance at the university. Their visit yielded recommendations to increase accessibility in the French Hall's Theatre lobby bathrooms. "I needed to help the school make things that were not accessible, accessible," remembered Lizotte.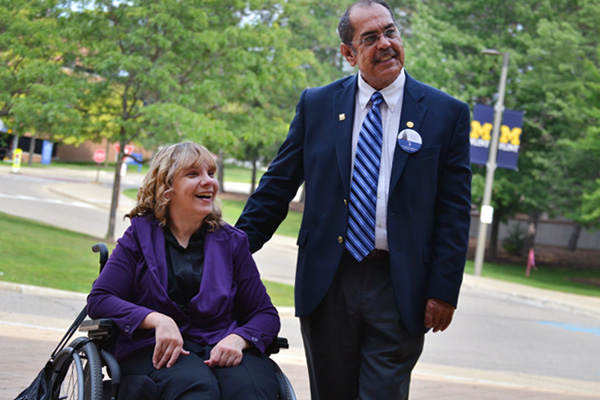 Her work in the community and at the university drew the attention of another UM-Flint alum, Michigan State Representative Tim Sneller ('85, Political Science). He requested to job shadow Lizotte this year as part of the state's Take Your Legislator to Work campaign. The program is organized by the Michigan Developmental Disabilities Council and aims to make legislators aware of the benefits of hiring individuals with disabilities. Noted MDDC's Community Inclusion Coordinator Mary Shehan-Boogaard, "We believe by bringing legislators into workplaces and demonstrating, first-hand, the impact that employees with disabilities have on their workplace, we will do more to educate the legislature on the power of integrated employment than simply them reading about it."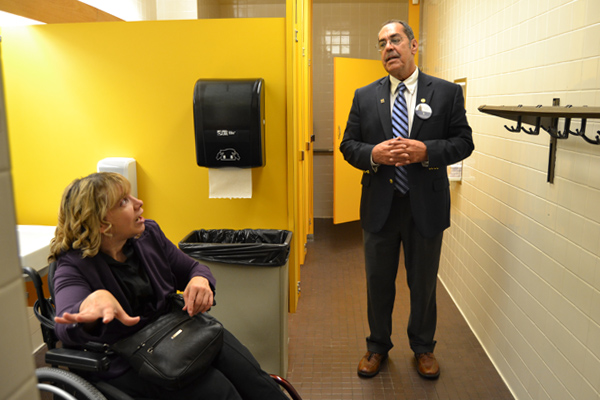 During their day together, Sneller shadowed Lizotte through UM-Flint's Harding Mott University Center (UCEN). She was reviewing the venue as she would on any consulting visit and in consideration of her upcoming Abilities Expo. "During Representative Sneller's visit," recalled Lizotte, "I [talked] about the features of the UCEN: bus stop pick up and drop off, power button doors, accessible bathrooms. Thinking about what you look for when welcoming guests." She was happy to conclude that the UCEN was adequately set up for her event's needs.
Part of UM-Flint Communication Studies
Lizotte is grateful for the opportunities the Communication Studies department and the university have provided to improve her business and share her message. "As an entrepreneur, I have collaborated with several local and state organizations, businesses, and schools," she noted. "My business is about incorporating the community, and the university has become such a big part of that for me. UM-Flint's involvement in this year's Abilities Expo is yet another opportunity to promote accessibility, diversity, and inclusion."
"Charlene has a passion for helping people with disabilities live well," said Paroske. "Since the core of Communication Studies is helping people have more productive and meaningful interactions with each other, this event is a great example of how what you learn in class can translate into an application that helps people solve problems."
Heather Seipke, an associate professor in the Department of Communication Studies, will be bringing her class to the Abilities Expo. Her students are studying concepts of applying perspective to current events covered by the media. Seipke said, "This event provides a great opportunity to observe unique perspectives. [However,] first and foremost, we are attending to support Charlene. We are like a big family in Communication Studies; the family value we hold highest is to support what we call our COMrads. Charlene is an amazing person on a mission to bring awareness and create access for individuals with disabilities. She is going to be a major contributor to the disability rights movement."
"Charlene is a whirlwind," added Paroske. "I think she is reminding us to never underestimate what a dedicated student with a drive to change the world can accomplish."
The department formally recognized Lizotte's work by nominating her for inclusion in the University of Michigan's James T. Neubacher Award ceremony. Lizotte will be recognized for her outstanding service to the disability community as she's presented with a certificate of appreciation. The event is sponsored by the University of Michigan's Council for Disability Concerns, Office of Institutional Equity, and the Office of the President.
Contact University Communications & Marketing with comments, questions, or story ideas.