UM-Flint Hosts Community-Driven Research Day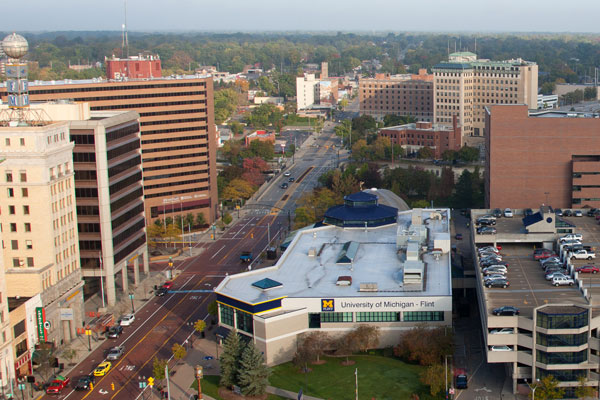 The University of Michigan-Flint is playing a key role in an upcoming community research event that connects academic experts with community organizations.
The inaugural Community-Driven Research Day matches the skills of researchers, including faculty at UM-Flint, with the needs of Flint-area organizations looking for expertise to apply to community development, assessment, and research projects.
The October 12 event is hosted by UM-Flint, and sponsored by the Healthy Flint Research Coordinating Center (HFRCC). The deadline to register is October 6. HFRCC is a partnership between Flint Community Partners (a coalition of community-based organizations), University of Michigan-Flint, University of Michigan Ann Arbor, and Michigan State University.
Faculty are encouraged to attend the research day, and can register using the HFRCC registration form. One of the goals of the event, said Ken Sylvester, director of the Office of Research and Sponsored Programs at UM-Flint, is to provide research opportunities for the university's faculty.
"This event provides a chance for interdisciplinary research to develop from this," Sylvester said. "It also provides a stronger understanding of the expertise here at UM-Flint."
Faculty from various other universities will also be at the event, including Michigan State University, Wayne State University, and U-M Ann Arbor.
The event will extend beyond networking, Sylvester said. Faculty are asked to describe their areas of expertise and interest during registration. Community organizations also provide a summary of their needs and interests. This process will allow participants to potentially discuss specifics at the event, Sylvester said.
Valley Area Agency on Aging, The Disability Network, Flint Odyssey House, Latinos United for Flint, Local Initiative Support Corporation, and Family Service Agency of Mid Michigan are some of the organizations attending.
The roughly two-hour event will start at 6 p.m. in the Genesee County Community Action Resource Department (GCCARD) building at 601 N. Saginaw Street, across from UM-Flint's William S. White Building.
Contact University Communications & Marketing with comments, questions, or story ideas.