UM-Flint Chancellor highlights positive momentum in State of the University address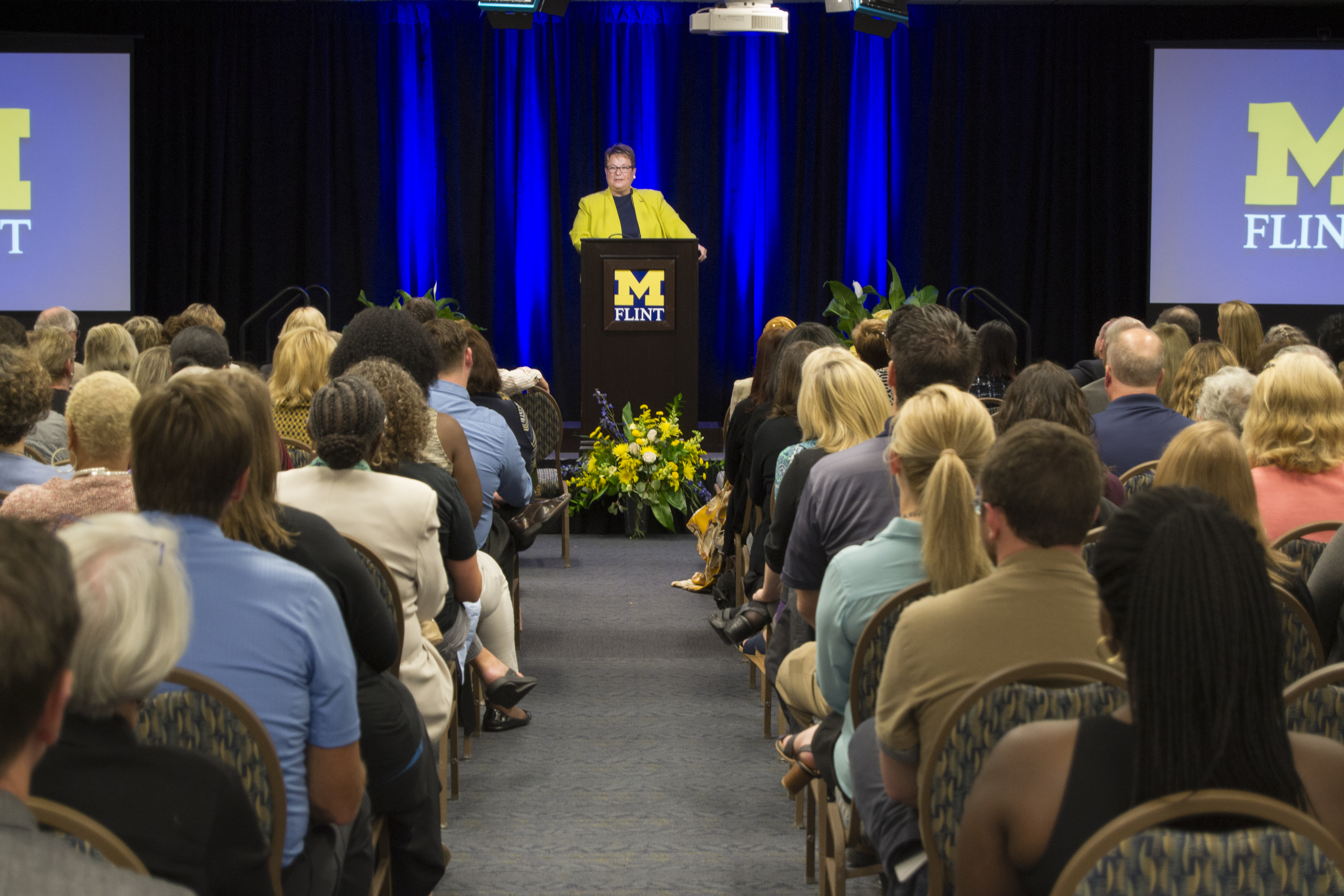 University of Michigan-Flint Chancellor Susan E. Borrego delivered the annual State of the University address today, where she detailed positive trends for the university's student enrollment and capital campaign.
Hitting Enrollment Goals
Chancellor Borrego announced increases in first-year enrollment and improved retention as part of its annual 10th day enrollment reports for Fall 2017.
After experiencing some challenges in recent years in the area of enrollment due to the Flint water crisis and other factors, UM-Flint is now capitalizing on new commitments in this area.
"It's gratifying to see that some of the steps we've taken with respect to enrollment are beginning to yield positive and sustainable results," said Chancellor Susan E. Borrego during her annual State of the University address, delivered today before a room of about 200 attendees from campus and the community.
For the Fall 2017 semester, UM-Flint reported an almost 7 percent increase in first-time-in-any-college (FTIAC) students, with a total of 684. This is the largest group of FTIAC students at UM-Flint since 2011, and represents the first time the university exceeded its goal in this area in three years.
UM-Flint's focus on retention was also reflected in the 10th day report. Retention of the 2016 full-time cohort is 77 percent, a significant increase over the 68 percent rate from the previous year. Among transfer students, retention is more than 79 percent, which represents a five percent jump from 2016 (74 percent).
Borrego attributed these positive enrollment trends to the creation of the university's first enrollment management division and the addition of new academic programs.
"By creating exciting new programs and realigning resources to address key areas of opportunity in recruitment and retention, we are becoming more intentional in our efforts to carry out our academic mission to this region and beyond," said Borrego. "We owe a great deal of gratitude to our dedicated enrollment management team for orchestrating such positive results for our campus."
Victory for "Victors for Michigan-Flint"
Chancellor Borrego also announced that the university's Victors for Michigan-Flint campaign has surpassed its goal by more than $11 million dollars to date.
As of September 20, the Victors for Michigan-Flint campaign has raised more than $51 million for its campus, with a little over one year left before the campaign closes in December 2018.
The Victors for Michigan-Flint capital campaign was developed as a multiyear effort seeking to raise $40 million or more in private philanthropy to increase student support, advance UM-Flint's academic priorities, and expand its positive impact on the community.
"The alumni and friends of this university have stepped up in a major way to put our campaign ahead of schedule and we are extremely grateful for their generosity and enthusiastic support of our mission," said Chancellor Borrego. "However, we still have much work to do in meeting our student support goal and will work tirelessly over the remainder of this campaign to do so," Borrego added.
UM-Flint officials set a target of $20 million for student support in the way of scholarships and other student-related services or programs. To date they have reached just over the half way mark with $13 million and counting. "Students are the heart of our university," said Borrego.
"Ensuring that they have the opportunity and access to a Michigan education is the highest priority in our Victors campaign."
Contact University Communications & Marketing with comments, questions, or story ideas.