UM-Flint's 40th Critical Issues Forum features astronaut, author, artist, & advocate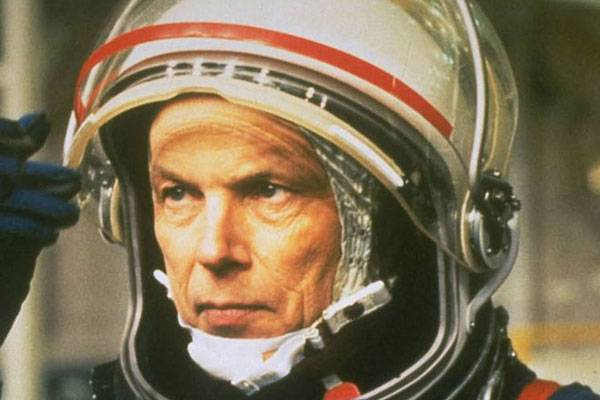 A former astronaut, an award-winning author, a social change thought leader, and a former NFL player turned multimedia artist and community facilitator are set to speak at UM-Flint this year as part of the university's Frances Willson Thompson Critical Issues Forum.
The theme for the 2017-2018 Critical Issues Forum is "Dare to…," and revolves around the courage each speaker tapped into to make change happen. Astronaut and scientist Story Musgrave, Made to Stick author Dan Heath, NOW Ventures co-founder Shiza Shahid, and athlete and artist Baron Batch will speak about career and life paths as part of the series.
"Every year, this series provides opportunities for our campus and surrounding Flint community to be informed, enlightened, and challenged to think differently about the things that impact our lives," said Susan E. Borrego, chancellor of the university. "This year is no exception, with four speakers adding to a list of Forum alumni that include Nobel Prize winners, cabinet members, and cultural icons who have made this series one of our university's signature events and a highlight of our year."
The 2017-18 Critical Issues Forum is set to begin on Thursday, October 5, with former astronaut and scientist, Dr. Story Musgrave. Musgrave performed the first shuttle spacewalk on Challenger's maiden flight, was the lead spacewalker on the Hubble Telescope repair mission, and served as mission control communicator for 25 missions. Today, he is a multimedia producer/director, a landscape architect, an innovator with Applied Minds Inc., and this year's Jack W. Thompson, M.D. Distinguished Visiting Professor at UM-Flint.
Other speakers in this year's Critical Issues Forum lineup include:
The ideas Dan Heath has championed have inspired actions in a wide variety of settings and situations. Dan is co-author, along with his brother Chip, of three New York Times bestsellers, including Made to Stick. Their newest book, The Power of Moments, will be released in October.
Shiza Shahid is a social entrepreneur, television personality, and women's rights activist. She co-founded the Malala Fund with Nobel Prize winner Malala Yousafzai and Ziauddin Yousafzai. Shiza is now focused on supporting startups, innovators, and entrepreneurs, particularly women, who are creating positive global impact.
Baron Batch, a former running back for the Pittsburgh Steelers, describes himself as a community facilitator, conceptual multimedia artist, and entrepreneur based out of Homestead, PA. He opened a creative arts incubator called The Hideout to support artists and like-minded creatives with a platform that empowers individuals to implement business and artistic strategies in the Pittsburgh community.
The Forum starts earlier this year, with the luncheon presentation beginning at 11:45 a.m. and the program taking place from noon to 1:15 p.m. in the Northbank Center Ballroom on the University of Michigan-Flint campus. Tickets for the lunch program are required, and can be purchased in single-ticket, 2-ticket series, or 4-ticket series options at umflint.edu/cif.
Following each Forum luncheon, the university will host the Sullenger Dialogues from 1:45-2:30 p.m. in the University Center on campus. Free and open to the public, the Sullenger Dialogues bring the campus and community together for a more in-depth and intimate conversation with the featured guest.
This year marks the 40th anniversary of UM-Flint's Critical Issues Forum. For four decades this Forum has delivered daring, thoughtful, and remarkable speakers thanks to a generous gift to the university by Mrs. Frances Willson Thompson and the Thompson family.
For more information on the 2017-18 Critical Issues Forum, its speakers, or tickets, visit umflint.edu/cif.
Contact University Communications & Marketing with comments, questions, or story ideas.