UM-Flint's First Resident Advisor Returns to Campus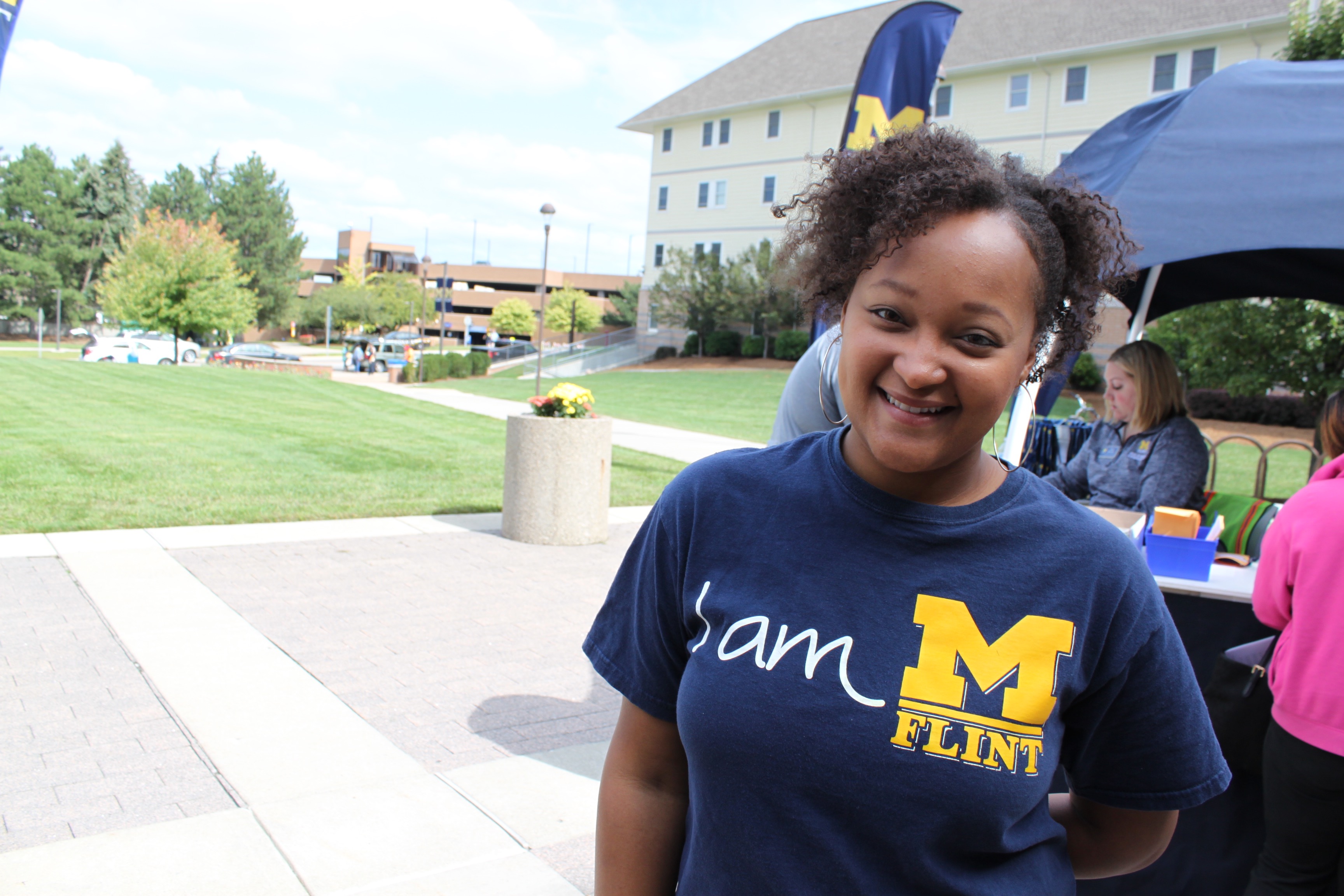 Houston native and alumna LaTanya Hughes ('09) has the distinction of being one of the first eight people to ever live on the UM-Flint campus. In 2008, when the campus opened its first residential hall, Hughes was hired as one of eight resident advisors (RA). She credits that experience, and the support of her faculty, as the reason she will be connected to UM-Flint for the rest of her life.
Shortly after graduating high school, Hughes moved to Flint to help care for her ailing grandfather, with the intention of attending Michigan State University in the fall of 2005. When it became apparent that her grandmother needed substantial support, Hughes realized she needed to alter her plans for college.
"I had been accepted to Michigan State and was planning to attend that fall," said Hughes. "I decided to come early and help grandma. After being here for a period, I realized that she was going to need my help for longer than I planned. After I realized that moving to East Lansing was going to be a burden on all of us, I looked into UM-Flint. My father was a UM-Flint alum and he encouraged me to go."
Once enrolled at UM-Flint, Hughes learned of the opportunity to become an RA in the First Street Residence Hall that was set to open in the fall. She applied for one of the positions and was selected.
"There was so much excitement around the opening of the hall. The entire community was supportive of the campus. For those of us that were selected to be RAs, there was this sense that we were literally building something from the ground up," said Hughes. "It was new to all of us, and we felt that we were all in it together. It created a family-like bond."
While working as an RA, Hughes excelled in her studies. She ultimately earned the Maize and Blue Award, UM-Flint's highest academic honor. As a student, she also forged strong relationships with her faculty and advisors—including one particularly helpful person, dean of the School of Education and Human Services at that time, Dr. Mary Jo Finney.
"Dr. Finney was always there for me when I needed her," said Hughes. "She was the dean and very busy, but somehow always found time for me. She treated me like I was a peer, not her student.
"I could always count on her when I needed advice. Dr. Finney even helped me prepare the speech I delivered at commencement in 2009. I will never forget how much she helped me."
After graduation, Hughes went on to pursue a master's degree and then returned to the Houston area, where she has taught elementary school for the past 6 years. Recently, she decided to take a break from teaching and return to Flint to assist her uncle, a pastor at St. John Christian Church, with starting a non-profit organization affiliated with the church.
"I had been speaking with my uncle for a while about his desire to start an organization focused on helping the homeless and children of the Flint community," Hughes recalled. "I also wanted to help his church reach out to residential students at UM-Flint looking for a church close to campus. I moved back to Flint this August, and I am happy to be here."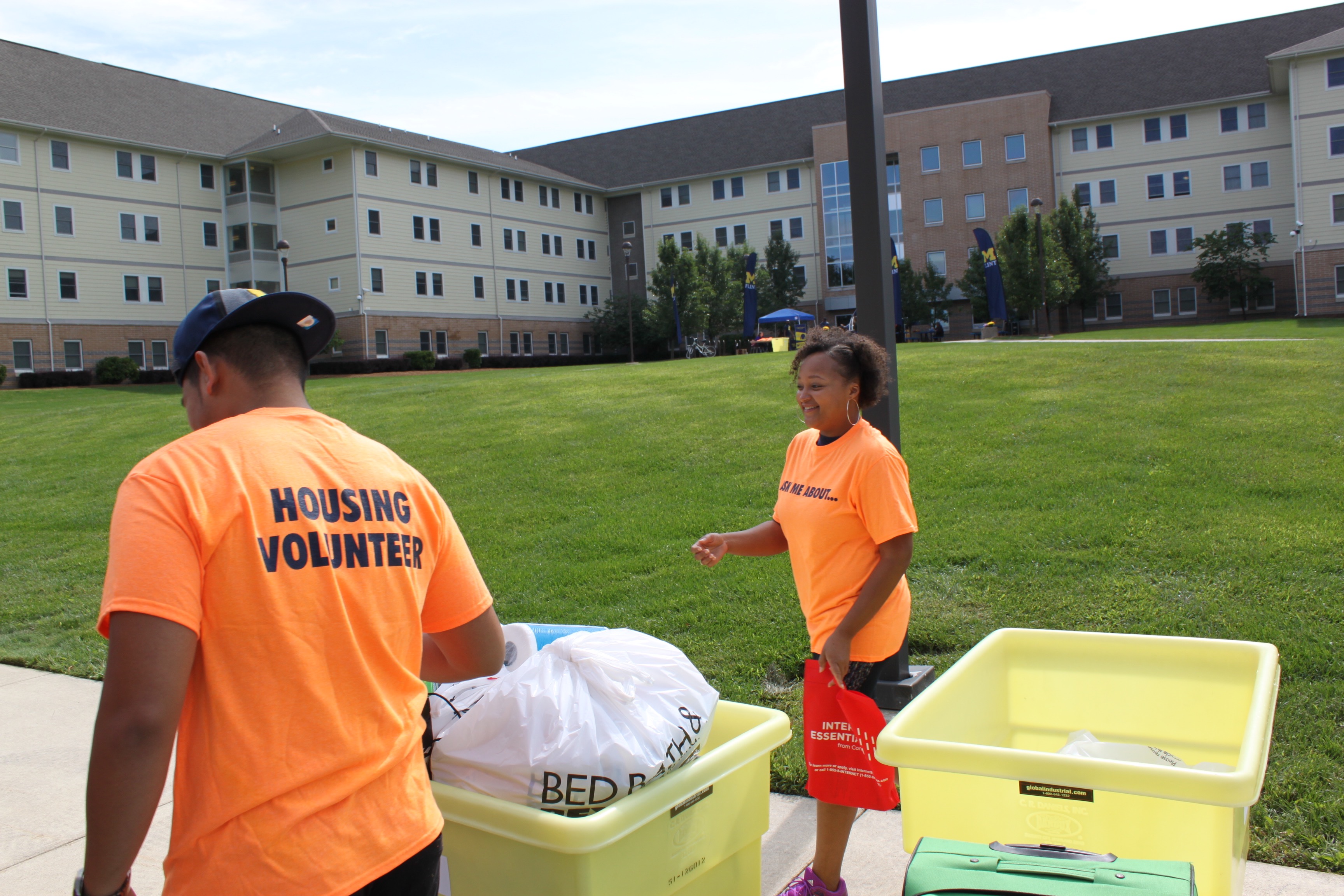 Upon arriving in Flint, Hughes discovered that Alumni Relations was seeking alumni volunteers to assist students with their move into the residence halls during several "move-in days." She immediately signed up and was excited to visit campus and help students move into the same residence hall she helped launch a decade ago.
"Coming back to campus and helping students move in was so wonderful. When I was here as a student, it was my home, and I was so comfortable," said Hughes. "I was excited to welcome students to a place that is special to me."
One particularly poignant moment took place during move-in while helping a student.
"We had loaded all of his things onto a cart and began heading into the hall. When I asked what room we were headed to, he responded, '229.' I became so excited because 229 was my old room. It was great to see my room again. What a coincidence that I helped him," said Hughes.
LaTanya plans to be in the Flint area for several years before returning to the Houston area to raise her young daughter. While here, she intends to be involved in other alumni volunteer activities at UM-Flint.
"I believe that UM-Flint has so much to offer a diverse population of students," Hughes said. "Young, old, local, or from far away, this place has something for everyone.
"I believe that people can create a path to their own successes, but they need the guidance and confidence to get there. UM-Flint helped give me that, and I want to help give it back to others."
Brent Nickola
Brent is the Alumni Relations Manager in the Office of University Advancement. Contact him with questions related to alumni programs, activities, and services.