UM-Flint Faculty Members Research Improvisation in the Classroom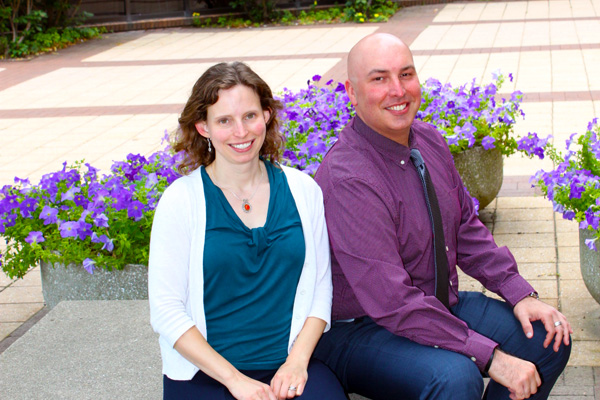 UM-Flint faculty members Stephanie Dean and Joshua May are conducting a joint research project on improvisation in the classroom. Dean, an associate professor of theatre, and May, a voice lecturer in the music department, will present on the topic in October at the higher education-based Lilly Conference in Traverse City. Dean and May discussed the benefits and dynamics of improvisation in the classroom in this Q&A with University Relations.
Will you describe your joint project on improvisation in the classroom, and your plans for presenting on the topic?
May: Improvisation encourages critical thinking, risk-taking and helps assess student learning. Our project looks at how improvisation can be used in the college classroom across multiple disciplines to teach introductory core concepts in a course. We want to provide an opportunity for instructors and students to break down the traditional lecture format to construct transformative learning through unique improvisation game play. I've used this type of format in my classrooms for MUS 100: An Introduction to Music, Diction for Singers, Vocal Pedagogy, and Opera Workshop.
Dean: I use improv in the theatre classroom on a regular basis in actor training. Dr. May approached me about it and said he was interested in seeing how improv was applicable outside of the arts. I was particularly interested in this because at the previous university for which I taught, one of the classes I was charged with was creative learning in the elementary school classroom. This course basically taught education majors how to apply improv games to a wide range of curriculum in different fields. We've done some research regarding the use if improv in STEM courses at a university level and are interested in applying it. I also used a lot of improv when I taught public speaking courses. Dr. May and I plan to reach out to faculty across campus and see how we can activate students with improv. We will be presenting this at the Lilly Conference in Traverse City in October.
How do you use improv in the classroom and how does it help you as a teacher? How does it help with learning and interaction?
May: I've used improvisation in my classrooms for MUS 100: An Introduction to Music and MUS 230/430 Opera workshop, and MUS 236 Diction for Singers. Students learn to build a community of trust in the classroom, while they learn from one another in the game format. It feels more like play, while they are learning in multiple modes. It helps me become a part of the lesson, because it takes away a bit of the traditional instruction set up in lecture. It allows the students to think critically on their feet, while actively listening to what their colleagues are offering in response to their answers. This generation of students are driven by technology and social media. With improvisation, we allow them to foster collaboration and promote emotional intelligence while they master complex tasks together. This promotes deep learning through active engagement of new ideas, concepts, and problem solving in the classroom.
Dean: Improvisation keeps students alert, interested, and engaged. Students are able to learn in multiple modes. In addition, they are allowed to experiment, take risks, and it is okay to fail. When students are allowed to make a mistake in the classroom and not feel like they "got the answer wrong," it builds confidence and interest in the material. Finally, students enjoy interacting with each other. They become friends, look forward to coming to class, and have a joint experience that creates a basis for future learning and group work.
Have your views on this or your implementation of this evolved over your professional career?
May: I've taken some of what I learned in my performance career as an opera singer into the improvisation set up in my classes. I have found that using improvisation in the classroom has helped me develop action packed lecture materials. As I've grown as an educator, I have set up most of my lectures in 15 minute intervals that help students stay in the active learning mode. I try to have different kinds of learning modes for everyone in the room. It helps introduce a complex problem or topic with an engaged activity that helps them think through each step to break down the lecture into simpler learning items. It also opens the classroom up to everyone, so that each student feels included and heard by their peers/instructor.
Dean: I have become more adept at using improv in my "lecture classes." As most of my classes are hands-on, technique, and skill based courses, I have found lecture courses to be more challenging to teach. The more I add improv and group exercises to any class I teach, the more engaged the students and I become.
There may be some faculty who feel their academic fields aren't conducive to improvisation. Are there misunderstandings regarding it or limitations to it?
May: I think the word "improvisation" creates a fear in some instructors. We take so much time and care in developing the lesson plan and course structure from one topic into the next that it seems like it could be lost time in the classroom. If we utilize strategic improvisation to help students problem solve large, complex topics, you may find that students are able to articulate what you need them to know in their own words at a much quicker pace. I find that it is a very useful tool in assessment as an instructor. Although it might not be structured in the traditional format of a test or quiz, instructors can use it as a warmup to get a better understanding on how to gear their lecture that day based on the needs of the students that are starting to acquire a new skill or idea about a topic.
Dean: I think a lot of people assume "improv" means Who's Line is it Anyway? While that is a great example of it, there are many more examples that aren't as widely thought about. I also think the word "improv" sometimes conjures up a feeling of chaos or a lack of seriousness. Improv can be serious and even quiet, and still be an effective tool for learning. I certainly don't think that all subjects can be taught solely on improvisation alone. But, it is one creative way of creating experiential learning.
Is it possible to "plan" any element of improv when figuring out how to reach students or preparing for a class session?
May: Absolutely! We are working on creating a "Go-to guide" for this round of participation with our work. This will allow instructors to sample some possible improv activities, so they can see what might work best with their class. It offers them the opportunity to be a student, while we serve as the guide along the way. It can be a great way to observe how you see the topic that you have taught for a long time, while providing new insight from a student's perspective with a topic that they are learning for the first time.
Dean: Oh sure! There is still structure and guidance within improv. Teachers can set up as many parameters as they want, making both the "rules" and the outcome semi-planned (or not, depending on what is being taught). Of course, there are always elements of surprise, which is what makes the tool fun, unique, and memorable.
Contact University Communications & Marketing with comments, questions, or story ideas.