UM-Flint Summer Entrepreneurship Institute Enriches Student Aspirations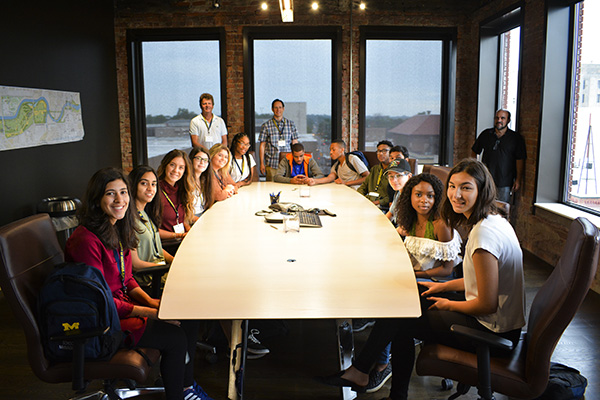 The UM-Flint School of Management Hagerman Center for Entrepreneurship & Innovation recently welcomed high school juniors and seniors to campus for the second Summer Entrepreneurship Institute (SEI). Students spent three days attending lectures, visiting local businesses, listening to guest speakers, and working in groups to develop their project ideas and strengthen their presentation skills.
"The high school curriculum doesn't typically include courses in entrepreneurship or innovation," said Brian Blume, Ph.D., professor of organizational behavior & HR management, associate director of Hagerman Center for Entrepreneurship & Innovation. "The Summer Entrepreneurship Institute enables us to reach out to these students. Based on the evaluations, students seemed to think it was a fun and insightful experience."
Blume and Dale Tuttle, a lecturer of management, were the primary instructors in this year's SEI, held in July.  The first day began with an introduction to entrepreneurship and idea generation followed by an exercise introducing students to creativity and design thinking. They discussed opportunity identification and formed teams based on several of the ideas generated. After lunch at the Flint Farmers' Market, students went on a campus tour, participated in a session on competitive positioning, and worked with their teams on developing their projects.
On the second day, students visited Skypoint Ventures where they met David Ollila, president and chief innovation officer, and Bryce Moe, managing director. They returned to campus to discuss the role of customers (Who are they? What do they want? How much will they pay?) in entrepreneurship. They ate lunch at the Riverfront Center, then listened to guest lecturer Sharina Jones, President of Think Beyond the Chair, talk about overcoming obstacles and starting a business out of necessity. During the afternoon, students learned how to estimate profits and how to incorporate this information into their team projects.
The final day opened with guest speaker Darrin Hanna, founder of NextStep Solutions. Hanna discussed his experiences with the company, which he started while still in high school. Next, students attended a session that addressed marketing, where they developed logos and slogans. The session also explained the expectations for the group presentations. After lunch in the University Pavilion, students attended lectures on feasibility analysis and critical risk factors. The day ended with the group presentations and a question and answer session.
"I think the camp was effective in introducing students to entrepreneurship and helping them to develop an entrepreneurial mindset," said Blume. "We also were able to show students how downtown Flint is being transformed to support and encourage entrepreneurial ventures, as well as introduce the strong entrepreneurship program at the UM-Flint School of Management."
While entrepreneurs enter the business field from diverse educational backgrounds, a 2017 study by the Kauffman Foundation reveals that the number of college-educated entrepreneurs has increased from 23.7 to 30.1 percent. This makes entrepreneurs with college degrees the biggest educational category of new entrepreneurs in the US.
The School of Management (SOM) began offering a major in entrepreneurship and innovation management in the fall of 2015. This major blends the expertise of the school's marketing and management faculty, and covers an array of issues, such as product design, business start-ups, technological innovation, marketing research, project management, and negotiation skills. The Hagerman Center for Entrepreneurship & Innovation was established the same year. The Center is currently under the direction of Mark Simon, Ph.D., the Hagerman-endowed professor of entrepreneurship and innovation.
SEI grew out of the Hagerman Center's goal of "increasing the University of Michigan-Flint community members' general interest in and awareness of the possibility of starting companies." The Hagerman Center plans to offer the SEI again next July.
This article is by Kim Laux, MA, a lecturer and an advisor in the Department of Communication Studies at UM-Flint. 
Contact University Communications & Marketing with comments, questions, or story ideas.