'Opportunity' Sends UM-Flint Anthropology Student to Ireland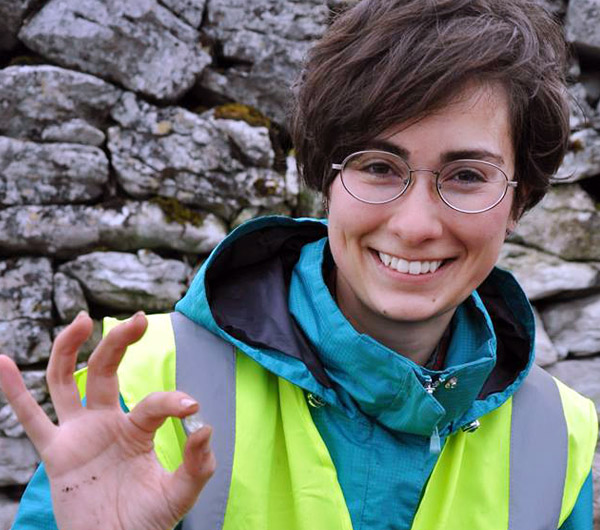 Erin Sack, a UM-Flint anthropology student, spent part of her senior summer at a field school in Ireland. While digging in 10th-century ruins,  she turned classroom theory into practice and confirmed the choice of archaeology as her perfect career path.
The university's College of Arts and Sciences (CAS), home of the Department of Sociology, Anthropology, and Criminal Justice, was able to support her travel through the donor-funded CAS Opportunity Fund.
"The CAS Opportunity Fund is a wonderful chance for us to support our faculty, students, and staff," noted CAS Dean Susan Gano-Phillips. "I believe in the long-lasting impact of research, travel, and internships for our constituents and communities. And the Opportunity Fund helps turn possibilities into reality for so many."
Sack, who used the Opportunity Fund to help cover the cost of her plane ticket and passport, was grateful for the assistance. "I am so glad that I chose a university that supports their students and wants what is best for their future," she said. "I heard from the other students attending the Caherconnell Field School about all of the hoops they had to jump through just so their college would recognize the credits they were earning, let alone help fund their trip. Working with UM-Flint and faculty was the least stressful part—and even became a stress-relieving part—of the preparation experience. The Opportunity Fund helped me to relax a little more knowing UM-Flint believed in what I wanted to do."
The Path to UM-Flint Anthropology
When asked about her choice to attend UM-Flint, Sack replied, "I guess I should explain that I already have a degree in Criminal Justice, but after two years in the working world I knew that it wasn't the right path for me." She found inspiration during a trip to a museum—realizing a lifelong interest could become the key to her future. Sack arranged to meet with Dr. Jennifer Alvey and Dr. Beverley Smith of UM-Flint Anthropology, hoping to address her desire to stay local, questions about the program, and concerns about returning to school.
"I felt that they really cared about my future and not just about being able to graduate," recalled Sack. "I picked UM-Flint because I knew I wanted to work with professors who were as enthusiastic about their field as they were about the future of their students."
"We are thrilled that Erin came to UM-Flint to pursue her dreams, studying anthropology with us and working towards becoming an archaeologist," said Alvey. "She is a great student and a great person!"
Now, entering her final year of study, Sack is still confident about her choice to pursue her passion in archaeology.
"I knew it was the field for me when the homework and assignments didn't feel like work; it felt like I found something that finally fit my personality. It was confirmed when I went to Ireland and started digging."
Attending a field school is common for archaeology students. It allows them to put their classroom learning into practice while joining research projects and working with industry professionals. Archaeology, Sack noted, "is one area of study where a degree is only half of the learning."
Digging in Ireland
After extensive research, Sack chose to join Caherconnell Field School in Ireland—a prestigious program provided in partnership with the National University of Ireland.
"I love being outside and working with my hands, but still engaging my mind, so archaeology has everything I could want from a career," reflected Sack as she talked about her time in Ireland.
"I was no longer counting the seconds until I could stop working or daydreaming about being somewhere else, because I was living my dream. Digging and uncovering, layer by layer, drawing, charting, and surveying, knowing that I'm sifting through hundreds of years to learn more about the people who came before makes me unbelievably happy."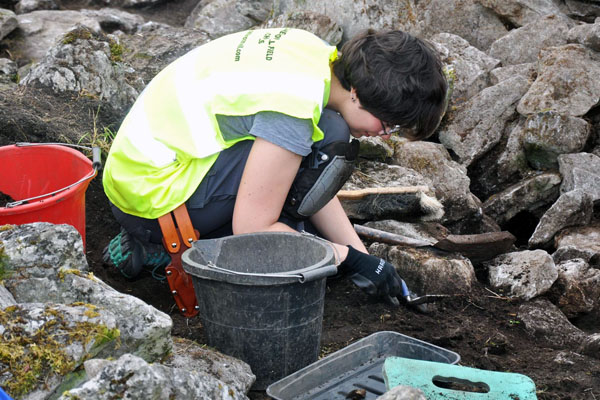 "I hadn't been on a dig before, so I didn't know what I was getting into," Sack continued. "It is a 9-to-5 physical and mental workout from the moment you grab your bucket to when you pack up your things. You have to be quick, but mindful and efficient.
I learned that your muscles and joints can be screaming at you from the previous day, but there is nothing quite like finding a 15th/16th century artifact under all that dirt and rock you just moved. It also helps a great deal when you have a great group of people teaching you and working with you in the trench."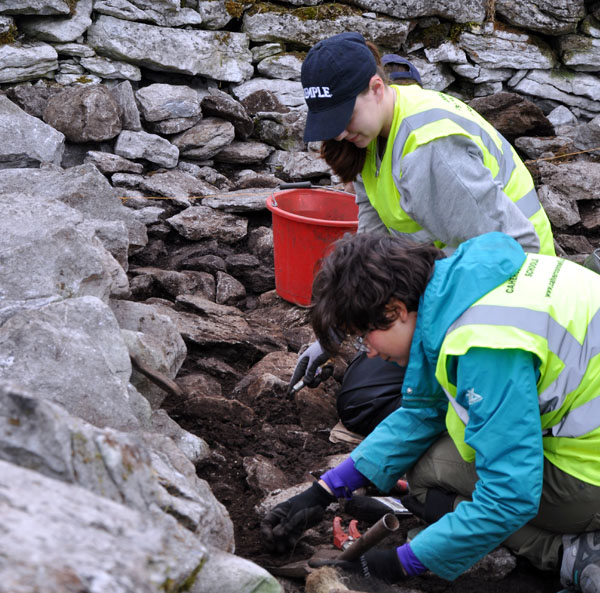 Sack found new motivation from her time in Ireland. "I've loved learning about anthropology and archaeology from the wonderful professors at [UM-Flint], but now I can say for sure that archaeology is my dream job."
Although hesitant to travel so far for her first dig experience, Sack is already making plans to return.
Being a Student at UM-Flint
"I couldn't be happier with the support and assistance I've received from the UM-Flint faculty," said Sack, reflecting on her time at the university. "The UM-Flint anthropology program is not very large, so the professors are kept very busy, but they still managed to take the time to help me and answer my many questions, even if they had to dig a bit for them."
Sack's original program contacts still stand out as the most influential during her time at UM-Flint. "Dr. Alvey has helped me so much from the very beginning," she noted. "I was transitioning back into student life from being away for two years so my mind was a bit of a scramble.
"She assisted me through the steps and offered assurance that I wasn't just making a college degree mistake #2. Her enthusiasm made me more comfortable with the leap and made learning more fun. She was also the one who told me about the Opportunity Fund to help me make my dream affordable."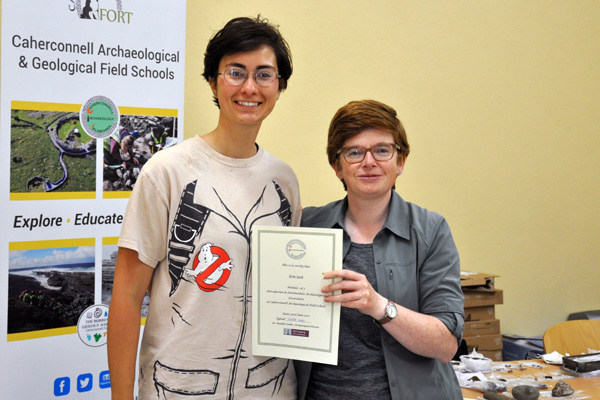 "Dr. Smith became my mentor for all things archaeological," Sack continued. "I had an inclination towards archaeology, but none of the practical knowledge to make an educated decision on my future. After discussing the course options and hearing about her experience in archaeology, I gained the peace of mind I desperately needed.
"I had Dr. Smith for three courses my first semester here, and despite having a lot on her plate she helped me with my endless questions about archaeology. Even when she went on sabbatical, she still kept in contact to make sure I was applying to the best field school for me and my future."
After graduating with her degree in Anthropology, Sack plans to pursue graduate school. She knows her time spent in Ireland will help her in the application process, and hopes it will be just one of many experiences she brings along.
Dr. Smith said, "Erin will be extraordinarily successful in the academic and practical application of archaeology—she knows that if one truly loves a subject, they will excel and find happiness in life. When she leaves us for graduate school with degree in hand, I look forward to following her career as an outstanding scholar and professional archaeologist working in a museum or university."
---
Photos for this story were provided by Susan Frank, Emily Gilhooly, and M. Comber of Caherconnell.
Contact University Communications & Marketing with comments, questions, or story ideas.