UM-Flint's Women of STEM: Bev Smith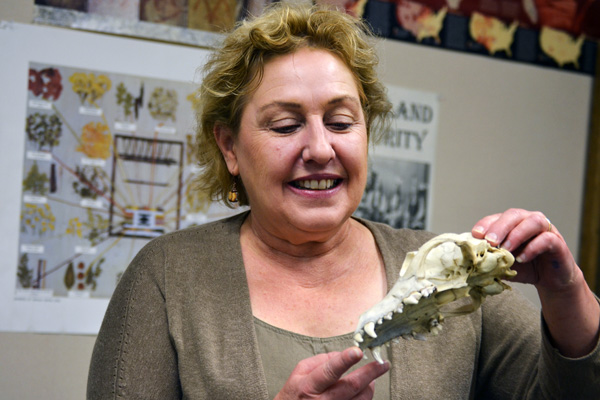 The College of Arts & Sciences at UM-Flint is proud to recognize some of the exceptional women of its STEM disciplines. As leaders, mentors, and educators, these women bring passion and talent to students in classrooms and the world of science, technology, engineering, and math.
---
Unearthing a Passion
When Dr. Beverley Smith, archaeologist and associate professor of anthropology in UM-Flint's College of Arts & Sciences, was a little girl, she would show up early for her piano lessons to look through her teacher's collection of National Geographic magazines. Recalled Smith, "I learned about the search for human ancestors in Africa and exotic sites in places like Peru, Cambodia, and North America. I also found the articles about animals fascinating. It wasn't until much later I found that I could integrate these two interests into a wonderful career. As an aside, I didn't know my piano teacher knew I was coming so early to read, but when she moved, she dropped off all the magazines in our garage. My parents were shocked but I was thrilled."
Years later, as an undergrad at the University of Toronto, Smith took courses in both biology and anthropology. "I came to realize that, while I would have to specialize in a targeted area of study in biology, whether fish, birds, mammals, or invertebrates, as an archaeologist I would have the opportunity not only to study the bones of all of these animals, but to make them meaningful by considering how the various species were procured, how they contributed to human survival, and what they symbolized in ideology and ritual to the people who relied on them within their environments."
As a student with potentially disparate interests, Smith was fortunate to find a mentor in Dr. Howard Savage, described as a "pioneer in the field of zooarchaeology." Remembered Smith, "this extraordinarily kind and patient professor taught me the analytic tools for my future work."
Her unique path was further defined when she was recruited to Michigan State University by Dr. Charles Cleland for her graduate studies. His "work on fishing techniques and the application of his research to a pivotal court case in Michigan, which supported Indian people with the right to use gill nets, made me realize that my research could benefit Native people in contemporary concerns," said Smith. "I have, ever since, worked closely with Native communities to facilitate their interests in their past, their concern for the destruction of archaeological sites, their struggle to repatriate ancestors, and their efforts to challenge restrictive jurisdictional and subsistence related laws in the courts."
Smith is now an established expert who specializes in the study of bones. Her work involves "identifying, quantifying, and analyzing the various animal species used by people [which] helps us to better understand the food sources, seasonality, and technologies used to hunt and fish."
Added Smith, "My work also extends to the analysis of human bones, which can tell us a great deal about the health, activities, origins, and belief systems of the population. Consequently, my work overlaps considerably with more traditional STEM fields, such as biology, chemistry, and environmental studies as well as with the social sciences and the arts."
Teaching and Research at UM-Flint
At the University of Michigan-Flint, Smith's teaching interests lie in introductory archaeology, Mesoamerican archaeology, historical archaeology, biological anthropology, and Native Americans. She is consistently lauded as a favorite faculty member by her students, noted for her caring and excellence.
Student Jonathan Henneberry described her as, "a dedicated educator who has enlightened me in the practices of anthropology and archaeology through lecture as well as practice. In addition, she possesses great knowledge within the field of anthropology as well as being a wise counselor and steadfast mentor."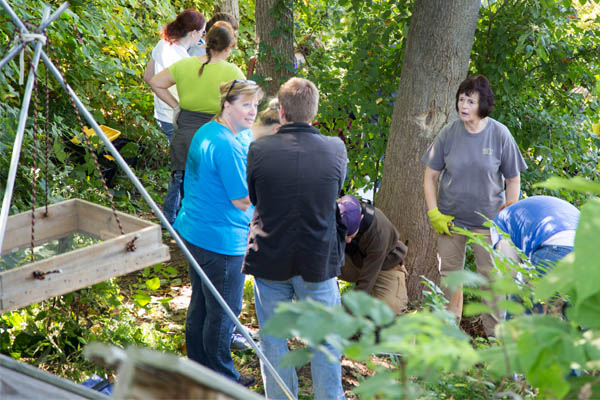 Smith's archaeological digs and expeditions have been the subject of both UM-Flint News stories and those by the wider media. To her, they are an important way to connect her students to lessons. Said Smith, "The most effective tool for engaging students in archaeology and biological anthropology is to talk about my own experiences and research in the field. When students engage in a course in which the material is a shared experience, it becomes a powerful tool for learning and opening up possibilities for their own future of inquiry. This is one of the many reasons an active and diverse research agenda by professors is essential to our legitimacy and success in a place of higher learning."
Alumnus Thomas Steele agreed: "Dr. Smith used text, supplementary readings, and videos that provided engaging, real-world experience to augment her instruction. She expected a great deal of academic maturity in order to grasp the complex cultural concepts of each course, particularly that of the Mesoamerican civilization and Native Americans . . . I carried this level of expectation, cultural appreciation, and connection to community with me throughout my studies, which in no small way helped play a role in my academic success."
Outside of the classroom, Smith is currently "working on an National Science Foundation funded project that involves a group of scholars concerned with understanding the changing use of aquatic resources identified from inland eastern Woodlands archaeological sites during the Archaic period—about 8,000 to 3,000 years ago." She and the other researchers are "using a program called, tDAR (the Digital Archaeological Record) to integrate our datasets and to make this data available for other scholars in the future."
Using Expertise to Inspire
Smith's work as a mentor and teacher continues in the community. She is a part of the American Association of University Women's annual Explorathon—a spring event aimed at helping girls develop science literacy while being inspired by a dynamic selection of scientists and fields of study. According to the AAUW site, the event's "focus on women in science prepares and inspires girls by giving them role models and by showcasing state-of-the-art careers for women in science, technology, engineering and mathematics."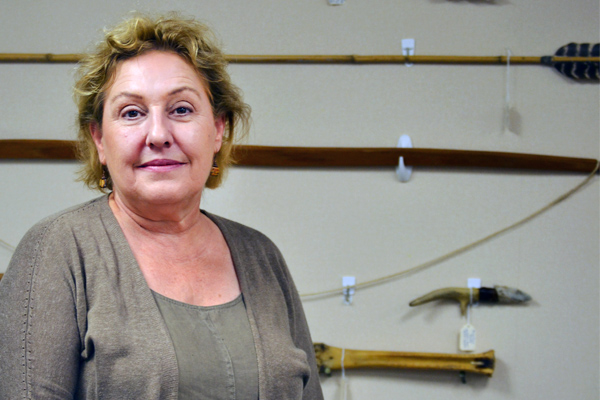 Added Smith, who presents on the popular topic of Forensic Anthropology, "This is an extraordinary opportunity for girls to learn that senior women in their aspired professions are approachable, interesting, and, hopefully, not nearly as nerdy as they expected. They value our advice which is, of course, to study and excel in as many sciences as possible in their high school coursework, and that sacrifices and hard work will reward them in their future endeavors. It is only with a broad range of knowledge and experiences that they may find something as interesting and wonderful as, for example, zooarchaeology."
Smith's expertise will be available to community members in the Flint area on September 22, 2016, as she presents Archaeology in our Backyard at the Sloan Museum. Her special lecture will "provide an overview of the prehistoric past in the Flint region and will be geared to a general audience." She'll discuss methods and tools of archaeologists and the ways in which artifacts help reconstruct the past. Highlights from recovery efforts at a local ancestral burial site will be included.
For event information visit sloanlongway.org or call (810) 237-3450.
---
To learn more about anthropology and archaeology at UM-Flint, visit the Department of Sociology, Anthropology, and Criminal Justice's website at umflint.edu/SAC or email bevsmith@umflint.edu.
Contact University Communications & Marketing with comments, questions, or story ideas.