Reburial Ceremony Brings Closure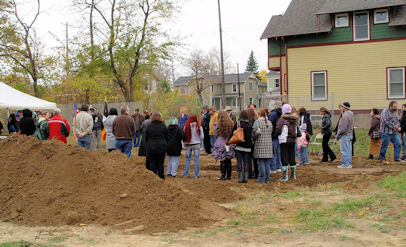 In January 2008, Native American ancestral remains were accidentally excavated by heavy equipment from several proposed house foundations in downtown Flint's Carriage Town neighborhood. This past weekend, members of the Saginaw Chippewa Indian Tribe held its final Reburial Ceremony.

For the past three summers, the four lots at the corner of Stone Street and University Ave. were the site of a major effort to screen the soil to recover ancestral remains.
UM-Flint Associate Professor of Anthropology Beverley Smith, Ph.D., was the principal investigator at the site.
"The Stone Street project has been important on several fronts. It has been an unprecedented opportunity for our students to work in downtown Flint  together with neighbors, volunteers from the wider community, including other students, and especially members of the descendent tribal community to 'do the right thing,'" noted Smith. "The work at Stone Street demonstrates our archaeology students make important contributions by bringing the past into the present and enriching the entire community."
Besides student and local volunteers, the site attracted interest from people around the globe.
"We had 80 Korean exchange students who volunteered at the site in August 2009," said Shannon Martin, director of the Ziibiwing Center. "We had hundreds of volunteers, some as old as 89."
Plans are still under consideration for how the eight lots located near Atwood Stadium will be developed.  She hopes that many of the stones recovered over the years can be used at the site. The Genesee County Land Bank is deeding the property to the Saginaw Chippewa Indian Tribe.
"We will be reburying 20 people, primarily adults with an infant, several children and adolescents on Saturday," said Smith. "The Saginaw Chippewa Indian Tribe and their representatives at the Ziibiwing Cultural Center have been very generous to allow us to participate in this recovery effort and, in gratitude for the hard work of all the volunteers, have extended that generous spirit to include us in the sacred reburial ceremony of these ancestors."
Saginaw Chippewa Tribe Elder Gary Sprague, who assisted with the mitigation effort, believes the volunteers at the site came away with a better understanding of Native American culture.
"The people who come here, the volunteers and the students who help us at this site, they gain a better understanding of our ways, of who we were, and who we are."
Contact University Communications & Marketing with comments, questions, or story ideas.