UM-Flint Engineering Students Aim to Build a Better Wind Tunnel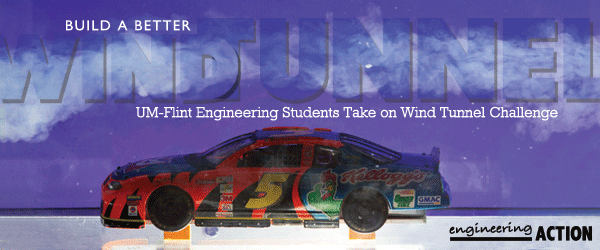 Two University of Michigan-Flint engineering students decided to take the "build a better mouse trap approach" and apply it to their senior project to build a better wind tunnel.

Saiful Siddique and Aaron Wagel started the project last January, and with $2500 from the Alumni Fund, Undergraduate Research Grant, the Mechanical Engineering program fund, and Shaffner Heaney & Associates, Inc., finished it eight months later. The project had to be extended twice because of the difficulty in locating and purchasing parts.
"This is extraordinarily unique for undergraduate students to do this project," said Wagel. "I have been to other universities as both a student and visitor, and I have never seen a senior project that approached this level. We would have never got the opportunity anywhere else."
"I've presented at many conferences with this project, and professors from other schools can't believe two students did it in that time frame," said Siddique. "No one believed we got the funding for an undergraduate project of this size."
"We didn't want to compromise. Our honeycomb air input design actually straightens the air flow by taking the twists out of the ambient air," said Wagel. "Then the air flow can be uniformly accelerated and focused on an object."
The wind tunnel will become a permanent part of the equipment in the engineering lab for other students to use in their research.
"The wind tunnel is capable of producing up to 80 miles per hour wind velocity to test aerodynamics efficiency of cars, aircrafts, and other objects," said Professor Quamrul Mazumder. "The wind tunnel will help in experiential learning of engineering courses such as fluid mechanics with real-life hands-on experience as well as flow visualization. The subsonic wind tunnel will allow the Mechanical Engineering program to offer courses in aerodynamics, wind turbine design, and gas dynamics."
Siddique and Wagel believe they can further improve their project, and they are hoping to find someone who can help.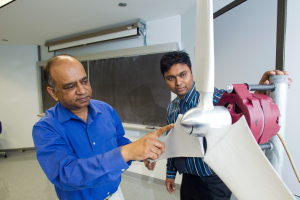 "We would like to have a computer science student join the project," said Siddique. "Instead of just analog readings, the results can be computerized to produce larger amounts of data."
Throughout the construction of the project, quality in every aspect of the system and component designs was the first consideration. The students put in hundreds of hours in design, logistics and construction. Other mechanical engineering students contributed about 80 hours of labor to the project.
"This wind tunnel demonstrates the capabilities of UM-Flint mechanical engineering students to design-build-test a complex system that is also useful as laboratory test equipment," said Mazumder.
Contact University Communications & Marketing with comments, questions, or story ideas.