UM-Flint alumnus helps establish a "Scholarship for Innovators"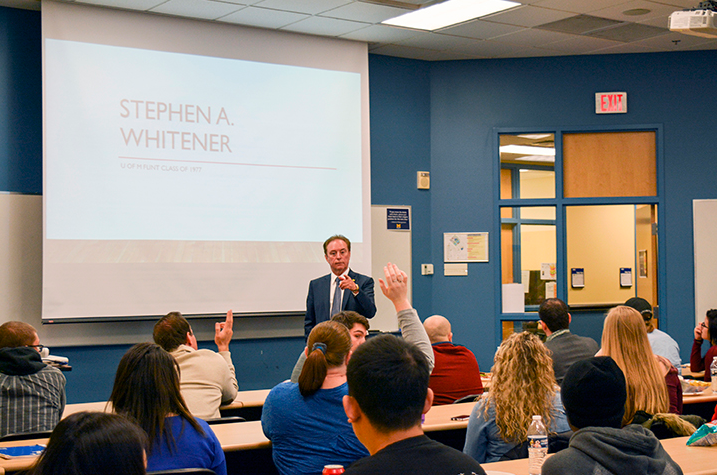 Steve Whitener hasn't forgotten the support he received as a college student at UM-Flint in the 1970s. He was slated to graduate with a Bachelor's degree in business. He worked 32 to 40 hours a week at Kroger to help pay for school, but as a senior, he struggled to pay for college, along with basics like groceries, gasoline, and rent.
"I ran out of money. I thought, 'I am literally broke. I can't continue and this is my senior year'," Whitener said.
But university officials helped Whitener land a series of scholarships. Several of them came from small organizations or clubs. This helped Whitener stay in school and graduate in 1977.
"It astonished me that these groups existed, let alone donated to the university so some struggling student could get to the finish line," Whitener said, who has carved out a long and successful business career, including founding multiple companies.
"So my message to the students is don't forget how you got here," Whitener said. "When you get here and things go right for you, remember who helped you."
Whitener said his UM-Flint education helped him in his career.
"The value and horsepower of a Michigan degree, whether it is Flint, Ann Arbor, or Dearborn, is powerful worldwide," Whitener said. "I learned that early on. It is a very recognizable accomplishment."
Whitener recently expressed his gratitude to the university with a $750,000 donation to the School of Management (SOM). The donation enabled SOM to establish the Stephen A. Whitener Scholarship for Innovators.
Whitener Scholars will be School of Management students, with preference given to forward-thinking students who have already started a business or who show a serious intent or interest in starting a business.
The first Whitener Scholar, student Nicholas Matties, receives this scholarship in the fall.
Whitener said the scholarship is intended to leverage and support the talent on campus.
"Some of the students here are some of the brightest students I've ever met in my life," Whitener said. "It is fascinating how bright they are," he said.
SOM Dean Scott Johnson said Whitener's donation "provides vital financial support for some of our top entrepreneurship students."
"We are very appreciative and humbled by Mr. Whitener's support and trust in his alma mater," said Johnson. "This gift helps cement our reputation for being a business school that supports outstanding students with a keen interest in developing their own companies."
Whitener visited campus last December, and spoke to SOM students about his business career and keys to entrepreneurial success at an event sponsored by the university's Hagerman Center for Entrepreneurship and Innovation, and by the student Entrepreneurs Society.
"When he visited campus, we had a room full of students who were listening carefully to Steve's description of his career as an entrepreneur," Johnson said. "They were totally focused on his very personal message which can rightfully be described as someone who has achieved the American dream."
Matties, marketing director of the Entrepreneurs Society, said he found Whitener's words and life story inspirational.
"He really inspired my entrepreneurial drive. He was passionate and had a 'just do it' mentality and he spoke a lot about just going out and doing. That was a big issue for me, getting from the thought to the action—and his speech really helped me to realize that nothing is going to happen unless you actually do it. You have to create the opportunities, make them happen," said Matties.
"That's what I really got from listening to him speak and it made me realize there's no time better than the present to get started. I'm so grateful for his donation and I couldn't be happier about what he's doing for both me and the school. It's really amazing the way he's giving back."
Matties preferred not to disclose his business idea but said the scholarship will enable him to pursue his aspirations.
Whitener's entrepreneurial approach dates back to his youth in Pontiac. Around 7-years-old, he would collect cans and bottles tossed aside by workers from a nearby factory and cash them in at a corner shop. Over time, he had enough saved to give small short term loans to neighbors. In college, he started buying real estate, and has continued this business mindset throughout his career.
"I have always been a business-minded guy," Whitener said. "I see opportunities wherever I look."
In the early 1970's he saw UM-Flint as one of those opportunities, and enrolled in 1973.
"It was a very warm and cordial community," Whitener said. "Academically, I learned a little bit from every class I took, and it paid off over the years. The more you know, the easier life is going to be. Learn all you can now, it makes all your life easier."
After graduating, Whitener purchased several real estate properties, and had a successful career in sales, including at Westinghouse Electric. Co., Eaton Cutler Hammer, Pirelli International, and Anixter.
Whitener founded National Systems Installers in 1993 to provide infrastructure cabling services to companies. In 1999, he founded Nuspire Networks, which offers managed IT security services to companies. He is chairman of the board of National Systems Installers, and former chairman of Nuspire, a multimillion dollar company he sold in 2016.
Whitener said he plans on continuing to build on his relationship with his alma mater.
"The professors are world class. The students that come out of here are world class," Whitener said. "I think the combination of the grit of the city of Flint and the horsepower of the University of Michigan-Flint, that combination is a very powerful duo."
Contact University Communications & Marketing with comments, questions, or story ideas.