UM-Flint Gives Rise to Next Generation of Community Entrepreneurs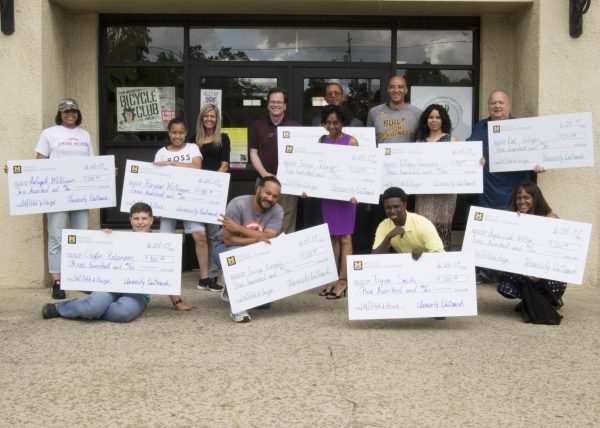 Meet Flint's new entrepreneurs.
Through a series of "business boot camp" workshops held by UM-Flint's University Outreach and the Innovation Incubator, also known as [IN], youth and adults were able to hone their entrepreneurship skills. By the end of the program, which took place from February to June, 49 participants walked away with graduation certificates.
"The course provided the tools for deeper thought and considerations to get beyond the idea phase," said one graduate
On June 24, the boot camps, held throughout the city at convenient locations, culminated in a celebration at Berston Field House, where the participants also put their entrepreneurship ideas up against each other in a Pitch & Prize competition.
In addition to receiving recognition for their ideas, $4,500 in prize money was given to the winners.
Youth Winners of the Pitch & Prize included:
Tyrone Smith – Mother and Sons Cleaning Service
Rayven McQueen – Tutoring for peers at her elementary school
Aaliyah McQueen – Basketball camps and merchandise for serious youth players
Clayton Robinson – 3D Printing service
Adult Winners of the Pitch & Prize included:
Venus Nash – Sewing Café
Joyce Cade-Hitchye – Of Impact, Veterans Referral Service
Everett Roberts – BEEncouraged & Empowered Inc.
Tiffany Parsons – Be Smoothie mobile truck
Karl Collyer – Happy Little Greens Farm
Terry Kinzie – Organic Lawn Care
Torina Johnson – Purple Lady Nursing Service
Judges included Paula Nas, Director of University Outreach at UM-Flint; Harry Blecker, Business Growth Coach for Michigan's Small Business Development Center; DeWaun Robinson, entrepreneur and COO of Urban Renaissance Center; and Luke Lloyd, retired professional basketball player and entrepreneur.
University Outreach has offered popular business workshops at the Innovation Incubator [IN], located on the UM-Flint campus for several years. Through [IN] on the Road, those workshops found their way into Flint neighborhoods, meeting residents  on their own turf.
The IN on the Road business boot camps were presented at Joy Tabernacle, Holmes STEM Academy, Boys and Girls Club of Greater Flint, and Asbury United Methodist.
Community members took advantage of the intensive training to learn how to start a business and become financially literate.
The boot camps were offered at no charge to the public thanks to funding support from the Ruth Mott Foundation and the MI-SBDC I-69 Trade Corridor Region.
Graduates said the hands-on approach and ability to work with professionals made the workshops stand out.
"Course materials were great for class and future planning," said one participant. "Having business owners come to classes was the number one most useful thing about the course."
Their training isn't over. Participants also are eligible to receive bus passes to travel to University Outreach's Innovation Incubator for additional business assistance after the boot camp.
Contact University Communications & Marketing with comments, questions, or story ideas.