UM-Flint Theatre Connects Students, International Talent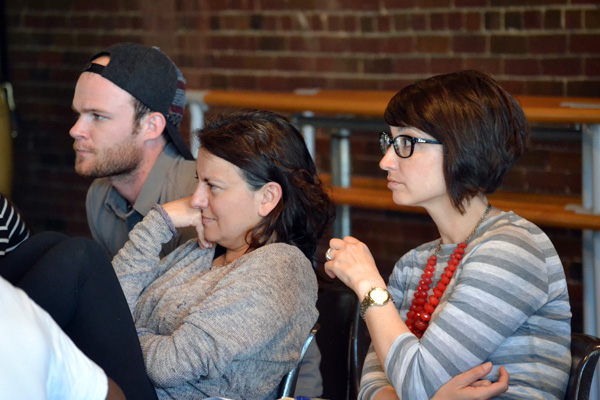 Students and faculty of the UM-Flint Theatre and Dance Department spent two weeks working with international acting and directing talents. The visiting theatre professionals, from across the United States and United Kingdom, were in Flint for a community theatre project that presented a public performance based on a reimagining of the 1882 play by Henrik Ibsen, An Enemy of the People.
The new production, Public Enemy: Flint, keeps the original play's themes of compromised water, the struggle of government and media in controlling a story, and the power of staying true to one's principles.
Department Chair Shelby Newport provided rehearsal space in the department's dance studio after committing to being a lead partner on this community project. Through this partnership, students gained access to the production process and the professional performers. Faculty members of the department also donated their time and expertise to the theatre production. "It's all about these moments of access and professional readiness," she noted, referring to her department's commitment to providing students with unique and powerful interactions.
"I knew that through this collaboration and partnership, our students would greatly benefit from access to internationally esteemed professional theatre makers from venues like the Goodman in Chicago, Berkley Rep (California), and the Unicorn Theatre (London)," said Newport. "In our field, research includes witnessing and participating with different theatre makers in action. This provides new ideas, perspective, and new ways of working that help to challenge our work on stage at UM-Flint and beyond."
Hands-on Experience
As part of the collaborative experience, UM-Flint students were able to conduct lunchtime interviews with the professional actors, sit in on rehearsals, and assist their faculty with costumes, design, and stage management.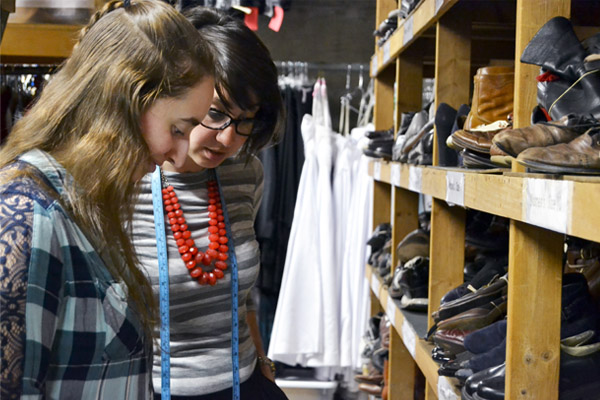 Sarah Briggs, a UM-Flint Theatre Design & Technology major, worked side by side with Newport on costumes for the production. Together they designed looks for each actor, combed the department's costume vault, and shopped for the perfect items. They also decided on props and furniture to fit the script and convey the mood of the play.
"I felt very honored to have been asked to help out," said Briggs. "I was nervous because I am not a very outgoing person. But the actors and personnel that I have been able to interact with have been very pleasant! They are eager to get my opinion or to ask me what they need to learn from me. It is a little overwhelming to have professionals ask me, a beginner and current student, what they can learn from me! With how relevant this play is to our current situations here in Flint, I feel very proud to be a part of a group making a stand and giving words to a people without a voice. This play is important and I hope our work here will do it justice."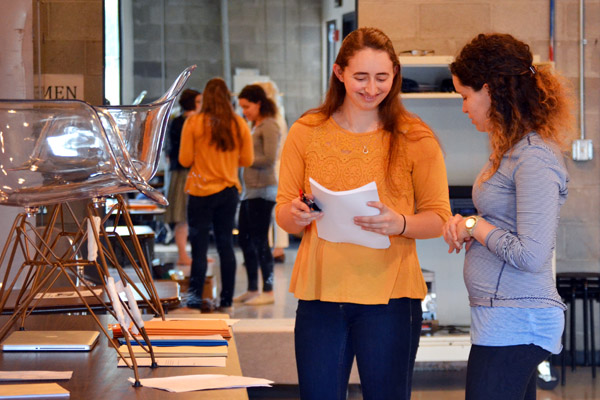 Andrew Eisengruber, a Theatre Performance major, and Dominique Hinde, a recent UM-Flint Theatre alumna, went to lunch with several of the actors: a unique chance for dedicated time with true professionals.
"They asked a lot of questions about us, actually, which was surprising," said Eisengruber. "They wanted to know what we were doing with our lives."
"I asked them about the MFA (Master of Fine Arts) programs they all attended, why they wanted to attend certain MFA programs . . . where they wound up and how they wound up here," he continued. "We have people from L.A., Chicago, New York, and London. It was really interesting hearing how they came from all over the place to end up here in Flint."
"Different perspectives on things is really cool to see," added Hinde. "Because everybody comes from all of these different backgrounds and we're all kind of doing similar stuff."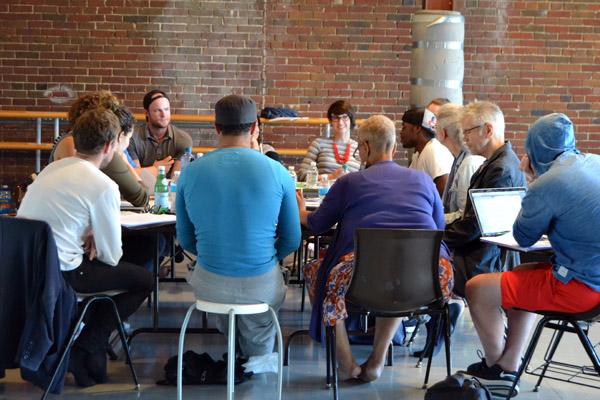 Each day, several students were able to sit in on the rehearsals—beginning with table readings in the UM-Flint Dance Studio and eventually moving to Flint's Broome Center. Newport noted that UM-Flint Theatre productions are usually rehearsed over six to eight weeks. The group of professional actors had ten days to perfect their performances. She hoped her students would find value in seeing different working styles and situations.
The Impact of UM-Flint Theatre
Newport was also interested in the chance to reinforce lessons on the power of theatre in communication and community. "This project, in particular, I hope will show our Flint community the power of storytelling through theatre," she said. "Sometimes we don't have the words to describe how we feel or say what we want to say, but a character in a play can say those words and bring relief and understanding to the audience."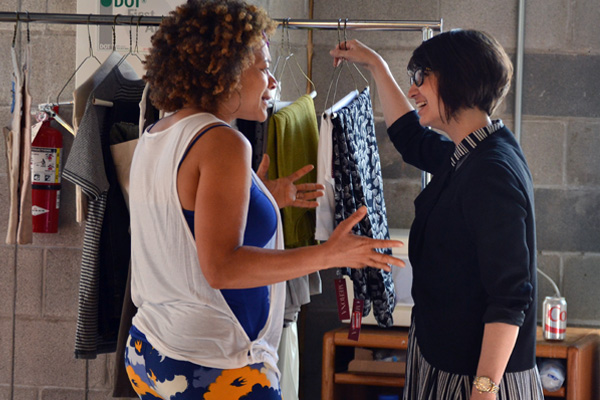 "In our department, we choose plays and dances for our season that challenge our students and faculty to think about issues in new ways, to reimagine time periods, to research traditional forms of performance," she continued. "And then use all of that knowledge, experience, and research to create work that engages and confronts our audiences. The partnership on this project has the same values, it uses a new translation of a 19th century play by Henrik Ibsen to give the community the words to talk about the emotions surrounding our city's inner workings."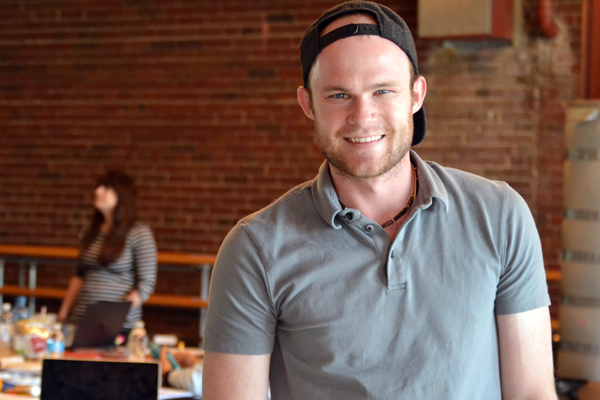 UM-Flint Design and Technology major Seth Barnes agreed: "Being here in this moment in time as a learner is a great opportunity." He also appreciated being able to see professionals learn about his community while putting their craft, education, and experience to work.
"You're using your degree for a real purpose as long as you're applying yourself whole-heartedly into what you're doing," added Barnes. "As long as you're exhausting every effort to learn."
---
The Public Enemy: Flint project was organized by: M.A.D.E. Institute, UM-Flint Department of Theatre and Dance, The New McCree Theater, Detroit Public Theatre, CenterStage Baltimore, The Goodman Theatre (Chicago), Chautauqua Theater Company (New York), Berkeley Repertory Theater, People's Light (Philadelphia) and Fieldwork, London (UK).
Contact University Communications & Marketing with comments, questions, or story ideas.