Editing student publications leads to editing jobs for two UM-Flint English grads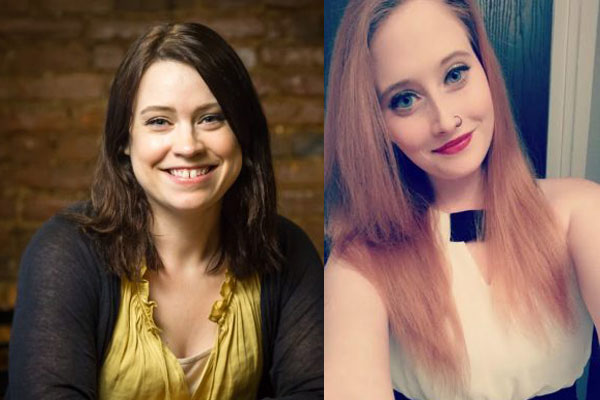 The editors of two UM-Flint student publications are heading out into the professional world—as editors once again.
Meghan Christian and Anne Trelfa, who both held student editorial positions while at UM-Flint, have editing gigs with East Village Magazine and My City Magazine.
"Being a part of something like East Village Magazine is really fulfilling, especially to have the opportunity right after graduating," Christian, who was the editor in chief of the Michigan Times, UM-Flint's student newspaper, said. Having graduating with a bachelor's of arts in English, she is now the managing editor at East Village Magazine, a Flint publication, working directly under its editor in chief.
Trelfa graduated this spring with her master's degree in English, and was the editor of Qua, UM-Flint's literary magazine.
Both attribute those extracurricular opportunities at UM-Flint with their current success.
"First, the English Department has some of the most amazing, warm, and encouraging professors. The people I was able to work with and learn from were some of the best people I've had the privilege to meet," Trelfa said. "Second, I cannot emphasize enough how much experience makes a difference. Had I simply gone to classes, I would still have a better chance at getting hired in my field because of an advanced degree, but my goal heading into the master's program was to take on as much experience in my field as possible."
In addition to editing Qua, Trelfa took part in various other opportunities she said helped prepare her. She worked in the Marian E. Wright Writing Center, took various writing jobs on campus, worked as an editor for a journal in the philosophy department, and was a writing tutor for UM-Flint's graduate business programs.
She started off writing for Qua before eventually working her way up to editor in chief.
"My two semesters as editor in chief, no doubt, hands down, made it possible for my move straight into my current position. Not only because it is something great to have on a CV, but because of the lessons I learned and the added inner strength and confidence developed by having a leadership role," she said. "The experience was beautiful and stressful and I loved it."
Christian began as a copy editor at the Michigan Times and, like Trelfa, worked her way up to the top position.
"M-Times was really the main aspect of my UM-Flint experience that prepared me for managing editor (at East Village Magazine)," she said. "M-Times allowed me to gain leadership skills through being managing editor and editor in cheif that I use every day in this current role."
Like Trelfa, she also credits English faculty for their support and guidance along the way.
"The faculty and staff in the English department also helped prepare me just by believing in me and caring about my career goals," said Christian. "I wouldn't have even heard about the job if it wasn't for professors I had seeing it and thinking of me specifically. That level of dedication to student success helps give us the confidence to go out into the big, scary world and that is invaluable."
Not only were Christian and Trelfa able to go straight into the kind of work they wanted—they were able to do it in Flint.
As an associate editor and staff writer for My City Magazine, Trelfa said that "One of the perks is being able to attend local events and talk to interesting people in the city and then share a piece of their story."
Christian echoed those thoughts, saying she was glad she got to keep publishing stories in the city she's grown to care so much about.
"Being a part of Flint for the past five years has made me really love this city," she said. "So to be able to have the ability to give back to the city somehow, even if it is just telling the stories of the people that live here, is amazing."
Contact University Communications & Marketing with comments, questions, or story ideas.