UM-Flint leaders foster and celebrate connections in Germany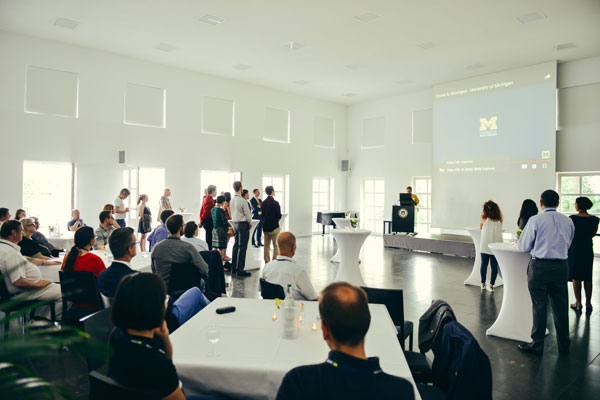 A delegation from University of Michigan-Flint, led by Chancellor Susan E. Borrego, traveled to Germany recently to further strengthen international connections.
Chancellor Borrego represented the University of Michigan system at an alumni event May 28 in Bonn, Germany. About 60 people, including several UM-Flint students studying or doing internships in Germany, attended the outing.
"Whether you graduated from the Ann Arbor campus, the University of Michigan-Flint, or the University of Michigan-Dearborn, you are part of the Michigan family, as are all of the 1,200 Michigan alumni living in Germany today," Chancellor Borrego told the crowd at the alumni event in Bonn. "Isn't that incredible? We're over 6,500 kilometers from Michigan, yet I can stand here today with so many proud Wolverines."
Others in top leadership from UM-Flint on the trip included Provost and Vice Chancellor for Academic Affairs Douglas Knerr, and Vice Chancellor for University Advancement Kristin Lindsey. Dondi Cupp, U-M Ann Arbor's Associate Vice President for Development, also attended.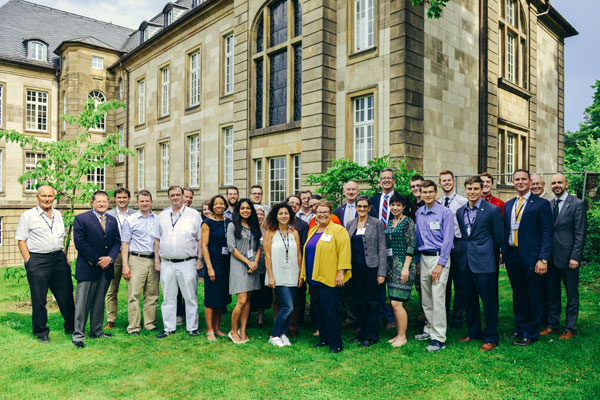 UM-Flint leaders then visited University of Wuppertal (Bergische Universität Wuppertal, or BUW) to discuss ways to further expand the partnership between the two institutions.
UM-Flint and University of Wuppertal developed a formal partnership in 2012, which paved the way for student and faculty exchanges, and internship opportunities.
The two universities have already exchanged more than 75 students since the partnership started. UM-Flint students have worked in the science labs at BUW since the agreement, and have held summer internships with German companies due to the arrangement.
"We have brought talented Wuppertal faculty to teach on our campus in Flint, and several of our faculty have had the opportunity to teach here," Chancellor Borrego said at the alumni event. "So far, 15 faculty members have taken part in our exchange, and we plan to continue to expand on this program in the near future."
Dr. Lambert T. Koch, president (rector) of University of Wuppertal, and several others, visited UM-Flint in September 2016 and met with university leadership.
"The fact that our partnership is with such a highly regarded institution as BUW only adds value to the experience for our students and faculty," Borrego said at the May 28 alumni event. "This type of global partnership, inclusion, and acceptance is important to the university. It's essential to fostering an environment that promotes education and research at the highest levels. And it's what makes Michigan great."
Contact University Communications & Marketing with comments, questions, or story ideas.