UM-Flint April Commencement Ceremonies Celebrate Graduates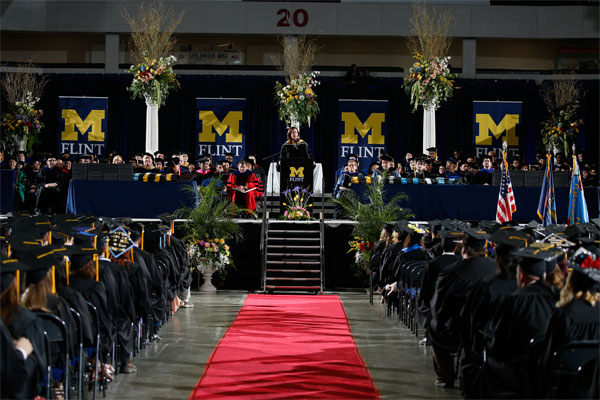 Shari Ballard, a Best Buy executive, encouraged University of Michigan-Flint graduates to embrace the uncertainties in life and to live gratefully.
"It is in the uncertainty – and the challenges it presents – that we find and develop the truest and most profound gifts of life," said Ballard, the keynote speaker at both of April 30 UM-Flint Commencement Ceremonies at the Dort Federal Credit Union Event Center.
More than 940 students graduated this semester, with about 850 students walking across the stage Sunday at two separate ceremonies.
Ballard, who graduated from UM-Flint in 1989 with a bachelor's degree in social work, celebrated the individual skills of the graduates and encouraged them to embrace the talents of others.
Ballard is senior executive vice president and president of multichannel retail at Best Buy, where she oversees and is responsible for all U.S. Best Buy Stores, e-commerce, Best Buy Mexico, and the company's real estate strategy.
"Every person in this room, every person on the planet, has their own unique genius, their own unique skills, inclinations, and natural abilities," Ballard said, encouraging students to tap into that individual genius to make a positive impact on others.

"Be purposeful about using your skills to positively impact others," Ballard said. "Your loved ones, your community, your world."
Chancellor Susan E. Borrego honored the graduates for their hard work and accomplishments.
"Your education is a compass," Borrego said. "It will help you find your way to excellent career paths. It helps you steer around obstacles. It is a guide that will assist you in navigating complex terrain. But it leaves open the chance that there is more than one way to reach your destination, allowing for exploring and continued learning and the serendipitous joy of discovering the unexpected along the way."
Charles Filkins, the afternoon student speaker, graduating with a Bachelor of Science in Nursing , lauded the opportunities for students at UM-Flint. Filkins joined the university after a nine-year-career with the U.S. Air Force.

"We have had the opportunity to learn in state-of-the-art facilities from experts in their respected fields. The ability to work on a personal level with some of the greatest minds in the industry. We have set the standard high, we have challenged ourselves and each other, while being leaders and mentors to our peers. The University provided us with these leadership opportunities, but us students put them into action," Filkins said.

Filkins encouraged his peers to use the personal and professional growth they experienced at UM-Flint to challenge themselves going forward.

"Our education has forced us to step outside of our comfort zones to allow for real learning experiences. When I reflect on my journey, I think of those who I supported as they welcomed their child into this world for the first time. I think of those who I cared for in their greatest time of need, and I reflect on those whose hands I have held as they drew their final breath.
We have all gained knowledge from situations that cannot be taught in a classroom but can only be learned through experience," he said.

"I am thankful that the university welcomes, promotes, and provides these opportunities and I encourage you to continuously step outside of your comfort zones – because it is during these times that we ask new questions, we create new ideas, and where our innovations take flight."

Morning student speaker Brandon Taylor, who graduated with a Bachelor of Science in Research Psychology, thanked the university for its welcoming nature and for embracing diversity.

He further encouraged the graduating class to embrace life and to utilize the knowledge they gained at UM-Flint.
"What I've learned is part of living is seizing the moment, taking advantage of opportunities, even if it feels a little intimidating at times. Don't forget to actually live your life. So many times we get overwhelmed with the monotony of daily demands, that we forget to live in the present," he said. 
"Root yourself in the moment, rather than stress about all of the things you need to get done today. Enjoy moments of laughing with your friend. Take a deep breath, and appreciate the miracle of yourself – your physical humanity – the fact that you can understand the sounds coming from my mouth and interpret it with meaning, Taylor said.
"Or the warmth on your skin from a star millions of miles away. Or awe in the fact that you're composed of an extensive, complicated system of blood vessels, nerves, and bone. Life is a beautiful privilege. The best way to celebrate it is to set ambitious goals and pursue them," he said.
After the morning ceremony, graduate Shelby Coleman summed up the excitement of the day. Coleman, who earned her Bachelor of Fine Arts in theatrical performance, said she is grateful she chose UM-Flint, and that the ceremony was a thrill.
"Exhilarating is the best way to describe it, Coleman said. "It was very satisfying."
Contact University Communications & Marketing with comments, questions, or story ideas.