Research Conference at UM-Flint Showcases Student Projects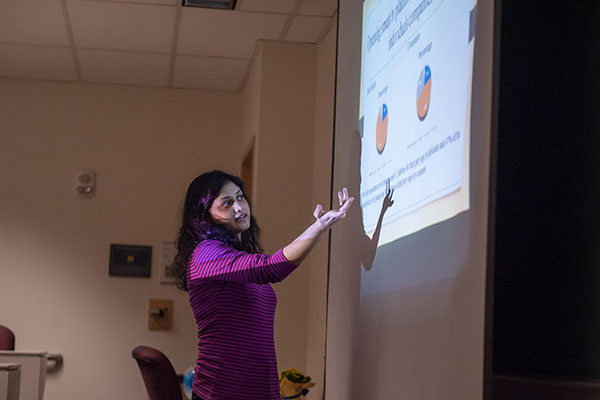 The Student Research Conference showcased a wide spectrum of skills and backgrounds April 27 at the University of Michigan-Flint.
The conference, held at the William S. White Building, displayed research by undergraduate and graduate students. And this year, UM-Flint welcomed Mott Community College and Kettering University to the conference, too.
The work covered a broad spectrum of topics, such as black holes, dance, sickness and cognition, and human-powered vehicles.
"I think it is amazing because it really represents the Flint intellectual hub," said conference participant and UM-Flint graduate student Jia Ireland. "It allows the students to share their research and present it to their peers, and to professors."
Ireland, whose research "Arts in Detention: HerStory Unlocked", said the variety of education levels at the conference benefits everyone.
"It lets people see what are the different perspectives and the different fields of study," she said.
Seventy-six teams, and about 125 students participated in the event, said Andre Louis, a research program manager at UM-Flint, and one of the coordinators for the conference. Students gave oral and poster presentations, along with some showing off the devices they created.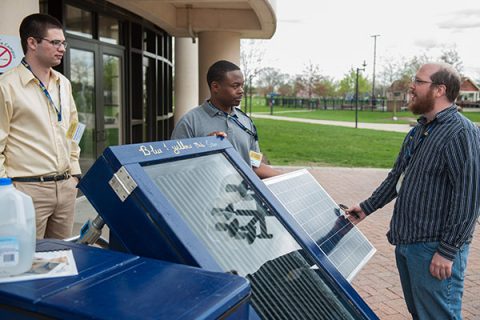 "The range of participation by both UM-Flint graduate and undergraduate students highlights the research opportunities at the university," he said. "The university offers several opportunities for students to get experience early in their college career."
Undergraduate students can work directly on faculty-led projects through the Undergraduate Research Opportunity Program, and also receive endowments on their own projects.
"It helps them think about what they want to do throughout their studies and professionally," he said.
UM-Flint mechanical engineering student Chad Fares said the conference is just the latest example of how he was able to hone his research-related skills at the undergraduate level. He recently started an engineering job and credits his university experience and faculty support as helping prepare him for the professional world.
Fares and his team built a hydraulic press for the university as their senior capstone project. This work was shown off at the conference. During his UM-Flint career, he also worked on faculty-led engineering research on distracted driving.
"It's very important," Fares said about his research work at UM-Flint. "You can never beat experience. It speaks louder than anything."
Contact University Communications & Marketing with comments, questions, or story ideas.