Danielle Wray: Mpowered by UM-Flint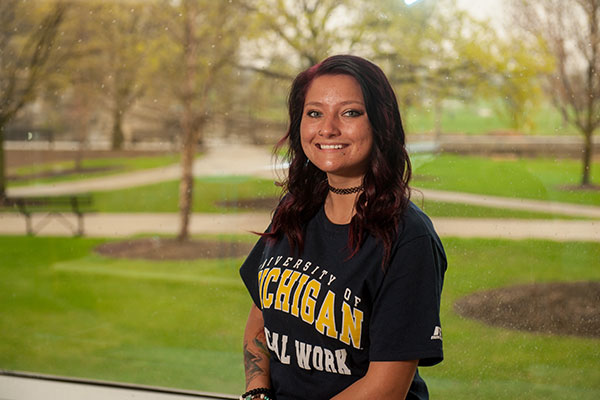 Danielle Wray was hesitant at first. The University of Michigan-Flint intrigued her, but there were so many unknowns. What would it take to transfer from Mott Community College? What about financial aid? How would she handle the academics?
And then there were the knowns. She had spent much of her life bouncing between foster care and family members. She had been in numerous area schools, and frequently dropped out.
"The last grade I had completed was 7th grade," Wray said.
But the program that caught her attention at UM-Flint also convinced her to take the leap and join the university. She learned about Mpowering My Success.
Mpowering My Success is a UM-Flint program, which in partnership with the Department of Health and Human Services, provides support to students previously in foster care. This includes, but is not limited to, mentoring, help applying for scholarships, emergency funds, 24/7 on-call support, and regular meetings with a life skills coach.
That support network gave Wray the confidence to join UM-Flint in 2014. And it helped guide her to success.
"I knew they were there when I needed them," Wray said.
Wray graduates this month with a bachelor's degree in social work. She will participate in the morning Commencement Ceremony on April 30. She becomes the fourth Mpowering student to graduate from the university.
"I didn't drop out at all at the university. I think it has to do with the social work program and Mpowering, all the support it provided, as well as maturing with age," she said. She worked and went to school full time.
She starts graduate studies this summer at Wayne State University, with the professional goal of working in the field as an advocate for policy and law changes that help combat social injustice.
During Wray's teen years, education didn't seem possible.
"It didn't seem like it was in the cards for me," Wray said, who earned her GED after a foster parent insisted it be condition for staying at the home. Passing the GED test started to give her confidence, which grew at Mott and blossomed at UM-Flint.
During her first years at UM-Flint, she often called the life coach to process feelings or emotions, or get advice. She was able to get scholarships every year, with the assistance of staff.
Wray's network of support extended to faculty and staff within the social work department.
"They have all helped me, even if it is a family thing, I can always go and talk to them. That department is huge," she said. "It has been a huge support system."
As graduation nears, Wray said she is excited to cap off her undergraduate career. This will be her first graduation ceremony at any level.
"I feel that sense of accomplishment. I have invited a lot of people," Wray said. "I haven't experienced anything like this before."
Contact University Communications & Marketing with comments, questions, or story ideas.