UM-Flint April 30 Commencement Student Speakers Announced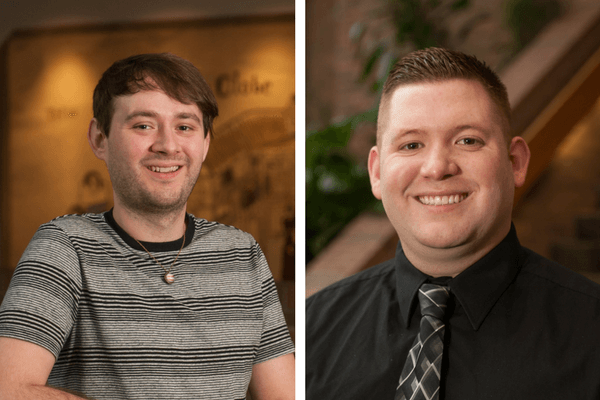 The University of Michigan has announced its student speakers for both April Commencement Ceremonies. Both students are recipients of the Maize and Blue Distinguished Scholar Award, the highest academic honor bestowed upon UM-Flint graduates. Both ceremonies are held April 30 at the Dort Federal Credit Union Event Center.
11 a.m. student speaker: Brandon Taylor

Brandon Taylor experienced and witnessed empathy and support throughout his career at UM-Flint. Taylor, who is graduating with a Bachelor of Science in Research Psychology saw it regularly with how faculty members reached out to his peers when they had questions or concerns. He experienced it too, as his professors made it easy for him to ask for advice. When facing hardships in his own life, Taylor felt comfortable sharing his grief with staff and others.
That support has helped fuel his commitment to assist others as a social worker.
"There is a genuine concern for students, there is a genuine desire to help them grow. I feel I have taken some of that and really felt that. I have wanted to embody that and take that with me," Taylor said.
Taylor joined UM-Flint in 2012. He was heavily involved with campus groups, including the psychology club, the international honor society in psychology, and as a member of the tenure-track search committee for the psychology department. And he held various research assistant positions.
Taylor helped conduct student workshops during his college career that provided information about depression and suicide. And he held a behavioral health internship at McLaren Flint, where he learned how to balance empathy with professional support of those being served.
Taylor plans on attending graduate school next for clinical social work, and attributes his years at UM-Flint for clarifying his professional goals.
"The University of Michigan-Flint has a multitude of opportunities for students to grow both personally and professionally," he said. It is simply up to the student to take advantage of what is so readily available, and I am proof of this."
3 p.m. student speaker: Charles Filkins
Charles Filkins developed an interest in nursing during his nine-year-career with the U.S. Air Force. He held several public health jobs within the military and frequently worked with nurses on staff.
It was during his tenure as an Air Force recruiter in Flint that Filkins started looking at UM-Flint as his way to translate that interest into a career.
"I knew they produced professionals and it was a great school to attend. And to me, the passion that UM-Flint has for its veterans was very appealing to me. It was very important to me and I knew it would be a prestigious degree."
Filkins is graduating with a Bachelor of Science in Nursing. He joined UM-Flint in 2013, and joined the nursing program the following year. He took on leadership roles right away on campus. During his first year, he was treasurer of the Student Veterans of America at the university's Student Veterans Resource Center, and during his first year within the nursing program he became president of his cohort of nursing students.
Last year, Filkins represented the university at the American Association of Colleges of Nursing Policy Summit in Washington D.C. He has been involved in several volunteer efforts, including organizing repairs on a disabled veteran's house so he wouldn't lose his homeowners insurance.
He is a recipient of the Maize and Blue Distinguished Scholar Award, the highest academic honor bestowed upon UM-Flint graduates.
The university further developed Filkins' leadership skills and prepared him for a career in nursing. His goal is to work with veterans in his new profession.
"The university challenged me to go above and beyond the call of duty for a nursing student," he said. "It fostered growth both personally through leadership opportunities and intellectual growth through such a demanding academic experience. I will forever be grateful to the University of Michigan-Flint."
Contact University Communications & Marketing with comments, questions, or story ideas.