UM-Flint Dance Connects Community, Choreography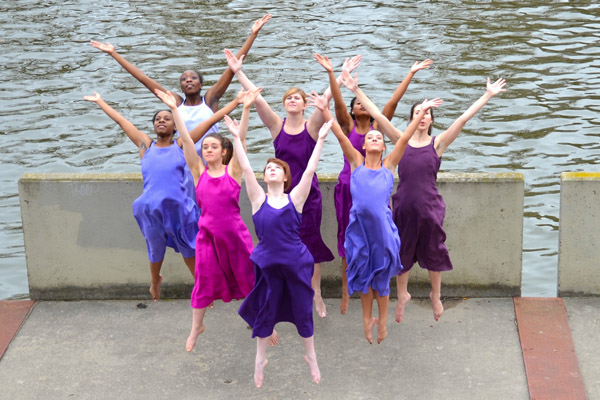 Emma Davis is a lecturer, choreographer, and instructor for UM-Flint Dance. She's also a passionate advocate for creating connections between her dance students, the university, and the Flint community.
"Social justice and democracy drive my teaching style," said Davis. "Giving back to others, finding opportunity for empowering those who do not have a platform for their voice, finding opportunities to create empathy and all around better citizens in our society. This is what the arts do for us."
In 2015, Emma Davis began teaching a weekly movement class at Flint's Vista Center—a Flint community resource for adults with mental or development issues and/or those struggling with homelessness. The next year, she started working on ways to create collaboration between her students and Vista's consumers. "Members of Vista can often feel disconnected from the larger community. Accessibility to dance is also a disadvantage for them," noted Davis. "At the same time, students at UM-Flint can sometimes feel disconnected from the Flint community. I wanted to create an opportunity for these two groups to come together and engage with each other in a mutually beneficial way."
Her first student-Vista project was built around the theme of water and the Water Crisis and included conversation and movement activities.
"This year," continued Davis, "I wanted to create a deeper connection between the two populations."
'Trust and Healing' with UM-Flint Dance
Davis introduced this year's Vista project to her students when they auditioned for the annual spring dance concert. "I wanted to make sure that anyone auditioning knew the type of community involvement the dance would entail, because it's not always typical to include community in the dance process," recalled Davis.
"On the first day of class, we read a couple articles about the benefits of dance for people with disabilities, and the importance of addressing assumptions we may have about this type of work. Most students had not been a part of a project like this, but they were eager to dive in. They were unsure of what to expect, but were open to the process and have been very engaged and respectful throughout."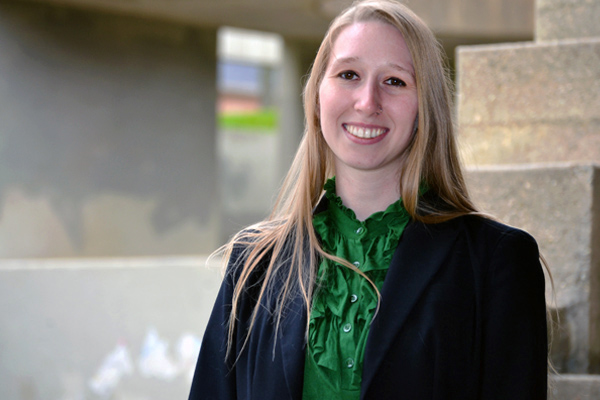 Some UM-Flint Dance concerts have a unifying theme, but for 2017 the theme was left open to allow each choreographer freedom to explore. For her own choreography, Davis asked the Vista Center to suggest a theme. "That's how we landed on trust and healing," she said.
In part, the theme came from members coping with the stress of a temporary building after a fire at their previous location. "The process of working together has really helped make their new location feel like a home where memories were created," Davis noted. "But the bonding between each other was the most important. I couldn't rebuild their center for them, but I could provide opportunity for a meaningful project. I wanted to do what I could to help and this is what I know!"
From Collaboration to Performance
Members of the Vista Center made significant contributions to the process of creating the dance. While Davis and her dancers developed the choreography, Vista's members contributed poetry, an original piano piece, and artwork for display at the concert. Together the groups painted the fabric used to create the dancers' costumes.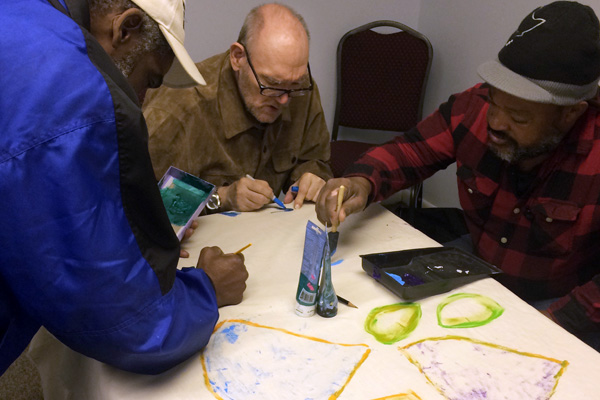 Davis noted that she was most proud of their work on the costume fabric—a project that began during a Spring Break workshop: "Vista members painted around a shared canvas, which was a large bolt of muslin fabric that they all worked on together around one long table. Together we worked on the front part of the dresses, and then they worked on the backside of the dresses on their own. The depth of visual art is amazing and really shows their own process with trusting us, themselves, and each other."
The Director of Vista Center, C. Patrick Beal, said "The Vista Center was very pleased that UM-Flint reached out to us for input and involvement in the art-dance project. It was fun and interesting for the adult members of Vista who often feel neglected by society, and not that involved. People feel very much connected as a result of the four-month process. The effort, led by Davis, should be considered very much a success. The theme was so relevant."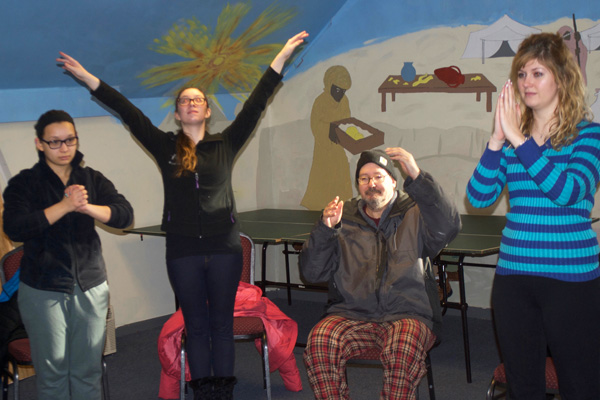 "It's my hope that dancers learned many things from this project," said Davis. "Trust in each other and in our community. Dissolving assumptions about people's abilities. Learning from community members and their experiences. Seeing that dance can be more than one choreographer's idea of something. [It's a] collaborative process; learning about the benefits of community engagement; and how this type of work is essential for the survival of today's working artists."
The Impact of UM-Flint Dance
When asked about the most important lesson she shares with her students, Davis replied, "If you have ever danced before, you are a dancer."
"It's not just for young athletic people," she continued. "Dance can be anything you want it to be. While we are creating for the stage, dancing is not about the product; it's about the process and the people involved in that process. It can have a purpose. It can change lives."
And, when asked what's next, she said. "I will keep doing this type of work as a performer and as an educator. Public scholarship and engaged pedagogy are academic specialties of mine and I will continue to study and grow in this aspect. I will also continue to maintain our relationship with Vista Center and find further opportunities to create campus-community partnerships in a way that benefits all involved."
---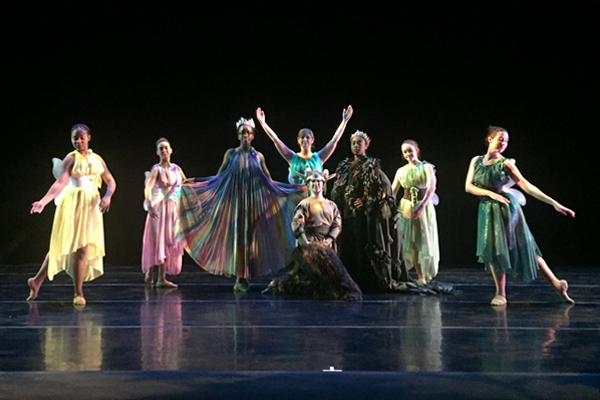 The 2017 Spring Dance Concert will also feature original, community-inspired pieces by Adesola Akinleye and Beth Freimen.
Emma Davis' project was funded in part by the UM-Flint Provost Community Impact Fund and a Civic Engagement Course Grant.
In Healing We Trust features UM-Flint dance students: Sunsae' Davis, Jacqui Gilbert, Amber Green, Melissa Henry, Dominique Hinde, Amber Howard, Jodi Jaruzel, Patricia Kennedy, Hannah Nettleton, Nicayla Shumaker, and Deja Willis.
Contact University Communications & Marketing with comments, questions, or story ideas.