UM-Flint PT Alumna and MBA Student Advocates for her Profession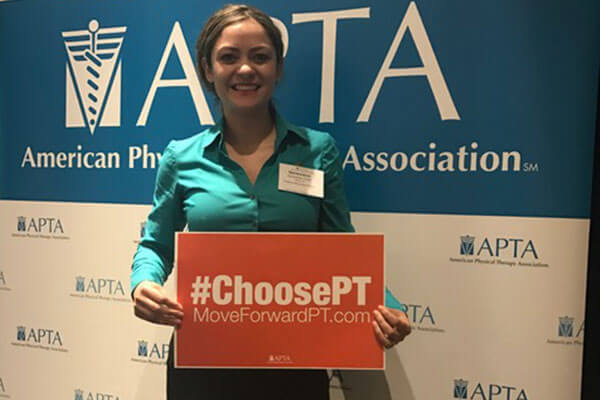 Genevieve (Jena) Colon is a University of Michigan-Flint Doctor of Physical Therapy alumna and a dual-degree MBA student. She recently took a trip to Washington, DC to attend the American Physical Therapy Association Advocacy Forum to advocate for the physical therapy profession. We asked her to share her experiences and what she learned from them.
Can you describe your student status, and more about this advocacy forum?
I graduated in with the Doctorate in Physical Therapy portion of the DPT/MBA dual degree at the University of Michigan-Flint and will be graduating with the MBA portion. I have been working full time and attended the NetPlus! program part time to finish my classes. I am the Federal Affairs Liaison for the Oncology Section of the American Physical Therapy Association (APTA). The APTA Federal Advocacy Forum brings physical therapists (PTs) and physical therapist assistants (PTAs) together in Washington, DC to advocate for the patients and professionals as well as the overall physical therapy profession to legislators on Capitol Hill. It is both a conference where the issues are discussed with the attendees and then every attendee meets with the Senators and members of Congress from their respective state.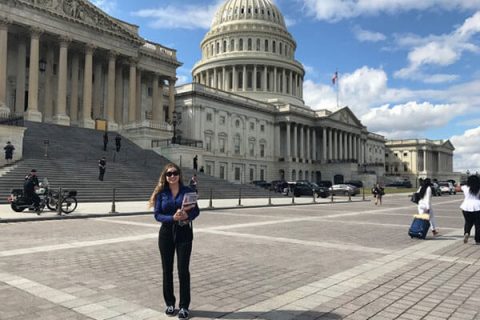 What inspired you to participate in this event? In what ways did your college career as a physical therapy student at UM-Flint develop your interest in advocacy issues related to the field?
I became a member of the APTA as a first-year student in the DPT program at UM-Flint. I found out about the association and it's amazing benefits and resources it has to offer from many of my professors. They spoke of joining the APTA as a way to network with other students, explore job opportunities, and contribute to the greater good of the field of physical therapy and our patients. Since graduation, I have continued my membership (at a reduced rate as a new grad) because I know my annual dues are helping fund my future as a practicing physical therapist.
What was the experience like for you? What were the most fulfilling elements of the trip? Did anything surprise you?
I loved the experience! I actually had the opportunity to meet face to face with the legislators that make decisions on health care policies that affect my everyday life at work. I had the chance to explain to them exactly what a physical therapist does, how rigorous our 7-year-long education equipped us to make educated decisions for the good of our patients, why we deserve to be included on the National Health Corps student loan forgiveness program, and what we can do to help both our current patients and those we treat in the future. After I attended the Federal Advocacy Forum, I felt better prepared to advocate locally for the specific needs of physical therapists in the state of Michigan.
After returning home, I met over coffee with state Senator Ken Horn from my district, and brought up many of the same points that were of main focus on a federal level as well as local issues like becoming a true direct access state, including adding physical therapists on the list of providers who can write scripts for handicap stickers and refer patients for imaging studies like PT's can already do in Wisconsin. I was surprised at how easy it was to talk with the legislators, and how I felt they understood and supported our cause. I was also surprised at how many different groups were there, advocating on so many issues. Like AIDS awareness groups, many dental and pre-dental students, diabetes research, Epilepsy Research Foundation, and even Chefs of America.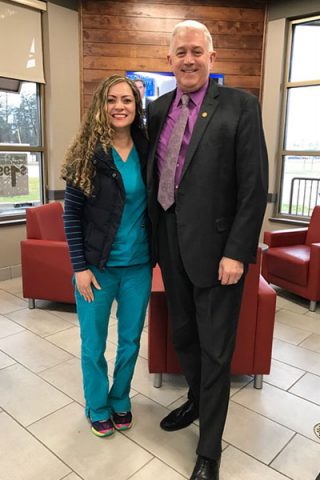 Why should UM-Flint students consider or study advocacy issues in their field and how does this help them in their professions, or as students?
In the past, I don't think I realized how important it is to advocate for yourself and the things that are important to you. When someone up on Capitol Hill is voting on an issue related to physical therapy and they don't even know what that is or what we do, it is unlikely we are going to get a vote in our favor. I think this is true across the board, no matter what profession you choose. Whether we recognize it or not, policies from the federal government are put in place that affect every one of us; whether it's how much taxes we pay, how much health care we have, or what rights we enjoy. We can make a difference as students that affect our futures. And now I realize how big of an impact I can make on not just my own career but on everyone in my profession.
Contact University Communications & Marketing with comments, questions, or story ideas.