CEO Magazine ranks UM-Flint's School of Management a top MBA Program for 2017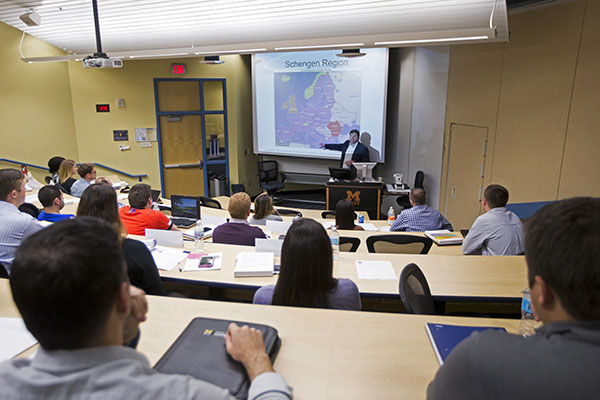 Since 2008, CEO Magazine has showcased top business schools from around the world.  For part-time MBA programs, data points used to rank business schools includes quality of faculty, international diversity, class size, accreditation, faculty-to-student ratio, price, international exposure, work experience, professional development, gender parity, and delivery methods.
The School of Management ranks the highest in quality of faculty. Yener Kandogan, Ph.D., Associate Dean at the School of Management, was not shocked by their number one ranking category. "I am not surprised at all with the highest ranking we have achieved in the quality of faculty category. This is a direct result of our efforts to recruit faculty from the best Ph.D. programs, and the increasing support we have provided for their intellectual and professional activities over the years. [Our] faculty are making significant impact in direction of research in their respective disciplines with their publications, conference presentations, and participation in their academic organizations."
The School of Management's second highest score was given to International Diversity. The School of Management strives to provide a quality education to both local and global communities. "The CEO Magazine rankings show that the diversity within our NetPlus! MBA and Traditional MBA is one of the main factors in students choosing our program," said Craig Gomolka, Business Programs Recruiter for the School of Management. "Students have an opportunity to network, meet students from different  cultural and geographically backgrounds, and from different career and educational paths.  Students learn not only from our outstanding professors, but from other students in the program. A diverse MBA population leads to an exceptional learning environment."
Contact University Communications & Marketing with comments, questions, or story ideas.