Two UM-Flint Leaders Honored as "Everyday Heroes"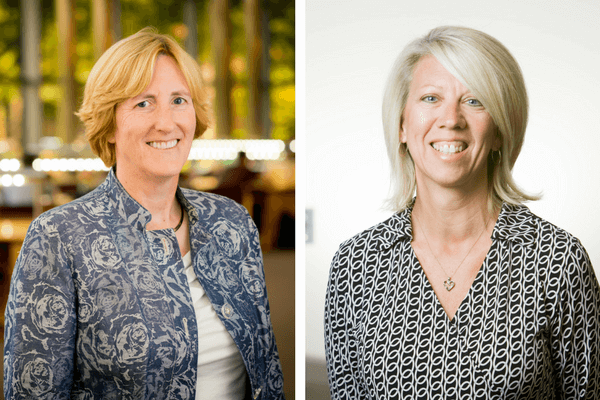 Two leaders from the University of Michigan-Flint recently were honored as "Everyday Heroes" by the Genesee County Educational Foundation.
The foundation honored nine individuals for their educational contributions, including UM-Flint Dean of the School of Health Professions and Studies Dr. Donna Fry, and the university's Director of Financial Aid Lori Vedder.
The foundation is a non-profit organization that supports the efforts of the Genesee Intermediate School District in various programs and initiatives. This is the first year of the "Everyday Heroes" program.
Dean Fry was celebrated for her contributions to Genesee Early College, of which she serves on its advisory committee.  She works on the same floor as Genesee Early College at the university, and her daughters graduated from GEC.
Dean Fry "promotes campus-community partnerships between GEC and UM-Flint to maximize student engagement," the foundation announced when awarding her the recognition. The foundation lauded her, as "she continually looks for ways to engage the students and the program with the university to ensure success. She has been an advocate for our group and students from the beginning in 2007."
GISD, in partnership with the UM-Flint, operates the Genesee Early College. GEC is an intensive, state-of-the-art, five-year high school combining the best elements of the high school and early university experience.
Genesee Early College is designed to prepare students for careers and advanced study in the medical and health-related professions, and STEM (science, technology, engineering, and mathematics) professions.
Fry said the younger students add another layer to campus.
"It's a very positive thing. I enjoy their spirit, and it creates a different dynamic on campus," she said, adding that it gives the students an early exposure to a college setting.
"It touched my soul that they would consider me for this," Dean Fry said about the award.
The foundation thanked Vedder for her "invaluable" assistance to Genesee Opportunity.
"Genesee Opportunity is funded through a countywide millage, offering graduating Genesee County seniors a jumpstart stipend. Lori shared her knowledge and insight as we developed guidelines and procedures that met the requirements and needs of post-secondary institutions," the foundation announced when recognizing Vedder.
"She has been a champion for Genesee Opportunity, supporting us as we fostered new relationships with colleges, universities, and institutions. Lori and her staff also promote Genesee Opportunity to all UM-Flint students that may be eligible for this stipend."
Vedder said the university expects, supports, and promotes its members engaging in the community. She said receiving the award was "special".
"Being a contributor to the respectable work the staff at GISD has done on the new Genesee Opportunity Stipend has reinforced UM-Flint's community partnership with the school district.  The fact that they felt my contributions were worthy of their recognition is a true honor."
Contact University Communications & Marketing with comments, questions, or story ideas.