UM-Flint Physical Therapy Student Earns National Research Recognition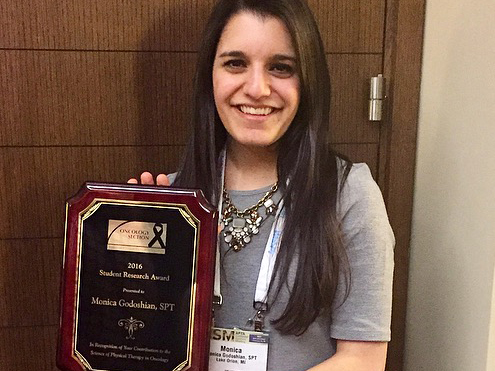 University of Michigan-Flint second-year physical therapy student Monica Godoshian was recently honored with a national award for her research related to balance and mobility in cancer patients. She was recognized by the American Physical Therapy Association (APTA) with the 2016 Oncology Section Student Research Award.
Godoshian has been working with a team of faculty, led by Dr. Min-Hui Huang, associate professor of physical therapy at UM-Flint.
"It's definitely an honor," Godoshian said, who received her award at an APTA event in San Antonio.
"I work with a great team of researchers and they have a lot of expertise in the field," said Godoshian, who is a graduate student research assistant for Dr. Huang.
The research, which is ongoing, centers on the balance challenges and fall risks of patients with cancer.
"Monica has basically been doing everything with me," Dr. Huang said. "You have to be thorough and logical and she is great doing all the things related to the project."
Since beginning on the project in the fall of 2015, Godoshian has presented the findings and research several times.
"She puts a lot of work into it. She is driven to excel and this is just one small example of how determined she is do the best she can," Dr. Huang said.
The team of researches analyze data from the National Cancer Institute, which includes information on patient survey results such as symptoms, stage of diagnosis, and quality of life. Their research is evaluating the different fall risks involved with different types of cancer, Huang said, which is tied to types of treatment.
"Every cancer is different," Dr. Huang said, which then means physical therapy often will be different for each patient.  "When you see it, you have to be aware of it. We want oncologists to know about it."
Godoshian said UM-Flint has allowed her to get extensive experience in professional research and provides her the opportunity to work directly with faculty members. The research work has also helped her connect with researchers and peers from across the country.
"There is always more to know and always more to study," she said. "I like it here a lot. A lot of professors within the program are doing their own research. I think it brings a lot to the classroom as well."
The close ties between faculty and students at UM-Flint are mutually beneficial, Dr. Huang said.
"Research is very intensive. It is impossible for me to do all the work that needs to be done. Student help is absolutely critical for any research to be successful," she said. "And it is critical for students to participate and grow professionally. It helps them think more critically, and it's very hands on and experimental."
Contact University Communications & Marketing with comments, questions, or story ideas.