UM-Flint Competition Sparks Workplace Ideas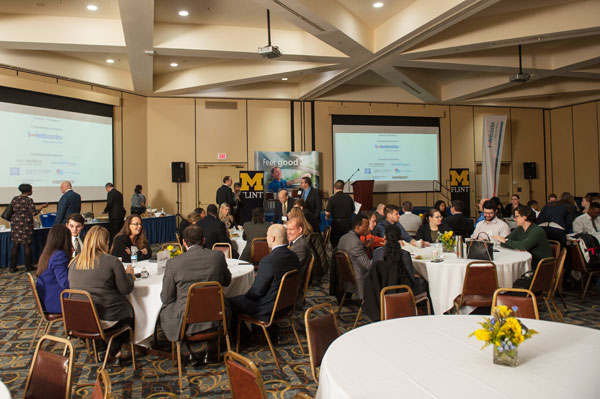 The University of Michigan-Flint teamed up an array of students with corporate partners recently for its inaugural Interdisciplinary Case Competition.
The contest drew more than 40 undergraduate and graduate students, from all schools within UM-Flint, for an intense ten-day contest in which they researched and developed strategies for a universal business issue. Students had the chance to meet with the participating companies during the competition.
The groups of five to seven students made their presentations February 7, answering the question, "How do businesses in any industry become a 'Best Place to Work' for the 21st Century Workforce?"
Each member of the winning group received a $500 scholarship. The competition's purpose extended far beyond the scholarships, organizers said. Students were able to leverage their skills and learn from their peers from other fields of study. They also built relationships and networked with corporate professionals, said Sara Barton, one of the event organizers and manager of the UM-Flint Career Center. The companies involved received ideas from the students, and tapped into the talent at UM-Flint, said Claus Weimann, an academic exchange officer at UM-Flint and one of the competition organizers.
"The University of Michigan-Flint greatly appreciates all the support our corporate partners provided financially, as well as their knowledge, time, and resources," Weimann said.
The participating companies included Al Serra Auto Plaza, General Motors, Plante Moran, PrintSites, Verizon, Northwestern Mutual, Dort Federal Credit Union, and Webasto, which was the presenting partner.
"The University of Michigan-Flint is delighted to engage with these wonderful companies. I want to personally thank our corporate partners as well as all the students, faculty, and staff who made this event so successful," said UM-Flint Provost and Vice Chancellor for Academic Affairs Douglas G. Knerr. "I am looking forward to creating stronger relationships with industries that transform theory and research into real-world projects that impact student success."
The students presented a host of ideas regarding employee engagement, productivity, work-life balance, and a healthy workplace culture, including ideas on employee gardens, passion projects, clear and crisp messaging, and staff blogs.
"The Interdisciplinary Case Competition was a truly inspiring event. As one of the judges, I was so impressed with our students and the collective effort they put into their presentations," said Robert Barnett, Dean of UM-Flint's School of Education and Human Services.  "While only one team could win the competition, all of the teams should be proud of the work that they have done."
Damien Siwik, a graduate student in public administration, was part of the winning team. The group met nearly every day for several hours to brainstorm, research, and prioritize ideas. The group included a Genesee Early College student, undergraduates, and graduate students. Siwik, who is 50, worked with students in their late teens and early 20s.
"It's been great because we met quite often, and everyone was very accommodating about when to meet," he said. "For me, and my team, it's been eye opening to see how millennials operate. I think and communicate and process things differently, so that's been a great learning process."
Philipp Schramm, chief financial officer and VP of Human Resources and IT at Webasto Roof Systems, said the range of perspectives and skills is what made the event so dynamic and beneficial to the companies, university, and students.
"There are different views. It's not just someone in their own silos," he said. "They are all different reads. When you bring them together, they bring out something a little bit different and new and that's what makes it so exciting."
Contact University Communications & Marketing with comments, questions, or story ideas.