UM-Flint Music Continues Opera Outreach to Local Youth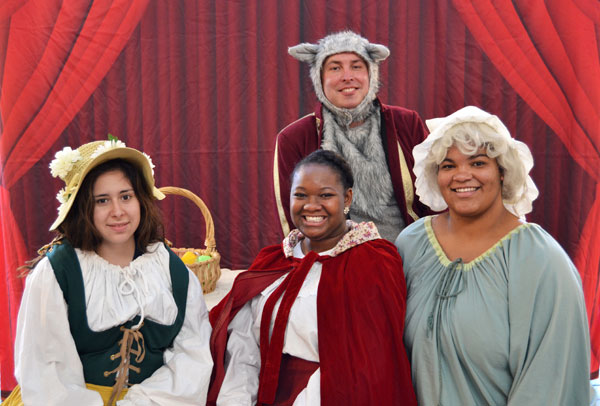 Students from area elementary schools will be introduced to the magic of opera Thursday, Feb. 9, when the UM-Flint Opera Outreach program kicks off their 2017 season with a special performance for fourth- and fifth-graders that will feature a morning of music education.
The events, which are expected to involve about 400 students from Flint and Grand Blanc schools, will begin at 9 a.m. with music education activities, including an instrument "petting zoo," where children can try out different musical instruments. It will be followed by an operatic take on the classic Little Red Riding Hood, written by American composer Seymour Barab.
Dr. Joshua May, of the UM-Flint music department, said the goal of the day is to "educate, engage, and excite a new generation of young artistic talent in Flint."
Little Red Riding Hood is one of two operas the department will be performing this year. The other is Captain Lovelock, a comedy by American composer John Duke.
The operas will be performed for the general public Feb. 10 at 7:30 p.m. and Feb. 12 at 2 p.m. at the University of Michigan-Flint Theatre. General admission is $10. UM-Flint students pay $5 with their student ID.
Little Red Riding Hood will hit the road in the spring, with traveling performances for more young students, including a "sensory friendly" performance for children with special needs.
May said he's excited to collaborate with community partners, as well as with other faculty and staff at UM-Flint. In preparation for the sensory friendly performance, he will be working with student teaching artists and faculty that specialize in both music and education.
What he is most excited for is simply the chance to expose kids to all elements of the opera—from the singers, to the costumes and lighting design, to the instruments in the orchestra. This is the third year May has been putting on the operas for local youth, and said it's been a huge success for our program.
Pat Prouty, who is conducting the orchestra for the operas, echoed those thoughts.
While conducting, he said, "I can hear the excitement of the kids behind me. It's inspiring."
And that's the whole idea. Because one day, perhaps because of that exposure to the theater, one of those kids will find themselves in the same place as Prouty, or May, or one of their students onstage or in the pit.
"In the middle of conducting I sometimes have to pinch myself," Prouty said. "I get to do this for a living."
Contact University Communications & Marketing with comments, questions, or story ideas.