UM-Flint Alums Ferguson and Johns "Hungry" to Give Back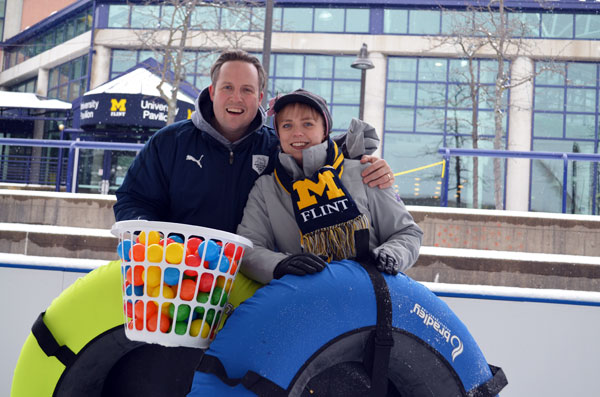 For almost 40 years, kids have been passing time playing Hasbro's legendary tabletop game, Hungry Hungry Hippos. Grabbing as many marbles as you could with your hippo was fun, but what if you could scale the whole game up to a life-sized version, played on ice with your family and friends? What if you could play while benefitting students at the University of Michigan-Flint?
Those are the questions that raced through the minds of Kris Johns '02 and Vanessa Ferguson '03 after watching a viral video of "Human Hungry Hungry Hippos," where teams compete with each other on ice, riding inner-tubes attached to ropes and gobbling up balls with the help of inverted laundry baskets.
"When we saw that video of people having a fun time, I immediately thought about how UM-Flint had just reopened the skate rink," said Ferguson, who teaches communication courses as a faculty member at Mott Community College and is a small business owner. "I reached out to the Alumni Relations team and asked if we could organize a fundraiser for student scholarships that incorporated the game."
"I got a message a few days later that the students were also interested in playing and the Recreation Center was planning to purchase the equipment necessary," she said. "It was really exciting."
Over the course of the last twenty years, the husband and wife team of Johns and Ferguson have become leaders in the UM-Flint community thanks to their tireless dedication to our campus. Coming up with ways to engage with alumni and students dates back to their time on campus, a time in which both were involved with numerous student organizations, events, and clubs. Johns even credits their service on Student Government Council (SGC) as a pivotal moment in their relationship.
"We met in a public speaking class during our freshman year on campus," said Johns, who works in the Department of Public Health and Health Sciences. "I asked her to go on a date several times, but she kept turning me down." Johns continued, "I was on student government at the time and a few weeks after we met she came in to interview for a position on the board. Once she was accepted on council, we became friends and, as they say, the rest is history."
That history shared by Johns and Ferguson includes quite a bit of giving back to the community. The couple have been involved in numerous non-profits, local government agencies, and community activities. Two of their most impressive accomplishments have been the building of the Grand Blanc Dog Park and their fundraising efforts to acquire a mobile incubator for Hurley Medical Center's neonatal intensive care unit.
"UM-Flint provided us so many opportunities to be involved and to be campus leaders. We learned how to get things done within an organization and we directly relate that to our jobs and to our business. The size of this campus was perfect for us to get involved as undergraduates," said Johns.
Today, the couple is looking for ways to give those same opportunities to current students. That's where "Human Hungry Hungry Hippos" comes in. They had the idea, the equipment, and a team to help. The last step was to decide where to direct the money raised through the fundraising effort.
The University Advancement team suggested the couple consider supporting the Felipe Andrez Memorial Scholarship. Andrez was an international student from Brazil who was elected Student Government President in 2011, and died tragically of a brain tumor in January of 2013.
Established in memory of Andrez, the Felipe Andrez Memorial Scholarship Fund is an endowed scholarship designed to support full-time undergraduate students who are leaders on the UM-Flint campus.
"When the idea of supporting the Felipe Andrez scholarship came up, it seemed like a natural fit," said Ferguson. "Kris and I were both on Student Government and we wanted to do something to support student leaders. This scholarship is designed to do exactly that."
There was added incentive to select this fund as well. "We were also excited to find out that the scholarship was close to the $10,000 needed to endow a fund, and that we might be able to push it over the top," said Ferguson. "It just made sense."
Brent Nickola
Brent is the Alumni Relations Manager in the Office of University Advancement. Contact him with questions related to alumni programs, activities, and services.