Center Shows UM-Flint's Leadership in Early Education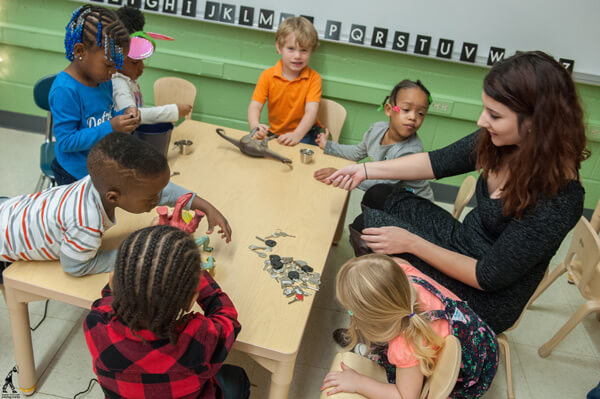 Although the children at Cummings Great Expectations in Flint have only been attending the new early childhood center for a little over two weeks, they are already feeling at home in their new space, playing and eating together, socializing, and discovering new and exciting things.
The previously closed Flint elementary school was transformed into an early childhood center for children ages two months to five years, offering free year-round programming with a particular focus on families with young children affected by lead exposure and the water crisis. The once empty school building is now buzzing with activity, and a community resource and research room will be an added bonus for teachers, students, and community members.
Cummings Great Expectations represents a partnership among Flint Community Schools, the University of Michigan-Flint, and the Genesee Intermediate School District, with grant funding from the state of Michigan, foundations and other charitable organizations supporting its programs and renovations. Its doors officially opened with a recent ribbon-cutting ceremony attended by local dignitaries and supporters.
The implementation of Cummings Great Expectations, in addition to Holmes Great Expectations earlier this year and UM-Flint's well-established and nationally-accredited Early Childhood Development Center (ECDC), positions UM-Flint as an institutional leader in early childhood education and early childhood programming for Michigan.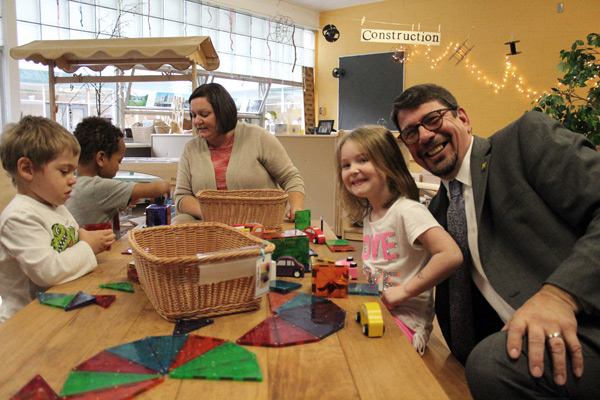 Bob Barnett, Dean of the School of Education and Human Services, commented that the Cummings building is a place of learning for early childhood education students to gain valuable experience, as well as a community center supported by partnerships that enable parents to earn their GED right down the hall from their children.
"This school is a fantastic commitment to this community, but it is also a center for research where the University of Michigan-Flint will lead efforts to identify exactly which interventions work best to help children combat the effects of lead exposure," Barnett said. "With our new bachelor degree in early childhood studies, along with our established programs in early childhood and elementary education and our early childhood and literacy graduate programs, SEHS is quickly becoming a prominent leader in early childhood education. We have so much to offer those who are interested in making a difference for children."
Already with about 200 students enrolled, the new center's programming reflects the same Reggio Emilia teaching philosophy utilized by the university's Early Childhood Development Center, which emphasizes child-centered learning, exploration, and creative play, nutrition, and gentle research-driven instructional guidance.
"The children are the ones deciding their learning while they play," said Toko Oshio, UM-Flint early childhood education assistant professor, as she observed kids playing in the natural courtyard play area at Cummings. "They're making sense of their natural environment and initiating their learning."
"We have a very special opportunity to help the children of Flint," commented Shawna Samples, associate teacher in the preschool Great Start Readiness Program classroom. "I really enjoy helping the kids grow and learn. We're building our classroom community."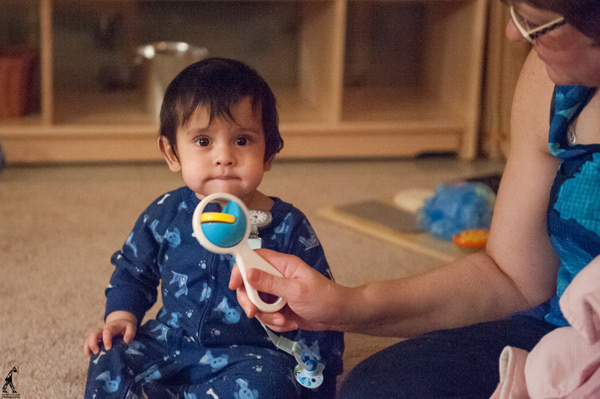 Lead teacher Jenn Maybee said she has been amazed at the way kids are diving into new activities, exploring with materials, building things, and naturally developing motor and social skills along the way.
"The materials in the classroom are very open-ended for learning," she said. "The kids can take something and apply their own ideas to it. They're engineering right now, problem solving, working on conflict resolution, all at once. We really put a lot of work into their learning environment here."
Parents whose children are enrolled at Cummings Great Expectations are already seeing results in the way their children are inspired to learn and connect with their new community at Cummings.
"I know what an excellent program this is," said Joyce Sanders, whose children have attended the ECDC program and whose three-year-old daughter is now enrolled in Cummings. Sanders is grateful for the affordability of the program there and the professionalism of the teaching staff.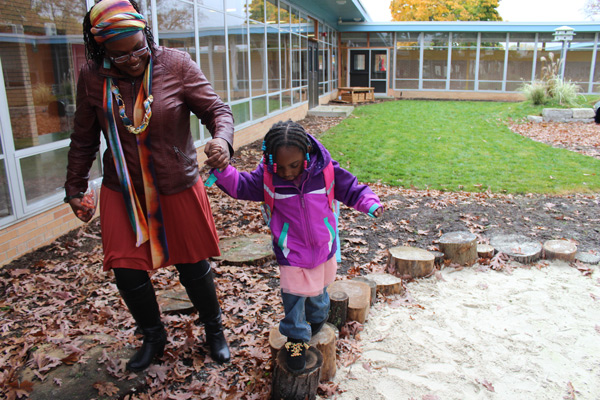 "All of the teachers are very caring, loving, and supportive," Sanders commented. "My oldest daughter was very introverted, and the teacher took the time every single day to help her find her voice. The teachers will help you work through challenges with your children in a nonjudgmental and supportive way. I'm so excited that this level of care has opened up to our community."
Mohammad Alaiwat is a student in the UM-Flint School of Management whose two children are enrolled at Cummings. "What I really like about this program is the professional staff," he said. "I know the quality education they provide for the kids, and they make the environment feel like home. They have a very nice vision for the future generations in Flint and they are taking care of this community."
Contact University Communications & Marketing with comments, questions, or story ideas.